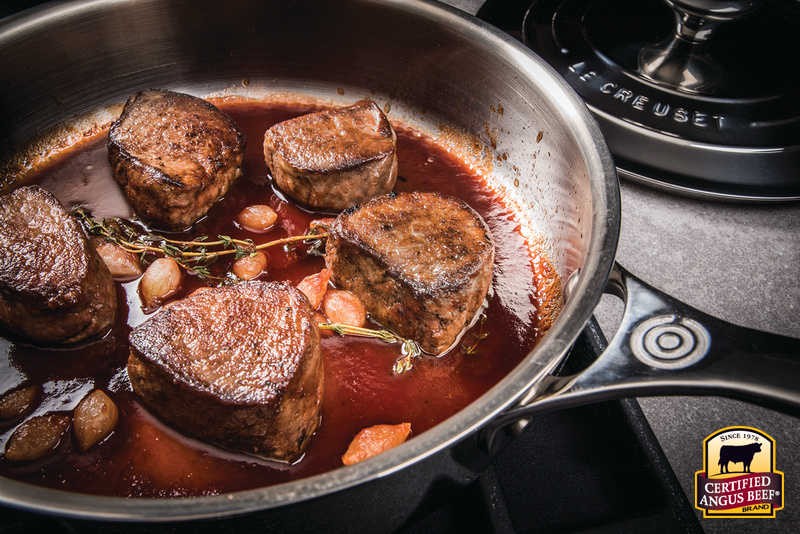 Like many people, I've long believed grilling is the best way to prepare steak. Without a doubt, there's something so delicious about a flavorful, juicy steak, kissed by fire and smoke on the outside, and perfectly pink in the middle. Not to mention the amazing aroma that happens when meat meets flame!
But — and this is something I'm a little embarrassed to admit — sometimes I get a little tired of the grill. (I know! What a good "problem" to have!) When thinking about different ways to prepare a great steak, though, I feel like it's important to do it justice.
Enter the sauté pan. It's not just for stir-fries anymore! Start over higher heat and let your steak develop a great sear and flavorful "crust." Take advantage of the flavorful fond — those delicious browned bits – left behind in the pan and build a delicious, simple sauce. Then return the steak to the pan, cover and allow it to finish cooking to a perfect, tender medium-rare, oh so gently.
Steak perfection without a grill? Yes indeed. It's another totally delicious take on steak. Chef Michael Ollier demonstrates here:
Now that I dare say I've mastered the basic technique, I've been having fun putting my own spin on it. The possibilities are virtually endless!
Instead of deglazing with red wine, try: marsala, bourbon, beer or even white wine. It doesn't need to be alcohol: juice, stock or even water can do the job. Same goes for the beef stock added later — try subbing in any flavorful liquid you like.
Not a big fan of onions? Try mushrooms or tomatoes. Instead of tomato paste, thicken with Dijon mustard or pesto. And thyme is wonderful, but any fresh herb that complements your sauce will work, too!
Looking for more cooking tips from Chef Michael? Visit his virtual cooking school and try a new technique!