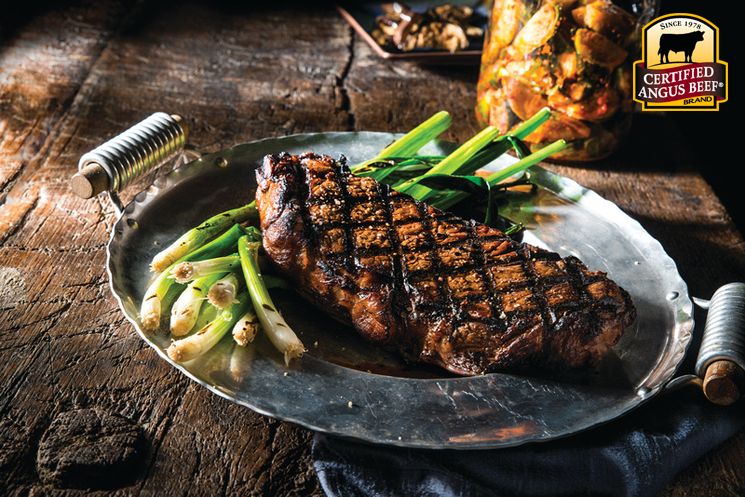 I can't explain why or how the song came to mind when I was gathering information for this post, but it did. And 'bad country songs' joking aside, this one fits. Oh, sure the lyrics are referring to sandy beaches and sunscreen, but they can be applied (literally!) to sizzling steaks and tasty spices, too: "Rub it in, rub it in …"  [Forgive me. You're welcome! #earworm]
Certified Angus Beef ® brand steaks are already fabulous due to the brand's abundant marbling. The steaks are tender, juicy and super tasty — a little salt and pepper only enhances that flavor. But. Sometimes I want more. Sometimes I want 'whiz bang' when I already have 'wow'.
Spice it up. Rub it in.
You want heat? Try a Three-Pepper Rub. It combines black, red and white pepper with onion powder.
Change the flavor entirely with Cumin and Coriander Rub. Combine both spices, apple cider vinegar and grape seed oil for a unique depth of flavor to flank steak.
Add flavorful flourish with Fennel Pepper Rub — fennel seed, oregano and paprika.
Or you could choose one of my favorites, Ranchero Rub.
The Ranchero Rub is a rich blend of cocoa powder, Ancho chili powder, cumin and sea salt,. It's amazing on ribeyes and strip steaks — or any beef cut, for that matter!
For great steaks, there's nothing like salt, pepper and the loving flames of a grill. Amen. But there's also nothing like an unexpected punch of flavor. It's that little something extra that speaks volumes. So spice it up — you have permission! Go for 'whiz bang' grilling once in awhile. Great steaks will always take center stage. And with a little extra spice once in awhile, you — and your steaks — will steal the show.
For more grilling ideas and tips, be sure to follow us on Pinterest!