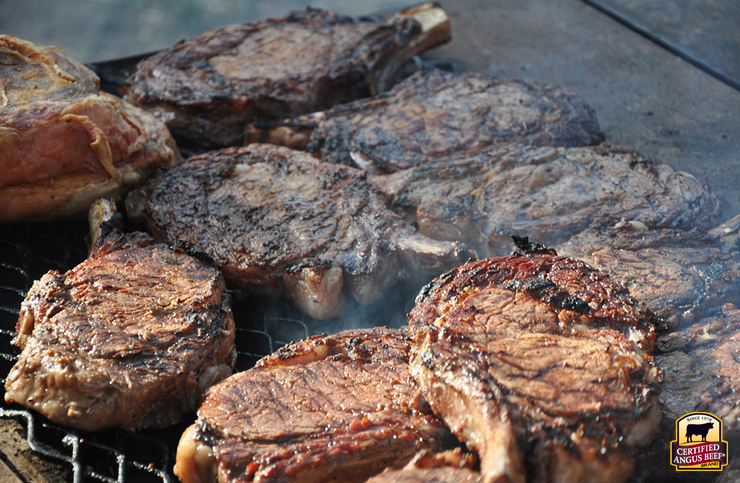 Dear readers, get ready for a tantalizing and heated tale from the open range. Chef Michael Ollier chronicles a couple days ridin' for the Certified Angus Beef ® brand with the great chuck wagon cook.
---
We knew he was good. He beat Bobby Flay in a Food network throwdown. He surely knows the art of cooking over flame. Beans with bacon. Likely decent. Hominy and jalapeno with cheese … bet that's good! And his country fried steak brought an onslaught of national attention. But can this cowhand grill a steak to perfection? He makes his own steak rub. But will this spice concoction enhance the quality steaks about to grace his grill or mask the prized ribeyes' abundant goodness?
My questions mounted before meeting Kent Rollins a year ago. I was in a fog of doubt about this proclaimed chuck wagon master, this open range Okie.
When restaurants serve the highest quality steaks on earth there is inherent pressure that the steaks be really good. When the Certified Angus Beef ® brand puts on an event and serves steaks there is an inherent pressure that the steaks be absolutely perfect. And so it was to be when we got a hold of Kent and Shannon Rollins to cook a chuck wagon dinner on a ranch outside of Kansas City last year. Kent would receive 80, 22-oz. Frenched, bone-attached ribeyes —fancy speak for Big Cowboy Steaks.
When I inquired about Mr. Rollins' technique he assured me he had cooked a few steaks in his day. I think his exact words were "Son, I've been grillin' steaks long before you were born."
"Yes sir," was my reply. Mr. Rollins proceeded to share his method.
A signature rub would "waller" with the majestic ribeyes for about four hours in a clean trash bag in the cooler (smart flavor enhancement, safe and resourceful, I thought). About an hour before chow time, the ribeyes would be ready for their date with Big Bertha. She's a 385-pound hunk of burnin' love. As  Kent says "She puts out a lotta good warmth in the winter and she'll burn you up all summer."  She's a cast iron open-bottomed beast of a box — welded to withstand a lifetime of fire as a stove or grill. She's put out thousands of meals to those lucky enough to lay eyes on her.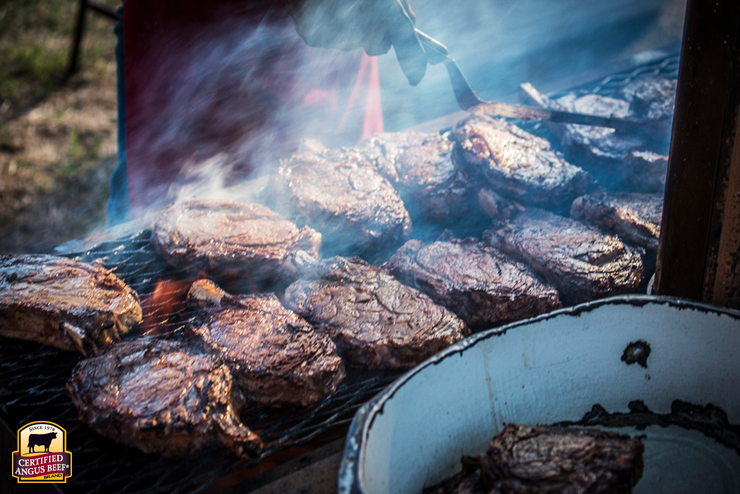 The day of our big event arrived. As the mesquite wood burned, Mr. Rollins threw ribeyes shoulder to shoulder on the weathered grate that lay atop the blazing beauty. With an offset long metal spatula (a.k.a. burger-flipper) he worked at great speed, turning, flipping, touching. Ever attentive to Bertha, Kent rotated steaks from hot spots to cool spots, cool spots to hot spots, each steak receiving everything she had to offer.
Thermometer in hand, I dutifully fulfilled my obligation: ensure guests are served perfect steaks on the ranch. I probed one after the other — a "trust but verify" cook (I believe that's a Ronald Reagan quote), meaning I like to touch a steak to feel medium rare, but I always insert a thermometer to verify my instincts.
Each reading of the thermometer confirmed what I began to realize  an hour or so before this moment: I was the student, Kent Rollins the master.
While Kent danced with the flame his true love, Shannon, prepared Angel flake biscuits from scratch for the cast iron Dutch ovens. Her experienced hands moved with efficiency. Every cut of the dough, every back-and-forth soft toss of dough balls, every lift of the Dutch ovens and every shovel of coals illustrated an expert cook who knows her kitchen.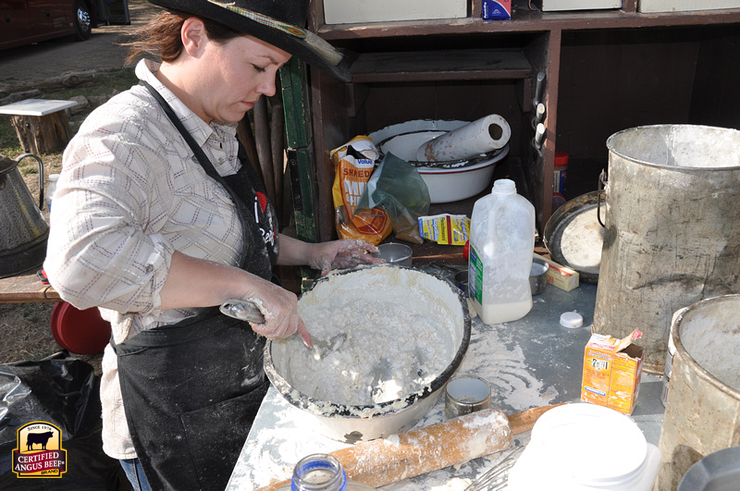 Our chef guests were enamored by the Rollins' open range kitchen. Chefs have an inherent respect for hard-working entrepreneurs who are their own bosses. The chuck wagon allows Kent and Shannon to pack up on a trailer and haul to the next venue. It's a chef's no-brick-and-mortar dream food truck, but better with the open range as their dining room.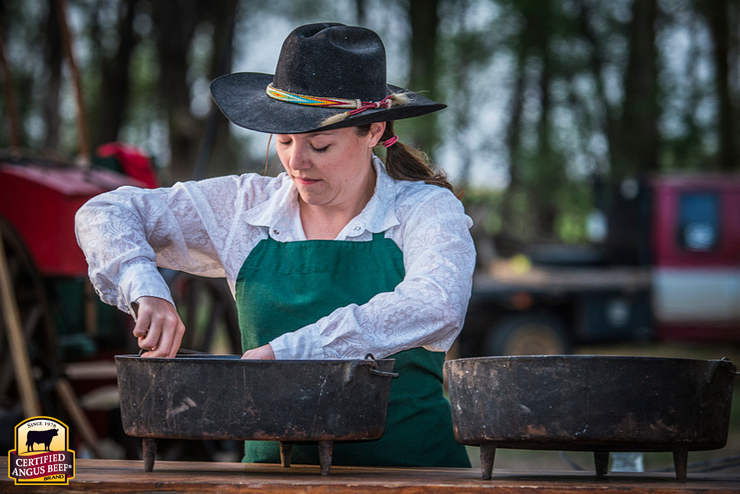 The Rollins duo is a force to behold — a duo the Certified Angus Beef ® brand was fortunate to cross paths with. We knew giving guests a ranch experience would be all-the-better with a chuck wagon-style ranch dinner. I had no idea I would learn so much. We knew we would do our best to get them to join us again on our next Chef Tour.
And so it came to be in Omaha this Spring. This time I  knew what to expect. Get enough great steaks in his hand. Get them all they need for success when they roll into town. Mission — spend as much time as possible with Kent and Shannon Rollins. Keep learning.
The wind was crazy strong on the Lienemann Family Ranch the day before the event. "Does the wind generally come from the West, South or North?" I asked the hosting family patriarch, Trevor. "Yes," he replied.
Kent set up the chuck wagon on high ground, level and secure, but the wind was furious — strong in all directions, as promised. Big Bertha landed with a thud, and she was quick to get enraged with the flaming mesquite and strong winds. As Kent stoked and prepared Bertha, he asked if I would like to help tend her. 
This was the moment, kind reader. I had arrived. My culinary career had, at that moment, come to a distinct high.
Kent, with burger flipper in hand and me, with tongs in hand, began gracing Bertha with the pre-rubbed 22-oz. cowboy steaks. We seared, rotated and flipped steaks — all the while dancing around Bertha as the wind whipped back and forth. I was in my comfort zone. Grilling highly-marbled steaks on a raging hot grill, rotating in and out of hot spots on the way to medium rare. But I was still learning. Kent and I attended to Bertha's gentle rage and loving kisses of flame. She bit at my toes as I stood too close and slapped my arm when I reached too far.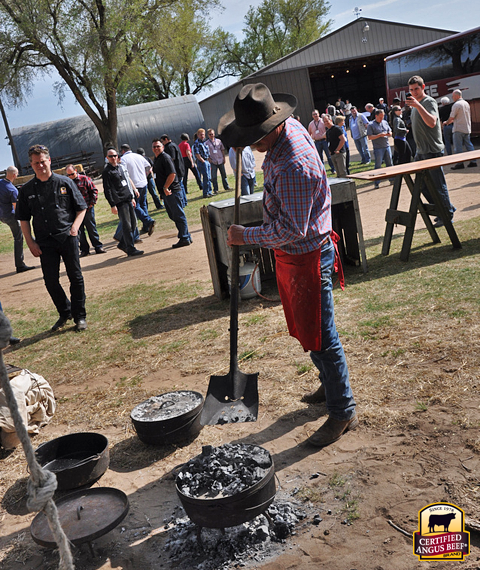 As our guests gathered I enjoyed the pain and comfort of Bertha. Growing up it was always the kitchen that was the center of my house. And as Kent and I both like to say in our own way,
"Great meals are more about who's around the table than what's on the plate."
If you ever have what we had that April day in Nebraska — gathering incredible people around the table with over-the-top cuisine like cowboy steaks, bacon and beans, angel flake biscuits, chili and cheese hominy all cooked with heart — you have the meal of a lifetime.
I learned so much more in Kansas and Nebraska than how to dance to the flames of a boisterous beauty on the way to a perfect steak. As Mr. Rollins and I chatted around the fire about life, I soaked in every minute. A middle-aged, Midwestern, suburban-raised chef like me can learn a lot from the moral code of the open range cowboy.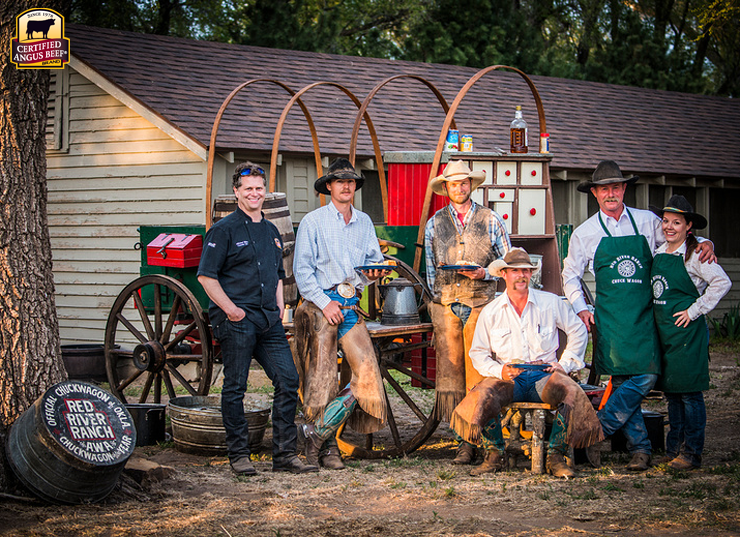 And here are five resolutions I plan to try my darndest to accomplish, thanks to the opportunity to befriend the great Kent Rollins: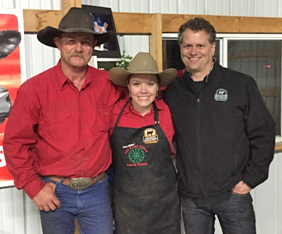 I will be thankful for every precious day I am alive. "Every day above the ground is a good day, my friend." ~ KR

I will not curse around ladies.

When next I drink Coors Light I will pronounce it "kerrs light."

I will not take myself and my cooking so dang serious. "You don't get full on fancy," ~ KR

When I'm about to grill steaks I will pause to appreciate the people (ranchers, cattlemen) and the animal responsible for the steak. Ideally, I will toast with a shot of whiskey (Crown Royal preferred, right from the bottle) with fellow cooks as done with Kent, Shannon and Bertha.
Want A Taste of Cowboy in your own home? Get it here!