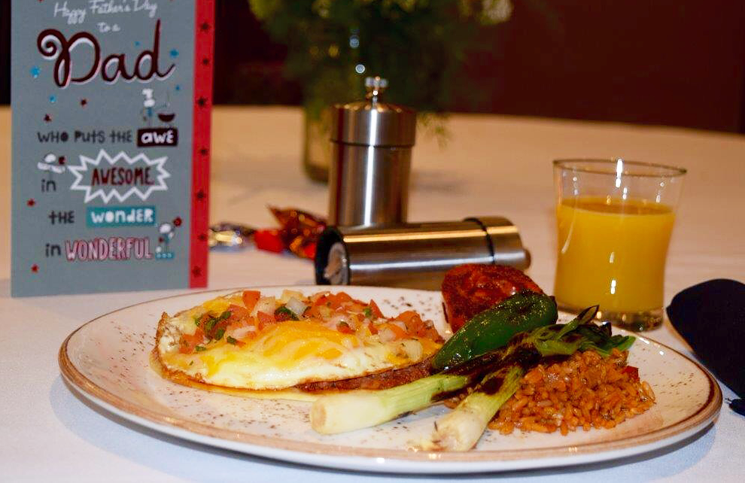 A father is a special role in a girl's life: he encourages, loves and protects her, as he models what a man should be. As a young girl, I treasured date nights with my dad and now at 21, not much has changed. Father's Day provides an opportunity to celebrate this precious relationship, and what better way to thank him than with a celebration of food!
But not just any food — I want to do the whole homemade, heartfelt, "Dad I tried really hard and put a lot of thought into this yummy-ness" type of deal. I want a meal that goes beyond taste to create a complete experience that impresses my dad.
Tip No. 1: Listen to what dad wants.
Since I've hooked my dad up with an Instagram account, he now tries to bribe me into bringing home some of the scrumptious food he sees on the [CertifiedAngusBeef] Instagram feed. By observing the team in the Certified Angus Beef ® Education and Culinary Center, I now have an idea of how to create some of that mouthwatering food in my own kitchen. I can't wait to tell my dad I was listening to what he said. For once!
Tip No. 2: Make the meal even more meaningful.
I don't know about you, but I'm not a morning person. Truly, nothing could impress my dad more than a big, beefy breakfast, ready and waiting on the table before he heads out to the farm. Not only will my dad be happy I made him breakfast, he'll know I cared enough to get out of bed at four a.m. to do it.
Tip No. 3: If your dad's the best, treat him to the best!
If you're going to cook for your dad, you best use beef. Everyone knows beef is the key to a man's heart, but here's a little secret: the Certified Angus Beef ® brand is how you stay there. Abundant marbling in every cut ensures each bite is tender, juicy and amazingly delicious. Trust me, he'll taste the difference immediately!
Tip No. 4: Spice it Up
After much consideration, I've decided to prepare Huevos Rancheros on Father's Day. It's not too hard for me to handle and it's an incredibly flavorful start to the day!
Tip No. 5: You'll win Dad's heart with this recipe (and his stomach!).
The best part about cooking dad breakfast is the personal time you'll spend with him. Time is more precious than money and needless to say, a full stomach is the best gift you can give him. Happy Father's Day!

Huevos Rancheros
Ingredients
1/2-lb. Certified Angus Beef ® ground chuck
1 can refried Beans
1/4 cup shredded cheddar cheese
2 eggs
Flour tortilla
1 small onion
1 tomato
Pico de gallo (see below)
Flour blend (see below)
Instructions
Preheat oven to 325°F.
Prepare pico de gallo: small dice 1/2 tomato, 1/2 onion and jalapeno; combine with chopped fresh cilantro and squeeze of lemon. Season with salt and pepper. Set aside.
Prepare flour blend: combine 1/4 teaspoon salt, 1/4 teaspoon black pepper, 1/2 teaspoon paprika; 1 tablespoon Cajun seasoning; 1/4 cup flour. Set aside.
Brown ground beef until no pink remains. Drain.
Place tortilla on a bake sheet sprayed with non-stick cooking spray. Spoon heated refried beans onto the tortilla, about 1/4-inch thick. Top with browned ground beef. Place into the oven for five minutes.
While tortilla bakes, cook two eggs sunny side up in a skillet on medium-high heat.
Take the tortilla out of the oven and slide the eggs onto it. Top with shredded cheese and pico de gallo.
For garnish:
Cut a tomato in half. Slice off both ends so it will lay flat. Dip the sliced open face of the tomato into the flour blend, then brown in a hot skillet.
Put tortilla stacked with beef and eggs back in oven for 5 minutes or until cheese is melted.
Serve with a side of Spanish rice if desired.
For more breakfast ideas, steak recipes and beef cuts information, visit CertifiedAngusBeef.com or our Pinterest boards!