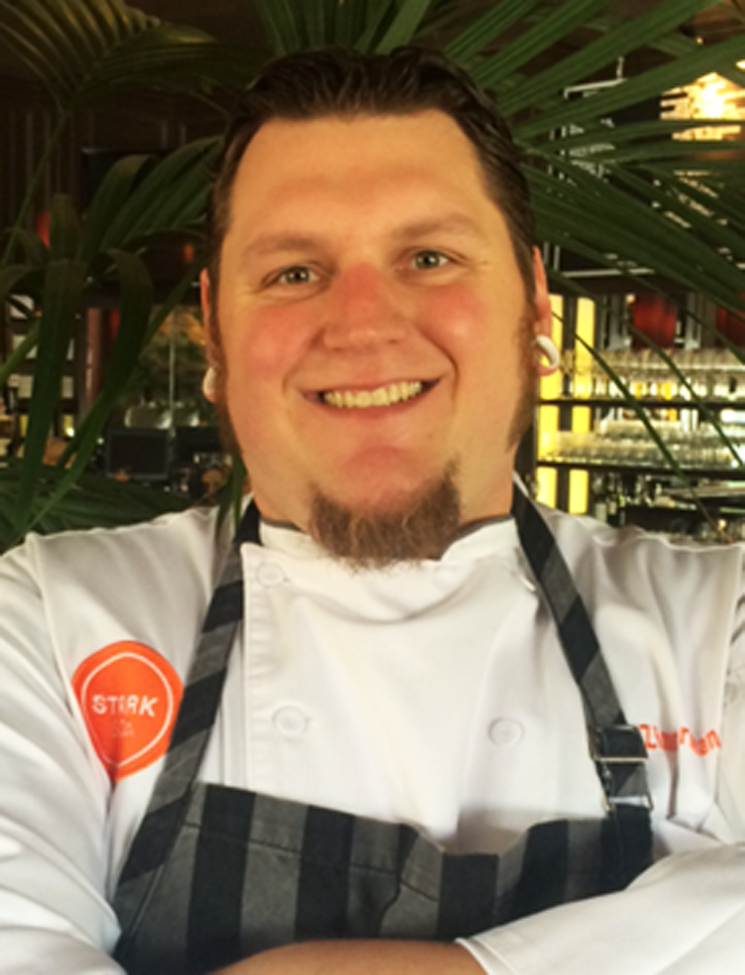 Chefs, the construction workers of the cuisine world, work day-in and day-out building intricate dishes that act as reinforcements for a restaurant's reputation, as well as their own. Although the process of "constructing" a tender, juicy ribeye paired with roasted vegetables may not take as long as the typical construction project, it's just as crucial. One dish has the power to stand strong, keeping a diner coming back for more; or it could crumble — sending a guest home never to return.
David Zimmerman, Chef de Cuisine of Stark Reality Restaurants located in Santa Rosa, Calif., has had the unique opportunity of being part of both "construction worlds" — onsite and in the kitchen. Although he always knew cooking was his passion, he spent a stint of his life as a construction worker. In 2009, the blueprint of his life led him to the Stark Reality Restaurants team.
Chef David attended a recent Brand Ambassador Summit event at the request of Mark Stark, owner of Stark Reality Restaurants and Brand Ambassador for the Certified Angus Beef ® brand since 2011. We had a chance to sit down with David and chat about food, fun and even the Food Network.
Q: Aside from your own, what's your favorite restaurant?
A:Yank Sing Deem Sum (San Francisco, Calif.)
Q: What's the hottest trend in food right now?
A: Locally produced food and the chef culture driving restaurants.
Q: How would you describe your style of cooking?
A: I keep it simple.
Q: If you could have any meal, what would it be?
A: Sushi.
Q: Are there any chefs you try to emulate?
A: Any chef I've learned from is worth emulating.
Q: When you aren't in the kitchen, how do you spend your free time?
A: Making sure that the time spent with friends and family is well spent.
Q: The world's foremost authority on food is?
A:  Our industry is constantly growing and evolving; it's a collaborative effort.
Q: Food Network is … ?
A: Creating a huge shift in the industry, especially the culture of restaurants.
Q: If you could have only four ingredients in your pantry, what would they be?
A: Bacon, foie gras, spinalis and truffles.
Q: The one book every chef should have in the library is?
A: A Work in Progress by Rene Redzepi.
Q: What is the most expensive meal you've ever prepared?
A: Bacon wrapped filets,  cacio e pepe pasta and scrambled eggs; all topped and infused with fresh white Truffles.
Q: What is your favorite food/dish?
A: Fresh Uni Nigiri (Sea Urchin).
Editor's note: This post was written by Matt Shoup, Certified Angus Beef ® brand intern.