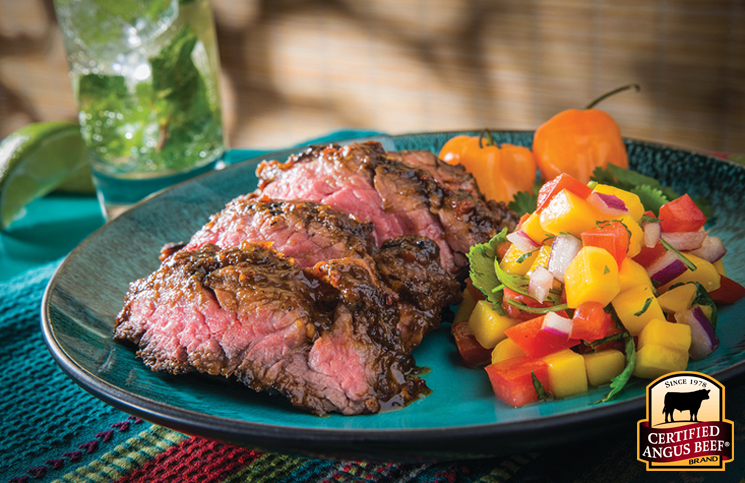 Before making this recipe, I had two questions: What is tamarind? What is a bavette? After a bit of research and a recipe test that yielded nothing but deliciousness, I discovered Sweet Tamarind Chili Bavette made with Certified Angus Beef ® brand sirloin flap is simply spectacular — tender, juicy and oh, so tasty!
Tamarind: the tamarind tree produces pod-shaped fruits used in flavoring dishes throughout the world. Sweet tamarind is often used in desserts, jam, ice creams and snacks. Tamarind can also be used in savory dishes and meat-based stews. Read more about tamarind here.
Bavette: So bavette — French for 'bib' — is simply the fancy name for 'sirloin flap steak'. And let's be honest, 'bib" just sounds so much better than 'flap'. Sirloin flap meat is similar to skirt or flank steak because it should be marinated and cooked on high, dry heat, like a grill. Always cut the steak across the grain in thin slices, for the best eating experience. And when it comes to sirloin flap, a.k.a. bavette, don't cook it beyond medium-rare if you can help it!
Now gather ingredients like tamarind, sirloin flap steak, serrano peppers and molasses, and make the recipe, below. Your taste buds and dinner guests — be they friends or family — will thank you!
Sweet Tamarind Chili Bavette
Ingredients
3 pounds Certified Angus Beef ® sirloin flap, skirt steak or 2 flank steaks
1 cup tamarind concentrate
2 tablespoons molasses
2 tablespoons Worcestershire sauce
8 canned serrano peppers, thinly sliced into rounds
2 teaspoons ground coriander
2 teaspoons ground cumin
Instructions
In a small mixing bowl, combine tamarind, molasses, Worcestershire, peppers, coriander and cumin to make a marinade. Divide in half; reserve one part in refrigerator.
Cut raw steaks with the grain in 3 to 4-inch wide pieces. Place steaks and remaining marinade in a zipper-locking plastic bag, removing air and uniformly coating steaks. Refrigerate at least 6 hours; overnight preferred.
Preheat grill to high. Pat steaks dry and sear on each side to develop a good char (2-3 minutes per side). Baste with reserved marinade. Transfer to cooler side of grill to finish to medium rare or your desired doneness.
Rest on a cutting board five minutes before slicing thinly against the grain to serve.