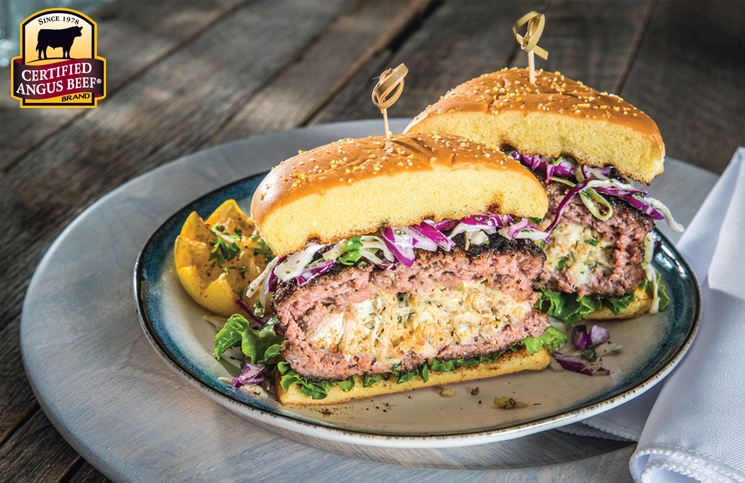 Stuffing isn't just for Thanksgiving at my house! In fact, stuffed burgers are preferred over stuffed turkeys — and much easier, I might add. A thick, juicy, stuffed burger is always a fun surprise (and certainly more flavorful than that Thanksgiving bird).
If you're going to stuff a burger, why not go all the way: make a surf and turf burger! This easy combination of crab meat and Certified Angus Beef ® brand ground beef tops my favorite burgers list (and uses two of my favorite ingredients!).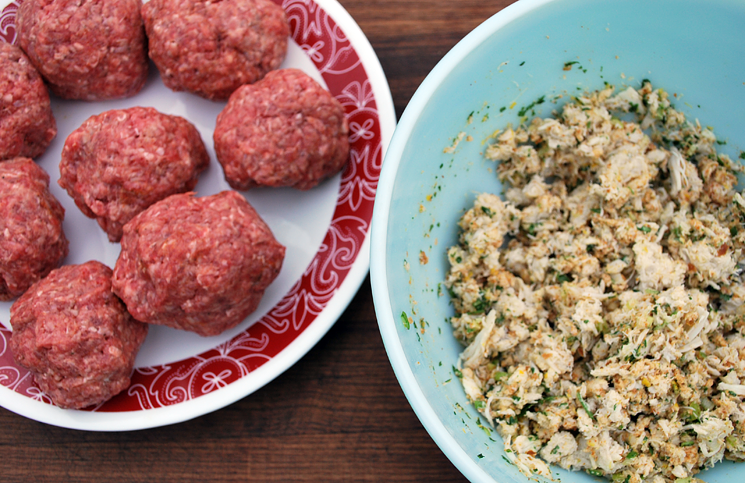 With classic Old Bay Seasoning and horseradish, these burgers combine a light and lemony, cilantro crab stuffing with rich, beefy flavor. Top it off with your favorite aioli or remoulade sauce.
Chesapeake Bay Stuffed Burger
Author:
Ingredients
2 pounds [i]Certified Angus Beef [/i]® ground chuck
1 teaspoon horseradish
1 teaspoon lemon pepper
1 1/2 cups lump crabmeat
2 tablespoons chopped fresh cilantro
1 teaspoon lemon zest
2 teaspoons minced ginger
4 teaspoons finely chopped green onion
1 teaspoon Old Bay seasoning
6 tablespoons cracker crumbs
1/2 teaspoon Dijon mustard
2 tablespoons mayonnaise
4 hamburger buns
Instructions
Season ground chuck with horseradish and lemon pepper. Divide into eight patties.
Make crab stuffing by combining crab meat with cilantro, cracker crumbs, mayonnaise, mustard, zest, Old Bay, onion and ginger.
Divide stuffing among four patties. Flatten crab meat slightly, leaving about 1/2-inch around edge. Place remaining patty on top of each and crimp edges with fork. (Burgers may need some reshaping.)
Grill on medium high to internal temperature of 160° F. Serve on burger buns.
3.2.2925
Want to stuff it? Keep these tips in mind for perfect results:
If stuffing includes meat (seafood, bacon, etc.), always pre-cook the meat to ensure doneness.
Stuffing with onions or mushrooms? Pre-cook and drain. Excess liquids could cause the burger to fall apart during grilling.
Don't overstuff! Too much of a good thing makes it challenging to get a good seal on the edges. And you want that good stuff to stay inside!
Seal edges tightly by pinching with your fingers. Shape the burger as you go. Remember: the goal is to keep the good stuff inside.
Stuffed burgers are thick burgers. After searing, move burgers to the cooler side of the grill to complete cooking to 160 degrees. They will take a bit longer than regular burgers. Use an instant-read meat thermometer to check the temperature. Be sure it's inserted into the meat and not the stuffing.
Try the Juicy Lucy Burger and Inside Out Burger. They're also delicious!