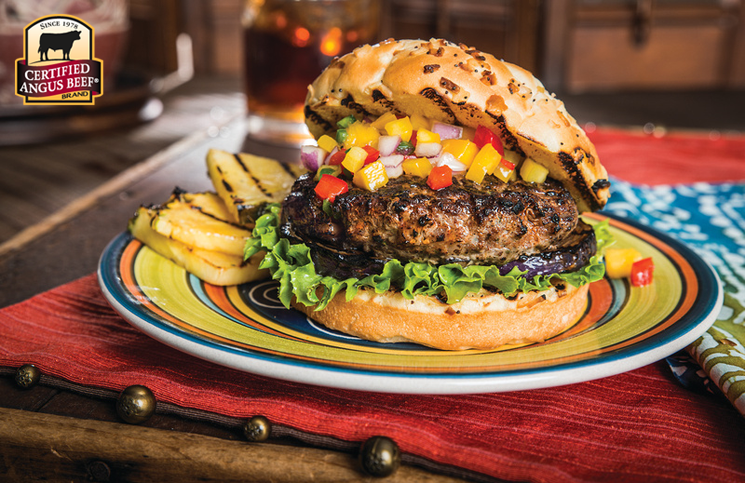 I'm in for the all-American cheeseburger — it's always tasty and forever classic. But this Jamaican burger recipe featuring mango, red onion and spices is so good! It's like a burger bash for your taste buds. The rich, ground beef burger, accented with Jamaican jerk spice rub and topped with fresh grilled fruits and vegetables will be the star of any festive fete. Grill pineapple, mango, red onion and even red peppers to crown this burger with colorful confetti.
Sweet Jamaican Burger
Ingredients
2 pounds Certified Angus Beef ® ground beef (80/20 blend ideal)
1/2 cup mango nectar
2 tablespoons cider vinegar
1/3 cup Jamaican jerk spice rub (see recipe, below)
1/2 red onion, finely diced
1/2 cup chopped fresh parsley
6 burger buns (onion rolls work perfectly with this burger)
Instructions
In a small mixing bowl, blend together mango nectar, vinegar and jerk spice.
By hand, combine ground beef, red onion, parsley and spice mixture. Form into six patties; refrigerate for at least an hour (overnight preferred to develop full flavor).
Grill or pan sear over high heat to a recommended internal temperature of 160°F.
Grill buns (optional) and assemble burgers.
Suggested toppings: grilled pineapple, mango salsa, grilled red onion, crispy leaf lettuce
Jerk Seasoning
Ingredients
1 tablespoon dried parsley
1 tablespoon dried onion flakes
1 tablespoon dry chives
2 teaspoons ground red pepper
2 teaspoons garlic powder
2 teaspoons ground thyme
2 teaspoons brown sugar
1½ teaspoons kosher salt
1 teaspoon grated fresh nutmeg
1 teaspoon crushed red pepper
1 teaspoon ground allspice
¼ teaspoon freshly ground black pepper
¼ teaspoon ground cinnamon
Instructions
Combine ingredients and use as a rub on your favorite beef cut.
Grill and serve with your favorite sides.