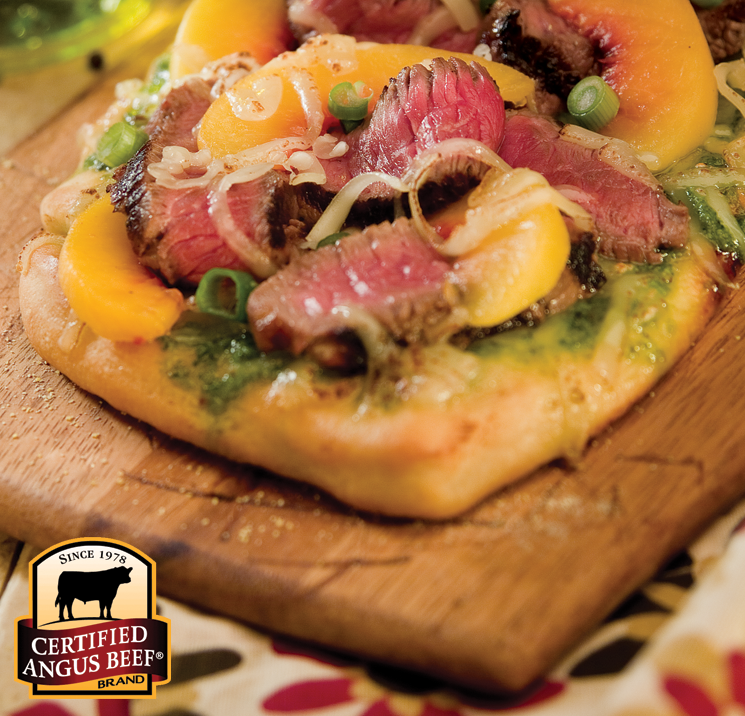 Summer gets exciting when two favorites collide: grilling season and peach season. Fresh, local peaches are ripe and ready this time of year. You could slice them in half and grill alone (which is exceptionally delectable, by the way!), or combine peach slices with grilled sirloin steak on pizza. The rich, beefy flavors of the sirloin contrast beautifully with the syrupy sweetness of peach. Serve on a flatbread or fresh pizza crust with pesto and cheese for a decadent meal you'll love.
Tip: Bake pizza in the oven as suggested, or top a pre-made crust with grilled steak slices, peaches and other ingredients, then grill to smoky perfection. Want more steak and peach sensations? Try Sirloin Peach Salad!
Grilled Sirloin and Peach Pizzas
Ingredients
1 pound Certified Angus Beef ® sirloin steak
1 cup loosely packed fresh basil leaves
1 cup loosely packed fresh oregano leaves
1 shallot, chopped
1 clove garlic, chopped
1/2 teaspoon kosher salt
1/3 cup extra virgin olive oil
1 ice cube
Kosher salt and fresh cracked pepper to taste (for steaks)
4 pre-cooked 8-inch pizza crusts
2 fresh peaches, thinly sliced
8 ounces (about 2 cups) smoked mozzarella, shredded
2 scallions, thinly sliced
Instructions
Preheat oven to 450°F. Create pesto by mixing basil, oregano, shallot, garlic, salt, oil and ice cube in blender until fully combined. Set aside.
Season steak with salt and pepper and grill over high heat for 1 minute on each side. Remove steak from heat and rest for 5 minutes. Slice thin against the grain.
Top pizza crust with pesto, half of the cheese, peaches, steak and remaining cheese. Bake 8 to 10 minutes.
Garnish with scallions, cut and serve.