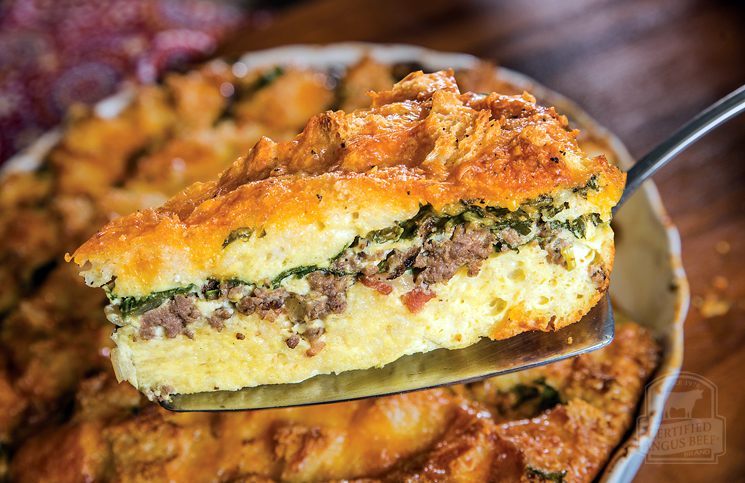 This breakfast recipe is dee-licious. No, really. It's so good your family will be raving for days. This hearty casserole is a fluffy dish that's packed with layers of flavor. It combines beef, bacon, onion, spinach, cheddar and sourdough bread. The result is a yummy egg-based casserole that's great for breakfast, brunch or you guessed it, dinner!
Breakfast Beef and Bacon Casserole
Ingredients
1 pound Certified Angus Beef ® ground beef
1/2 pound bacon, diced
1 onion, peeled and diced
12 eggs
1 cup sour cream
1 1/2 cups half & half
1 cup milk
2 teaspoons kosher salt
1 teaspoon freshly ground black pepper
1 pound sourdough country-style round loaf
2 tablespoons butter
2 tablespoons minced fresh chives
4 ounces spinach, chopped into 1/2-inch ribbons
8 ounces (2 cups) shredded cheddar cheese
Instructions
In a large sauté pan, sear bacon over medium-high heat until it begins to crisp. Add onions and ground beef, reduce heat and simmer until no pink remains in beef. Remove from stove top, drain off excess fat and set beef aside.
In a large pitcher combine eggs, sour cream, half & half, milk, salt and pepper. Use a hand immersion blender or whisk to blend until smooth. Set aside. Cut crust from bread and cut into 1/2 inch cubes. Preheat oven to 350°F.
Butter a 9 x 13-inch casserole pan to begin assembly. Layer half of bread cubes followed by beef mixture, chives, spinach, second half of bread and cheese. Pour egg into casserole.
Bake 30 minutes, turn and bake an additional 20-30 minutes until casserole has completely risen in the middle and has a golden crust. Remove from oven. Allow to cool 15 minutes before slicing and serving.