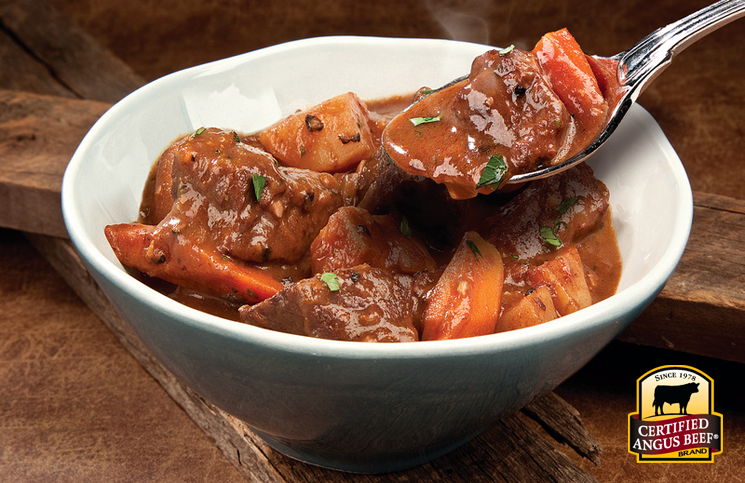 In a bad mood? Stir the pot — literally. Ever have a day that demands comfort food and perhaps the satisfying whack of a sharp blade against wood? Yeah. Me, too. Sometimes you just need to do some 'stewing' — over issues, challenges and in this case, a stock pot.

Classic Beef Stew
Author:
Certified Angus Beef® brand
Ingredients
3 pounds Certified Angus Beef ® chuck roast, cut into 1-inch chunks
1 tablespoon coarse kosher salt
2 tablespoons freshly ground black pepper
2 tablespoons vegetable or canola oil
2 large onions, large dice
3 large carrots, diagonally cut to 1-inch chunks
3 garlic cloves, chopped
¼ cup tomato paste
¼ cup all-purpose flour
2 cups red wine
2 cups beef stock
3 bay leaves
2 sprigs fresh thyme
3 pounds Yukon potatoes, peeled and cut in ½-inch chunks
1 tablespoon minced fresh rosemary
2 tablespoons minced fresh flat-leaf Italian parsley
Instructions
Remove top rack from oven and preheat oven to 325°F.
Season beef with salt & pepper. Put half of oil in a Dutch oven (or oven-proof heavy pot with tight fitting lid) over medium high heat. Just as the oil begins to smoke, add half of beef evenly spaced. Brown on all sides and transfer to a plate. Add remaining oil, sear remaining beef; remove from pan.
Add onions, carrot, garlic and tomato paste. Stir over medium high heat, scraping brown bits from bottom of pan, 2-3 minutes. Add flour and stir to combine. Add red wine and continue simmering on medium low heat until syrupy, about 5 minutes. Stir in beef, beef stock, bay leaves and thyme. Bring to a boil, again scraping sides and bottom clean; put lid on Dutch oven and place in the oven. Cook for 1½ hours.
Add potatoes and rosemary and continue to cook until potatoes are tender, approximately one hour. If needed, add additional salt and pepper to taste. Serve, garnished with fresh parsley.
The next time you're in a tizzy, do some stewing. You'll feel better! And don't worry if you're not feeling particularly adventurous! Just follow these tasty 
soup and stew recipes
.