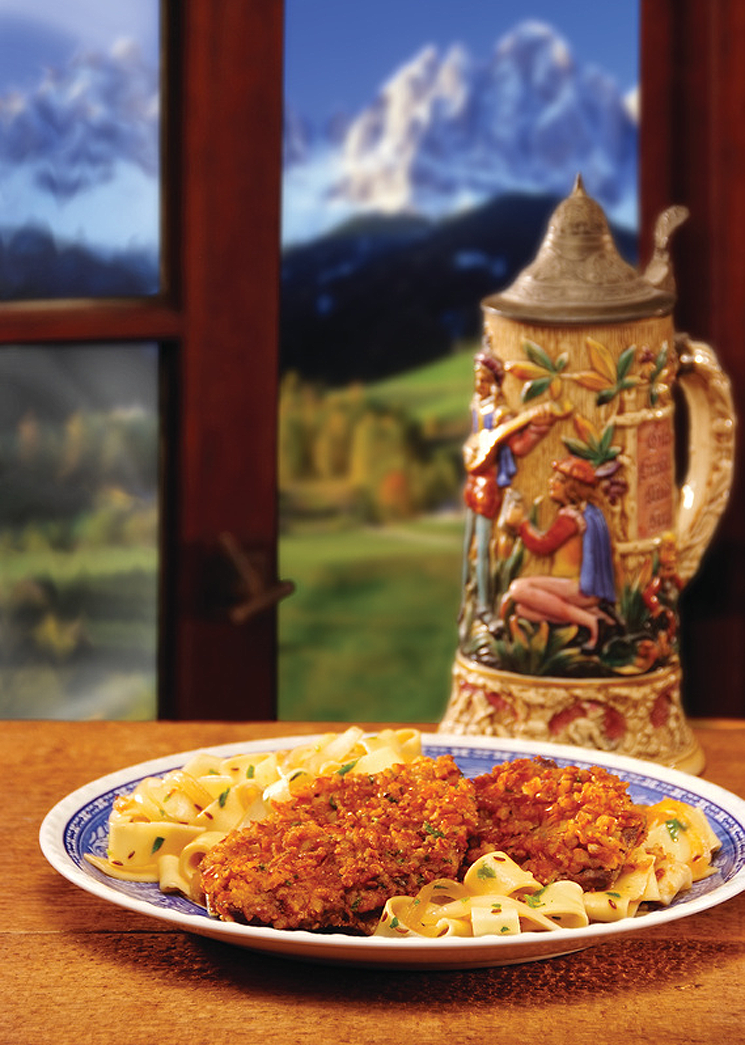 You've probably heard the word — maybe even tossed it around in casual conversations relating to Oktoberfest festivities: schnitzel. What is it? How do you make it? Where does it come from? Good questions … with varied answers!
A schnitzel is a boneless piece of meat (typically mutton, veal or pork), that is pounded and thinned with a meat tenderizer. Then it's coated with flour, dredged through beaten eggs and bread crumbs, and fried. The term wienerschnitzel is a protected geographical indication in Austria, where it can only be made of veal. Traditional German schnitzel is made of pork. And while schnitzel is clearly defined in Austria and Germany, it's a dish of many persuasions around the world. It's similar to escalope, a French dish. And to be quite honest, we Americans have developed our own spin on this traditional dish. Think 'chicken-fried steak'!
The Certified Angus Beef ® brand culinary team has created its own spin on tradition: Pretzel Dusted Schnitzel (made with steak, of course). The recipe features shoulder tender medallions, a beef cut that comes from the chuck. Also called shoulder tenders, they are tasty and tender — much like tenderloin filets! Pair these pretzel-dusted beef schnitzels with a side of sweet onion and caraway noodles (delicious, I might add!), but spaetzle (tiny dumplings) would be delicious.
And to you I say, "Gemütlichkeit!" (Think good food, good company, and a glass or two of good cheer!)
Pretzel Dusted Schnitzel with Sweet Onion Caraway Noodles
Author:
Ingredients
8 (3-4 ounce) [i][url href="http://www.certifiedangusbeef.com" target="_blank"]Certified Angus Beef[/url][/i] ® shoulder tender medallions
2 cups crushed pretzels
1 tablespoon fresh thyme, chopped fine
2 tablespoons Italian parsley, chopped fine
1/4 cup Dijon mustard
Oil for pan frying
2 tablespoons butter, unsalted
1 large yellow onion, peeled and thinly sliced
1 teaspoon caraway seeds, toasted and chopped
8 ounces egg noodles, cooked al dente
1/4 cup beef stock
Salt and pepper to taste
Instructions
Preheat oven to 350°F.
In a shallow bowl combine pretzels, thyme, 1 tablespoon parsley, salt and pepper together; mix thoroughly.
Brush medallions lightly with mustard and coat heavily with pretzel mixture.
Heat oil in a skillet on medium-high heat. Sauté medallions for 3 minutes per side. Remove from pan and place on baking tray; place in oven for 10 minutes or till outside is crisp.
Melt butter in a large sauté pan, add onion and cook until translucent. Add caraway, cooked noodles, stock and salt and pepper.
Continue to cook for 5 minutes stirring continuously.