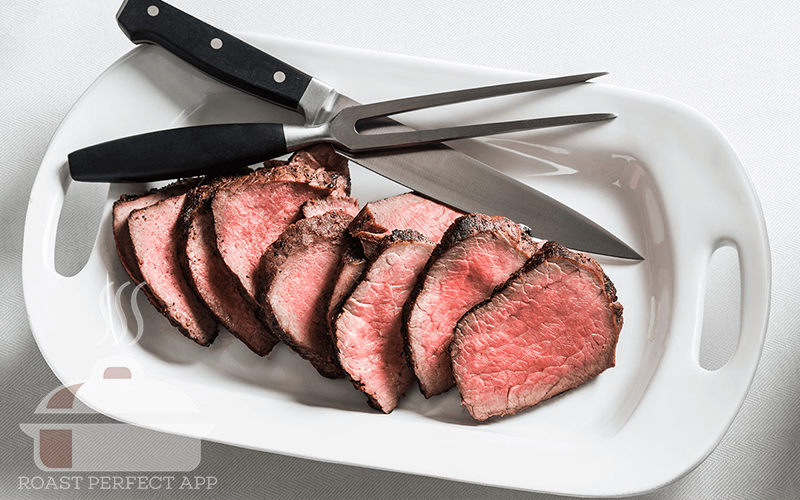 Peppered ball tip roast is great for busy weeknights, and easy with instructions in the Roast Perfect app. Here's how it goes: the work day is over and you rush to the grocery store to grab something for dinner. Walk past the intoxicating smells coming from the deli rotisserie and head for the meat case.
Pull out your smart phone and open the Roast Perfect app. Then glance into the case and see that ball tip is on sale. Perfect! Select ball tip in the app, choose number of people you need to serve, and then follow the instructions. In my case, five people required a 3-lb. ball tip roast. When I got home, I chose a suggested recipe from the app and about an hour and a half later, dinner was served—much to the delight of my family. It really is that easy! And the Peppered Ball Tip Roast was delicious.
Peppered Ball Tip Roast
Author:
Ingredients
1 (3 pound) Certified Angus Beef ® ball tip (bottom sirloin) roast
1 tablespoon kosher salt
1 teaspoon black pepper
1 teaspoon ground red pepper
1 teaspoon ground white pepper
1/2 teaspoon onion powder
Instructions
Preheat oven to 450°F.
In a small mixing bowl, combine salt, peppers and onion powder.
Rub mixture evenly on roast and place in a roasting pan fitted with a rack.
Roast for 15 minutes, then reduce oven to 325°F and continue roasting about 1 hour for medium doneness (135-140°F).
Remove from oven, tent loosely with foil and rest 10 minutes before slicing.
Serves approximately 6
For more roast recipes and step-by-step instructions (and timers), download Roast Perfect in the Apple Store or Google Play!