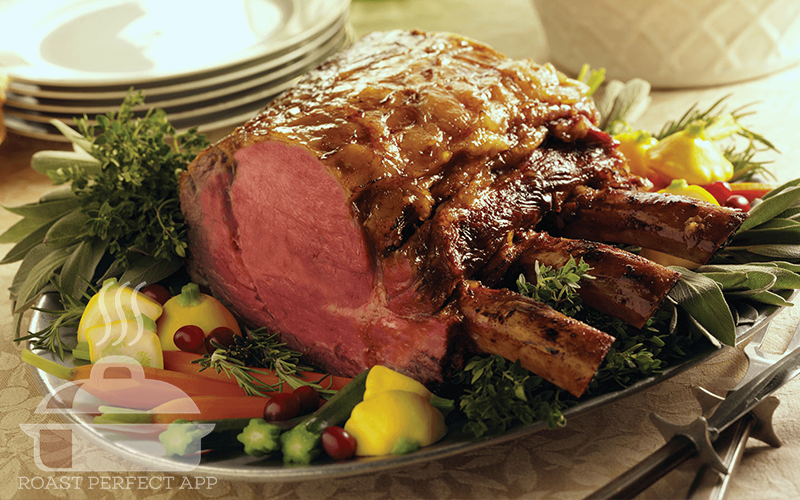 It's that time of year … out with the old, in with the new. Celebrate with a ribeye roast that's bursting with rich,  beefy flavor, spices and elegant presentation! Some like it rare, other medium-well. No matter your preference, the Roast Perfect app will help you get the timing just right.
Celebration Ribeye Roast
Ingredients
1 (8-pound) Certified Angus Beef ® bone-in ribeye roast
3/4 teaspoon ground black pepper, divided
1 teaspoon ground red pepper
1 teaspoon ground white pepper
1 teaspoon onion powder
3 teaspoons kosher salt, divided
3 medium onions, peeled, halved lengthwise and sliced 1/4-inch thick
3 tablespoons butter
1/3 cup sugar
1/8 teaspoon dried red pepper flakes
1/2 cup dry white wine
1 tablespoon red wine vinegar
1/4 cup packed dried apricots, thinly sliced
3/4 cup oil-packed sun-dried tomatoes, drained and thinly sliced
Instructions
Preheat oven to 450°F.
Combine 1/2 teaspoon black pepper, red and white pepper, onion powder and 2 1/2 teaspoons salt in a small bowl. Place roast, fat side up, on a rack in a shallow roasting pan. Rub the entire roast with pepper rub.
Place roast in the oven for 15 minutes at 450. Reduce heat to 325ºF and continue roasting approximately 2 3/4 hours for medium doneness (when thermometer registers 135-140°F).
Meanwhile, cook onions, butter, sugar, remaining 1/2 teaspoon salt, red pepper flakes and remaining 1/4 teaspoon black pepper in covered, heavy skillet over low heat, stirring occasionally, until onions are soft and golden; about 30 minutes.
Add wine, vinegar, apricots and tomatoes. Simmer uncovered, stirring occasionally until thick, about 20 to 30 minutes.
Remove roast from oven and allow to rest, tented loosely with foil, for 15 minutes. Slice across the grain, cutting portions that are attached to the bones and portions from between the bone-in slices. Serve with warm onion jam.
For roasting ideas and recipes for steaks, burgers, appetizers and more visit CertifiedAngusBeef.com. And get the Roast Perfect app. It's free. Don't make a roast without it!