Are you looking for interesting ways to incorporate healthy cooking into classic weeknight meals? These meatballs with zoodles (noodles made of fresh zucchini) are a delicious twist on classic heavy pasta. And they have loads of flavor!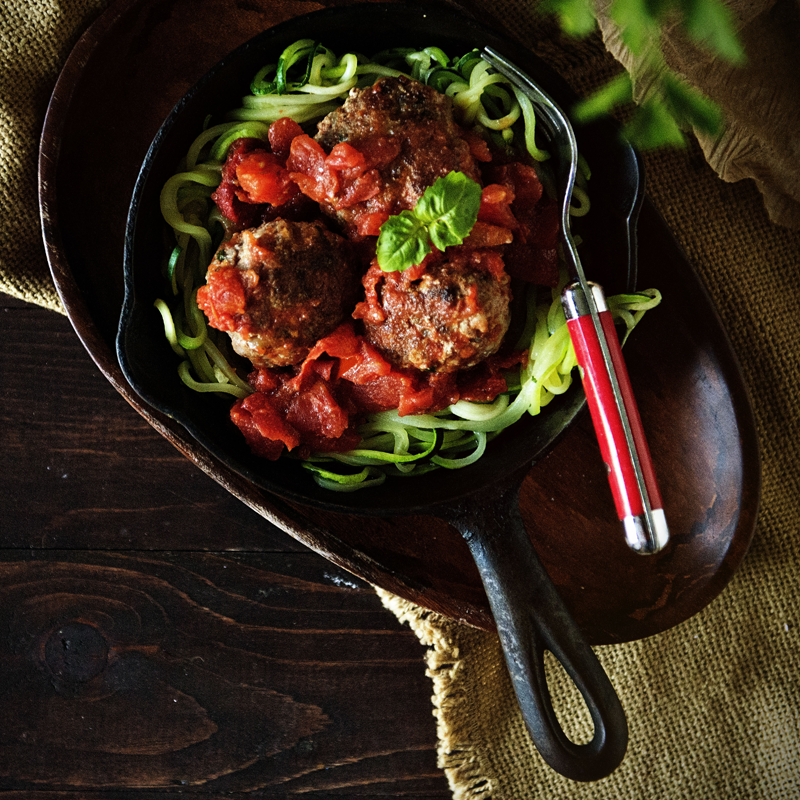 Preparation is quicker than boiling water if you use a spiralizer tool to make the zoodles. Or forgo the new kitchen gadget and make thick noodles using a peeler. Both the zoodles and meatballs can be prepared ahead of time and stored in the refrigerator for up to three days.
Plan now! Make meatballs and zoodles for dinner.
Ingredients
1 lbs ground chuck
1 lbs ground pork
1 onion, diced
½ red pepper, diced
2 tablespoon fresh basil, chopped
1 tablespoon fresh parlsey, chopped
1 teaspoon red pepper flakes
2 garlic cloves, minced
Salt and pepper
1 egg
1 tablespoon cooking oil or cooking fat
1 28 oz. can diced tomatoes
2 zucchinis, washed and dried
Instructions
Combine chuck, pork, onion, red pepper, basil, parsley, red pepper flakes, and garlic in a bowl. Season liberally with salt and pepper. Add the egg and mix well. Line a baking sheet with parchment paper. Roll the meat into 1 ½" balls and line on the baking sheet. Cover and place in the fridge until ready to cook.
When ready to cook, preheat the oven to 400 degrees F. Preheat a skillet over medium-high heat. Swirl the cooking oil in the pan to coat. Working in batches, brown the meatballs on all sides 2 – 3 minutes a side. Nestle all the meatballs in the pan and pour the diced tomatoes and their liquid over top.
Bake in the oven 15 minutes longer, until meatballs are cooked through and liquid is bubbly.
Meanwhile, make the zucchini noodles. Spiralize the noodles and arrange on two paper towels in a single layer to absorb any liquid. Pat dry. If making ahead, wrap thin layers of noodles in paper towels and store in a large resealable bag.
When ready to cook the zoodles, places desired amount in a microwave safe bowl. Cover with plastic wrap and heat for 2 minutes. Drain excess liquid. Toss the zoodles in the tomato juices and arrange meatballs over top. Garnish with fresh basil and serve hot.
Notes
TIP: Add all of the ingredients and meat to your stand mixer to combine.
For more recipes and cooking tips, visit CertifiedAngusBeef.com. Be sure to peruse our Pinterest boards, too!
This post was written by guest blogger, Kita Roberts. She is a mountain biker, travel junkie, professional photographer, and meat maven. See more of her fab food at GirlCarnivore.com.