"They're just so similar," I remember thinking as I walked away from one of my first interviews with a group of chefs, comparing them to cattlemen. Allow me to introduce you to a North Dakota steakhouse owner, his chefs, and a rancher tied together by their commitment to quality beef.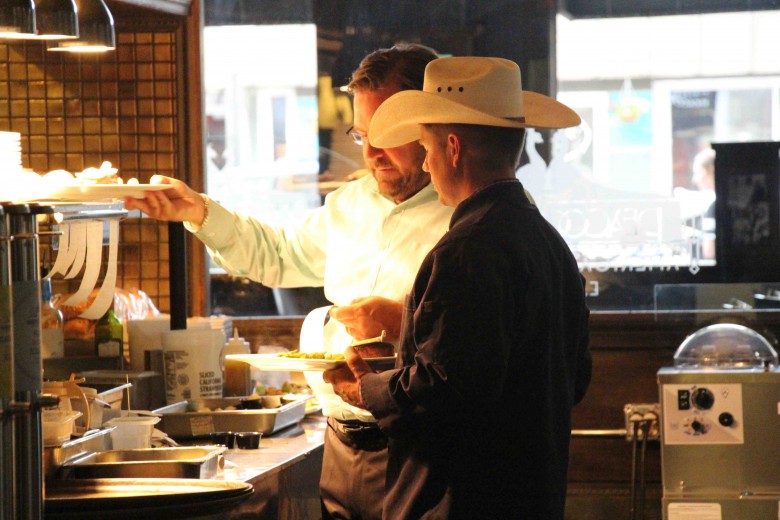 Dale Zimmerman leaves a lasting impression before you even meet him in person. The owner of Peacock Alley American Grill & Bar in Bismarck, N.D., is cheerful, opinionated and passionate — all characteristics that contributed to getting a staple restaurant up and running again after years of wear and tear.
No rest means steakhouse success
"Microwaves. Just a wall of microwaves. They were literally everywhere," Dale recalls when he and his wife, Melodie, bought Peacock Alley in 2010. "All you could see was the mid-section of the cooks and hear the pinging noise of the timers."
The furniture-salesman by trade had entrepreneurial ideas. He also wanted his kids to move back to town after college, so he took it upon himself to make the area more inviting. "The first thing we did was get rid of all the microwaves!" he says. "We made the decision to throw away the menus and start over. One of the first things we did was make it beef-centric."
Along with new flooring, new lights and the removal of one-too-many peacock paintings came time to explore the beef market.
"We researched, experimented and tasted" before landing on the Certified Angus Beef ® brand. "We saw what the brand could do for the restaurant, which is a lot, and before we knew it, had 15 different cuts on the menu."
Business quadrupled. Then the phone rang.
"It was a few years later on a Friday," that an owner of a restaurant down the road called. "They said, 'Would you be interested in buying it? We're going to close on Monday.' I thought, 'What are you talking about? How much do you even want for it?'" Dale recalls.
The other restaurant's owners flew to town on Sunday, and within 20 minutes on a Monday the deal was closed. "We shook on it, went back to the restaurant and told the staff," Dale says.
In a span of three years, Dale and wife Melodie opened a restaurant and purchased a second: 40 Steak & Seafood. The restaurant remained opened during renovations!
Today, Dale starts his mornings at 40 Steak and Seafood, then makes his way to Peacock Alley just before lunch. He's the one catching orders and joking with the line cooks. In a town where Peacock Alley represents all things traditional, 40 Steak & Seafood does the opposite. "They're competitors, but they respect each other," Dale says of the restaurants' executive chefs, Dusty Swenningson and Alan Abryzo, respectively.
The notion fits the restaurants as well. Peacock is the up-tempo location of the two, known for its custom martinis and cowboy ribeye. Over at 40, the steakhouse and its warm fireplaces beckon customers for fine dining on dry-aged Certified Angus Beef ® brand steaks.
"First of all, it was to prove that we could do it," Dale tells me when I simply ask him "why?" Considering what was once a lack of experience in an unknown industry, he states with confidence, "I like to create things, and I take pride in what we do."
Sounds familiar!
But this tale isn't all told just yet. Next, we'll meet North Dakota rancher Chad Ellingson, before he takes a turn behind the kitchen counter now fully visible at Peacock Alley. Stay tuned for another post by Certified Angus Beef staffer, Laura Conaway.