This recipe for Garlic and Five-Spice Strip Steak hits all the right notes in perfect harmony: a little salty from soy sauce, a little sweet from brown sugar, and a little spice in the marinade complements the big, beefy umami-rich steak.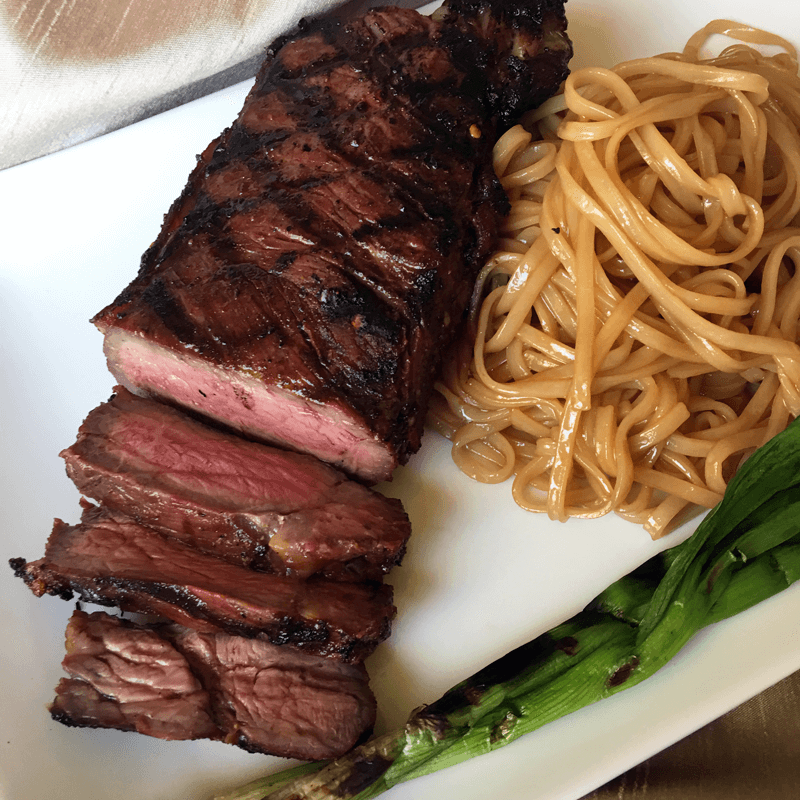 It was relatively late in my life before I discovered the magic of Asian flavors. But now, hardly a week goes by before I'm craving a little cardboard box of heaven from my favorite Chinese take-out. I think the secret is the complexity and balance of all the flavors in a perfectly satisfying dish: sweet and sour, of course, but also salty, bitter and savory (aka umami). Following that basic formula, the combinations are virtually endless, and just as tasty.
As convenient — and delicious — as take-out can be, I still love to cook. And grilling is just about as fast.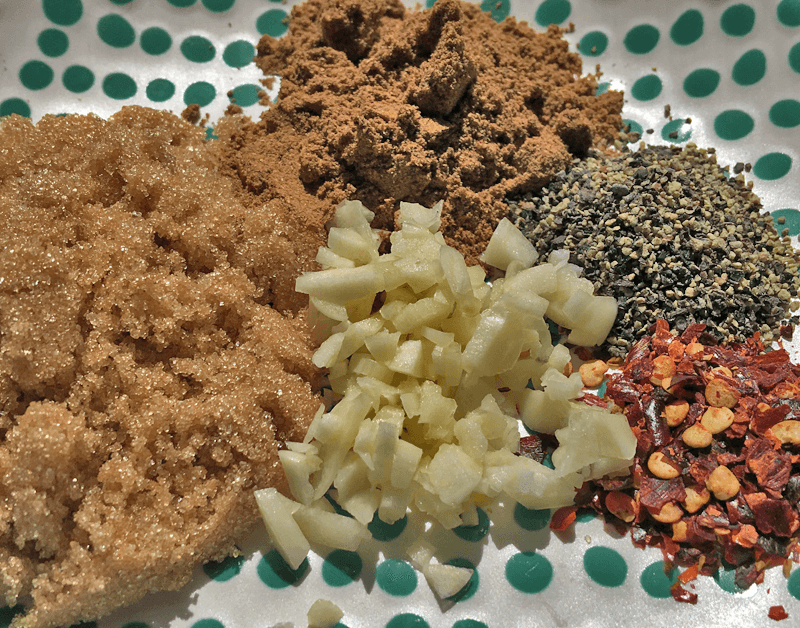 Start by mixing together soy sauce, brown sugar, minced fresh garlic, sesame oil, red pepper flakes, black pepper — and the "secret" ingredient: Chinese five-spice powder. This flavorful blend is available at most large grocery stores and contains ground star anise, ginger, cinnamon, fennel and pepper. It'll give the marinade a flavor you recognize, but probably couldn't identify.
Place your steaks in a zippered plastic bag, then pour in the marinade. Seal and refrigerate for at least 4 hours, or as long as overnight. (Since it's not an acidic marinade, there's no risk of over-tenderizing your steaks.)
When it's time to grill, remove your steaks from the marinade and pat them dry. Cook them to your desired doneness (be sure to use an instant-read thermometer for the best results) and allow them to rest a few minutes before serving.
I served mine with rice noodles cooked in a blend of soy sauce and sesame oil, with grilled onions. Stir-fried veggies like pea pods, red peppers, mushrooms, onions or bok choy would be delicious too! You can even cook them in a cast-iron skillet right on your grill.
Looking to find balance at your dinner table? Try this delicious Asian-inspired recipe today! Visit CertifiedAngusBeef.com for more recipes and ideas.
Grilled Garlic and Five-spice Strip Steaks
Ingredients
4 (12-ounce) [i][url href="http://www.certifiedangusbeef.com" target="_blank"]Certified Angus Beef [/i][/url]® strip steaks
1/2 cup low-sodium soy sauce
1/4 cup brown sugar
3-4 cloves garlic, minced (1 tablespoon)
2 teaspoons sesame oil
1 tablespoon Chinese five-spice powder
1 teaspoon black pepper
1/2 teaspoon red pepper flakes
Instructions
Stir together soy sauce, brown sugar, garlic, sesame oil, five-spice powder, black pepper and red pepper flakes.
Place steaks in a plastic zipper bag, add marinade and refrigerate 4 hours or overnight for deeper marinade flavor.
Preheat grill to medium high (450°F). Remove steaks from marinade, pat dry and grill to desired doneness; about 3-4 minutes per side for medium rare (around 125-130°F internal temperature).
Remove steaks from grill and rest 5 minutes before serving.