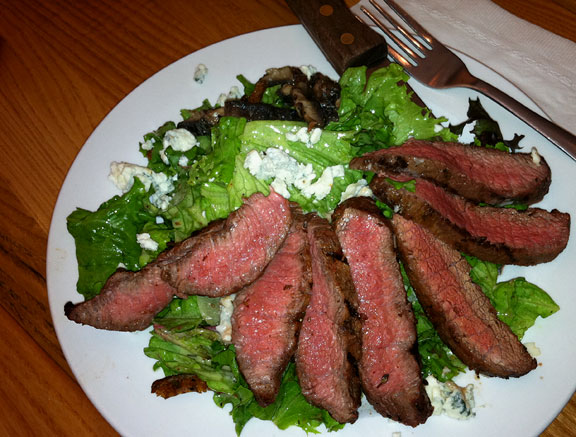 I ordered a steak salad at a local restaurant. Luscious bites of flat iron steak sliced thin and grilled to medium doneness over a bed of Romaine lettuce, with a sprinkling of sauteed mushrooms and blue cheese. Yummy!
Have you heard of the flat iron steak? It's the poor man's savvy shopper's beef tenderloin. Flat iron — also called top blade or petite steak — is a well-marbled, juicy cut. It's extremely tender like beef tenderloin, but take note: flat iron steak is about half the price.
And that makes it even more delicious!
Don't get me wrong, beef tenderloin is amazing. It's also what I'd consider a 'special occasion cut'. That's why flat iron really takes the cake for everyday dining.
Look for Certified Angus Beef ® brand flat irons at your local grocer. If you can't find 'em, just ask the butcher! And just in case you feel like gettin' your chef groove goin', try something a little more complex than a simple grilled steak over a bed of green leaves. We have some truly tasty recipes!