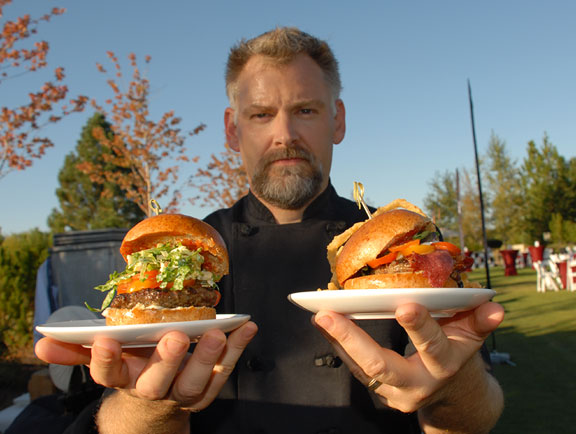 Who doesn't love a juicy burger?
Even the no-meater-eaters of the world create burger wannabes from things like mushrooms, tofu and cardboard. Don't hold it against them … it means more tasty, tantalizing, beefy burgers for us carnivores.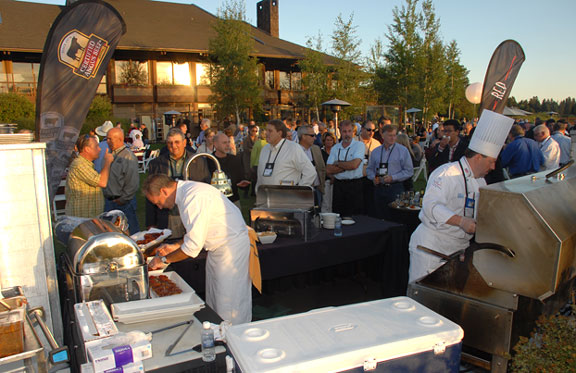 Last night, as the sun was setting over Oregon's Cascade Mountains, burger aficionados gathered at Sunriver Resort for Burger Bash — a test of culinary creativity on a bun. 
Some of the country's best chefs prepared their version of the ultimate Certified Angus Beef ® brand burger. We can't send you a sample, but we can show you the burgers. And we're hoping you'll vote on YOUR favorite for the Virtual People's Choice Award! 
Check out the burgers, below. Then visit our Facebook page to vote for your favorite. Voting ends at noon on Thursday, Sept. 22. We'll post the winning recipe so you can create the same tasty treat in the comfort of home.
---
Contestant #1: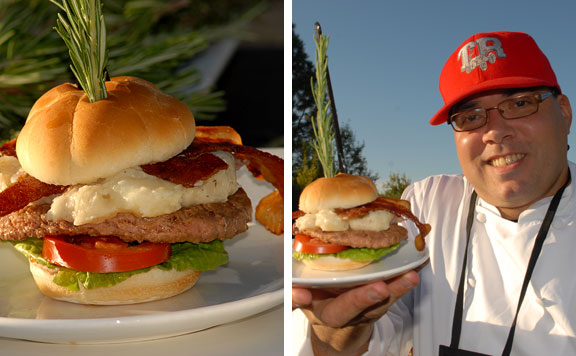 Mashed Potato Burger — Chef Anthony Vidal, Hash House A Go Go
Smashed red potatoes with honey-cured bacon on a burger with lettuce and tomato, rosemary sprig on a hand-rolled bun.
---
Contestant #2: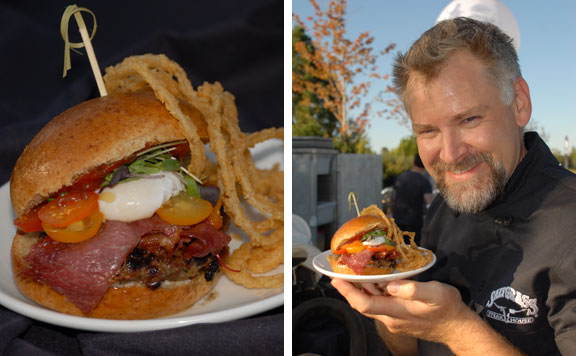 Ultimate Saltgrass Burger — Chef Ric Rosser, Saltgrass Steakhouse
Prime burger with corned beef bacon, heirloom cherry tomato, poached quail eggs and micro-greens on Shiner Bock beer bread.
---
Contestant #3: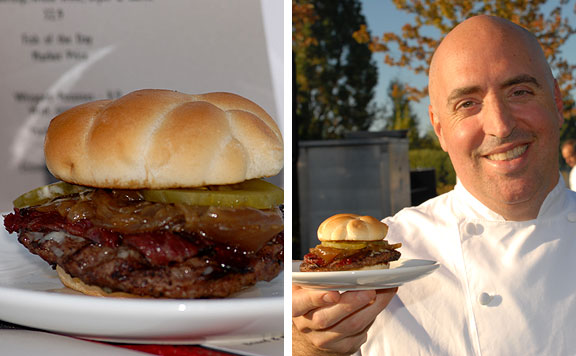 Ultimate All-American Burger — Chef Peter Vauthy, RED the Steakhouse
Prime burger with aged cheddar cheese, pastrami bacon, crisp Romaine lettuce and heirloom tomato marrownaise on a brioche bun.
---
Contestant #4:
Jacque Storme Burger — Chef John Storms, Hard Rock Cafe
Gorgonzola-stuffed burger with caramelized onions and roasted red peppers. Basted with a chipotle barbecue sauce and topped with seasoned bacon and pepper Jack cheese on a brioche bun.
---
Contestant #5
Chicken Fried Steak Burger — Chef Scott Neuman, OBA
Chicken-fried ground chuck  on mashed potatoes with chorizo gravy made from olive oil, flour, sage, fennel and fresh lemon. Served on a biscuit.
---
Contestant #6: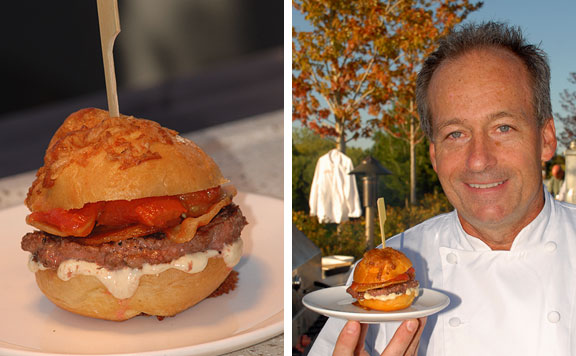 Prime Burger — Chef John Doherty, Wolfpack Hospitality and CAB brand ambassador
Prime burger with roasted garlic, rosemary and Parmesan aioli, crispy pancetta, tomato con fit on a Gruyere brioche roll.
---
Voting ends at noon on Thursday, Sept. 22. Winning burger recipe will be posted so you can create the same flavors at home!