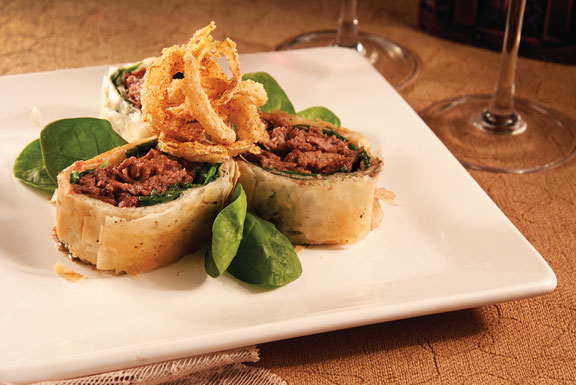 In 1973, Woody Allen made a movie called Sleeper. This could be the story of my life—I LOVE to sleep! Especially now that the weather is turning cooler. There's nothing I like better than snuggling between flannel sheets and hitting the snooze button.
Until my tummy tells me it's time to eat, of course.
When that happens, I'd better be thinking beyond breakfast to that age-old question: What's for dinner? Pot roast is the perfect cold weather comfort food, and after slow-cooking it, too, can benefit from a little time "between the sheets." 
I've discovered Chef Scott Popovic's recipe for Pot Roast Strudel. Imagine rich, beefy flavor bundled with fresh spinach between sheets of crisp and delicate phyllo dough. This recipe has become a family favorite—the ultimate comfort food decadence. Try it and see if you agree.
Sweet dreams!
---
Chef Scott's Pot Roast Strudel

1 pound cooked Certified Angus Beef ® pot roast
12 sheets phyllo dough
8 ounces unsalted butter, melted
3 tablespoons chopped fine herbs
1/2 cup blanched spinach
2 red onions, caramelized
4 ounces blue cheese
Salt and pepper to taste

Lay out 4 phyllo sheets. Overlap first 4 sheets, by 1-inch, with 4 more sheets and repeat with remaining sheets to create a rectangle. Butter the phyllo.
Evenly spread remaining ingredients over phyllo sheets and roll from long edge.
Butter and bake at 300°F for 15 to 20 minutes until golden brown.
Slice into 1-inch pieces.

Serves 4
Nutritional Information per Serving: 1016 Calories; 73g Fat; 39g Saturated Fat; 257mg Cholesterol; 42g Carbohydrate; 2g Dietary Fiber; 49g Protein; 1498mg Sodium; 45% daily value Iron (based on 2,000 calorie diet).