photo from SandyLane.com
Chef Wilwore Jordan has been making his mark on the culinary scene this year. In June, he participated in and won the Certified Angus Beef ® Competition at the Taste of the Caribbean. The annual event held in Miami features the best in food and beverage for chefs and consumer culinary enthusiasts.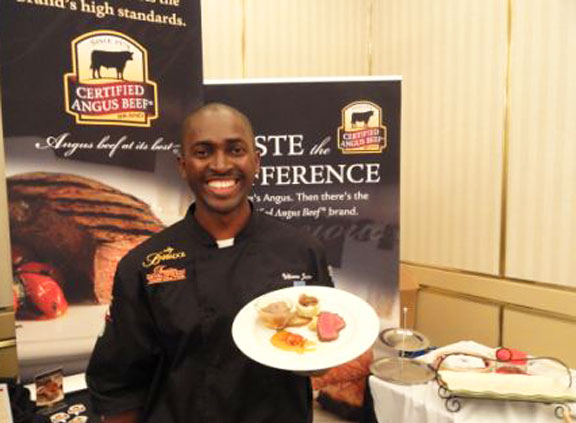 The chef de partie at Sandy Lane, he participated with the award-winning team in the 2010 beef competition, when he took a lead role in preparing the team's proteins. This year's competition was geared for individuals, giving Jordan added incentive for serving the finest dish.
"I spent hours creating and planning the meal to focus on the tastes and textures of the Certified Angus Beef ® brand," he says. "The flavor of the beef is the most important element. I used herbs and different cooking techniques to add subtle Caribbean flavors."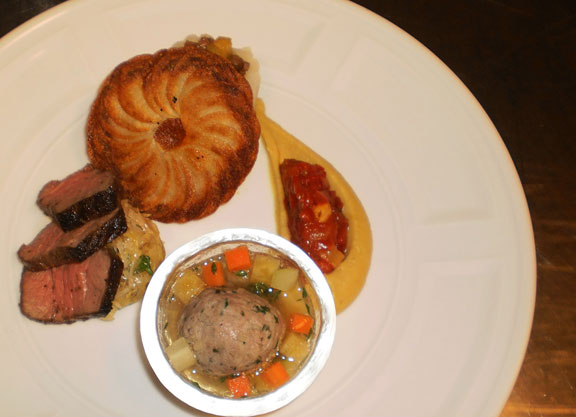 For the beef items he prepared, Jordan used Certified Angus Beef ® coulotte. It's the cap of the top sirloin with the great flavor of a N.Y. strip steak. His recipe featured Pan-seared Spiced Rubbed Coulotte on Sweet and Sour Cabbage, Poached Beef and Herb Dumpling and Spicy Barbadian Beef Stew.
"The judges appreciated Chef Jordan's artistry in using the same cut in different applications," said Maggie O'Quinn, CAB executive account manager in the Caribbean. "We appreciate his interest in sharing his culinary skills with fellow chefs and look forward to giving him insight to the brand's quality advantages from farm gate to dinner plate."
What did he win? A grand tour of an Angus cattle ranch, feedlot and meatpacking company in the U.S. Chef Jordan's accolade has led to additional appearances this fall. On Oct. 20, he was the celebrity chef at a tradeshow for food and beverage professionals held by Hotel Food Supplies, the exclusive licensed distributor for Certified Angus Beef ® products on the island. He prepared center-cut top sirloin. It's a flavorful and affordable option for steak dinners and restaurant carving stations.
In November, Chef Jordan will be one of the featured chefs at the 2011 Barbados Food, Wine and Rum Festival. He will prepare a beef buffet for 200 attendees at the Bajan Fiesta event on Sunday, Nov. 20 at the Lions Castle Polo Club. Guests will be served Thai Beef Salad, Pan-seared Spice Rubbed Beef Striploin, Teriyaki Braised Beef Shortrib and Classic Spicy Bajan Beef Stew in a Potato Cup, all made with the Certified Angus Beef ® brand. Tickets are available online at www.foodwinerum.com.
And wow … now I'm really hungry!