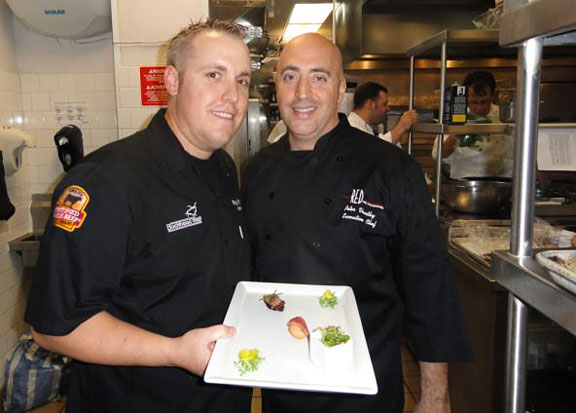 It may seem strange for the chef of one of Miami's hottest restaurants to invite his competitors over for dinner. And not only that, he invited them to cook … in his kitchen.
If you knew Chef Peter Vauthy (maybe you do!), you'd realize he likes to color outside of the lines and think outside the box. Vauthy, at right, above, is a New Jersey native who has experienced the dynamics of Cleveland's North Coast and Miami's South Beach. Both cities play host to the trendsetting restaurants where he has served time, including Cleveland's Moxie and RED the Steakhouse, and his current home in Miami: RED the Steakhouse in South Beach.
Vauthy has said he was given his first cookbook at age four. He's transformed those early experiences into a winning playbook he's willing to share with others in the name of food. Specifically, a benefit dinner to support the James Beard Foundation Scholarship Fund.
Last Sunday, Vauthy and chefs Roy Mitchell of Buckhead Beef and Scott Popovic of Certified Angus Beef ® were joined by Vauthy's "neighbors" — chefs Andre Bienvenu, Daniel Ganem, Dana Brizee, Douglas Rodriguez and Christian Cobos.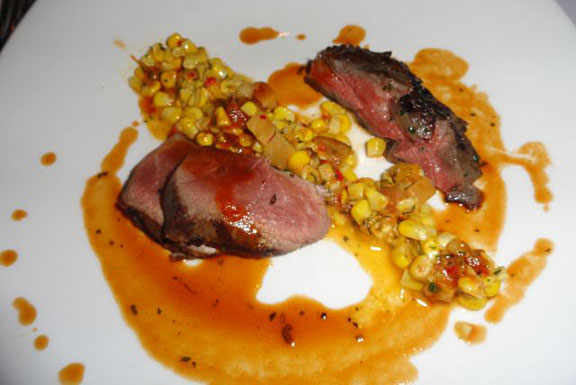 They created a masterful five-course meal …
Atlantic Cod with Sweet Butter-Corn Broth, Pickled Sprout Salad
and Stone Crab-Pepper Lavash
Stag's Leap Wine Cellars Sauvignon Blanc 2009

Dry-Aged Certified Angus Beef ® brand Sirloin and Eggplant Dauphinoise with Rolling Stone Chevre and Cabernet Reduction
Stag's Leap Wine Cellars Petite Syrah 2007

Crisp Lady Apple Salad with Andante Dairy Ballad Goat Cheese,
Spiced Pecans, Bibb Lettuce, and Apple Cider Reduction
Mer Soleil Silver Chardonnay 2008

Jumbo Lump Crabcake with Roasted Shishito Peppers and

Spicy Remoulade
Girard Sauvignon Blanc 2010

Deconstructed Certified Angus Beef ® brand Prime Rib-Eye with
Sweet Corn, Porcinis, Fresno Peppers, Heirloom Tomatoes,
Herbs, and Heirloom Tomato Demi-Glace
Nickel & Nickel John C. Sullenger Vineyard Cabernet Sauvignon 2007

Pink Grapefruit and Yogurt Crema-Layered Caramelized Pastry
with Mango, Guava, and Rainbow Citrus Frozen Yogurt
Stag's Leap Wine Cellars Viognier 2009
"It was a great event for the betterment of the [James Beard] Foundation and the neighborhood 'South of Fifth' in Miami," Chef Scott said. "With the rapid expansion of high-end restaurants in the neighborhood, Peter had the foresight to really turn this event into a way to forge friendships.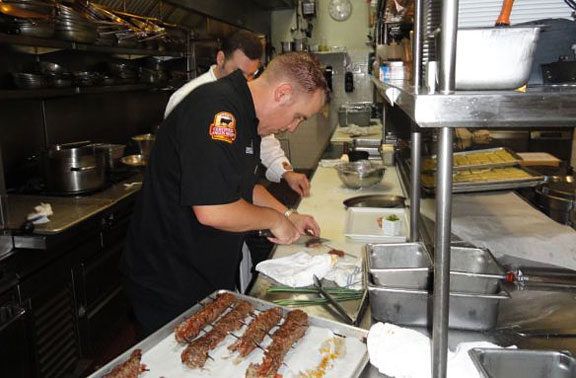 "These chefs are located within five blocks of each other and here they are coming together to benefit the Foundation as well as their locale. It's awesome!"
Chef Scott describes his Miami experience and the sense of purpose he saw from the other chefs. "They weren't there for fame or money or accolades — they came for the pure love of food and making people happy. That's what I experienced while down in Miami — friends new and old … for the love of food."