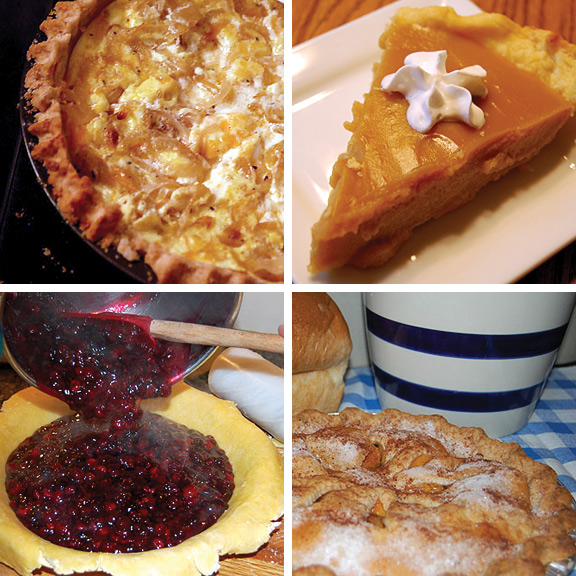 Whether apple, cherry, pecan or blackberry, I somehow always have room for pie (though never pumpkin — yep, I'm strange) after Thanksgiving dinner. Flaky crust and sweet filling, gently warmed and served a la mode … I'm in heaven. [Happy sigh.]
In fact, my traditional Black Friday breakfast, as I head out on my shopping adventures well before the crack of dawn, is some leftover pie. (It's crust and fruit, I rationalize … not so different than those convenient cereal bars, but sooooo much tastier!)
I'm proud to come from a long line of expert pie bakers. I also had the good fortune to marry a man who's made it his goal to honor his grandfather's memory by baking pies as delicious as the original. To me, a slice of pie, warm and sweet and baked with love, evokes everything that's wonderful about family and holiday gatherings.
And as an inveterate dessert lover and enthusiastic baker myself, I'm so excited to see how pie is enjoying a much-deserved renaissance. But — because I am also a beef lover, this is the really cool part — Pie isn't just for dessert (or breakfast) anymore!
Savory is now where it's at in the pie world. Chefs across the nation are offering hungry patrons a chance to enjoy a truly upper crust meal. (I should note that my co-blogger Bryan thinks "savory pie" is perhaps the greatest two-word combination in the English language. My love of the sweet stuff notwithstanding, he could be right.)
Take the pot pie – in the hands of experts, it's not humble pie at all. Executive Chef Ken Bogucki of The Wooster Inn (Wooster, Ohio) says the classic dish — one of his best sellers, in fact, is such a hit that there'd be an uproar if he ever took it off the menu. Bogucki offers a choice of juicy chicken or tender Certified Angus Beef ® prime rib, cooked with seasonal vegetables in savory gravy, and topped with an elegant braided puff pastry crust. Yum!

The Greenhouse Tavern in Cleveland boasts a "40 Clove Heirloom Garlic Roasted Half Chicken in Brioche Bread" on its menu. OK, technically it's not advertised as a pie, but when you have a delectable filling encased in dough, that's good enough for me. Large enough to share, this magnificent creation elicits gasps from diners when it's brought to the table. Perhaps not surprisingly, it was voted best chicken in Cleveland. (Executive Jonathon Sawyer also offers a show-stopping, sharable 40-day dry-aged ribeye, as well as a roasted pig head, so if you're going to the Greenhouse, go very hungry … and be prepared to make some difficult choices!)
Tasty Pie Recipes from the Chef
For those of us looking to whip up a pie de resistance at home, our own Certified Angus Beef ® brand Chef Michael Ollier is on top of this trend. He recently developed new recipes for deep-dish comfort food classics. They're perfect as the weather turns colder and you want to gather to share a hearty, flavorful meal.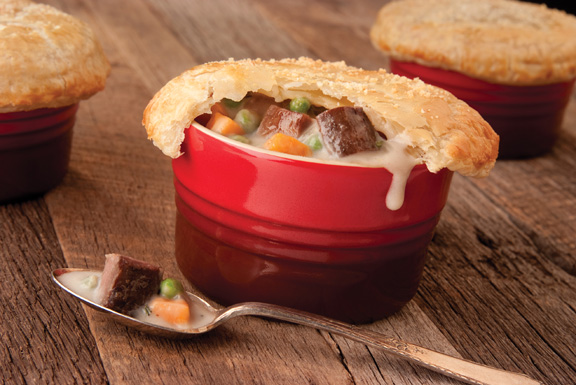 Beef, Shiitake and Sweet Potato Pot Pies pack a lot of flavor under a flaky (and fast!) puff pastry top. Chunky vegetables and protein-packed beef combine to deliver a nutritious, delicious upper crust dinner. I like to make them in individual ramekins so everyone can enjoy their own.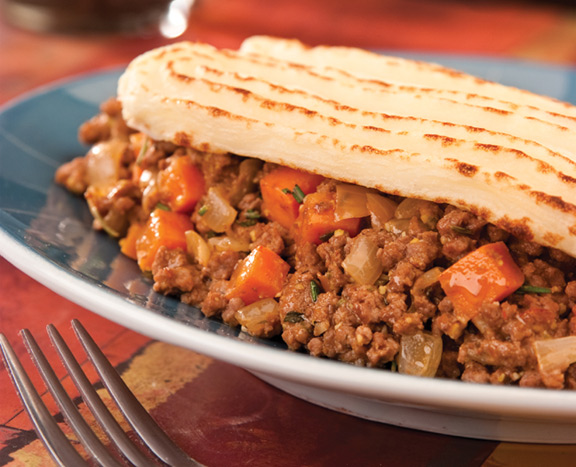 Shepherd's Pie features a flavorful beef filling, topped with a thick layer of mashed potatoes. Baked in the oven until it's bubbly on the inside and creamy-crunchy on top, it's going to leave you pie-eyed with delight.
Or, enjoy an international twist (rather, fold) on pie.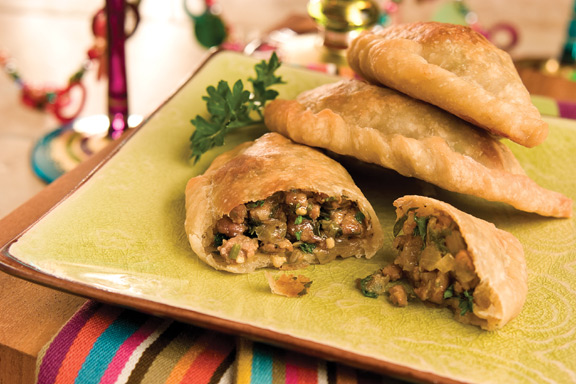 Sirloin Empanadas are delectable hand-held turnovers that are stuffed with seasoned beef and are menu mainstay in Argentina. This version keeps the authentic flavors, but uses refrigerated pizza dough for quicker assembly. They also make great appetizers at holiday parties.
Whether you prefer savory or sweet – or both! No one says you have to choose! – give thanks for family, friends and food this Thanksgiving.