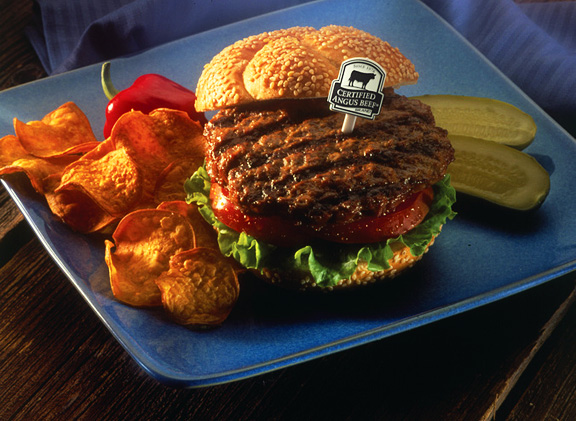 If you're anything like me, sometimes there's nothing better than a delicious burger. You know the kind: it oozes flavorful juices as you bite into it, dripping down your fingers and down your chin and onto the table below. It's the kind that leaves you licking your lips and dirtying your napkin and feeling a little sad when it's gone, despite how full you may be.
Nope, it's not refined, but that's maybe what I like most about it. It's real food, filling and tasty and not at all pretentious. (Or at least, it shouldn't be … in my opinion.) That doesn't mean I don't want top quality … I just don't need the attitude on the side, you know?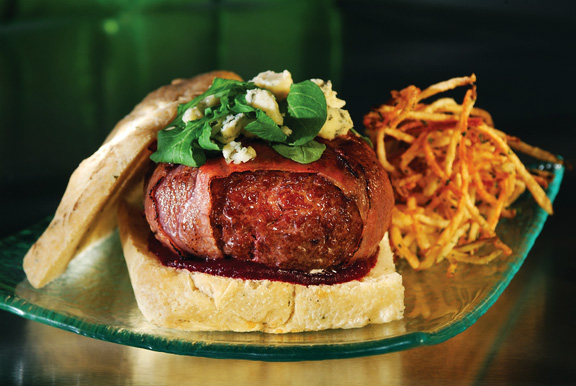 Everyone's getting into the burger game. There's a certain kind of elite culinary mastermind that will put an exorbitant burger on the menu and add all kinds of expensive, highfalutin' frou-frou on top: foie gras, caviar, truffles, etc. These types of burgers are delicious, but sometimes I prefer something more approachable.
Enter Bobby Flay – yeah, the guy you know from "Iron Chef America" (plus many other shows on the Food Network) and his world famous restaurants including Mesa Grill, Bar American and Bobby Flay Steak. He of the serious cooking chops; the one who wields the meanest spatula in all of grilldom.
Turns out, he believes the perfect sandwich – the perfect meal – is a really delicious burger. Just think – this guy has access to the best restaurants, the best chefs, the best of everything in the food world – and he loves burgers.
Now that's something I can respect!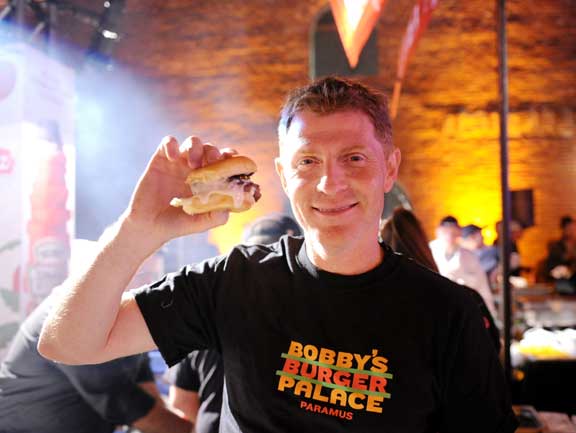 So Mr. Flay decided he wanted to open a bunch of restaurants that feature his favorite dish in the whole wide world. He called them Bobby's Burger Palace. And he created a menu full of amazing ground-beef-on-a-bun creations. To wit:
Bobby Blue Burger – with blue cheese, bacon, lettuce and tomato
Dallas Burger – spice-crusted with coleslaw, Monterey Jack, barbecue sauce and pickles
Philadelphia Burger – with provolone cheese, griddled onions and hot peppers
Santa Fe Burger – with queso sauce, pickled jalapenos and blue corn chips
Perhaps Bobby's signature is "Crunchified SM" burgers – to kick up the texture, he recommends topping any burger with potato chips. (He's right – when life gives you the opportunity to add a few chips, you should take it.)
You may have noticed that the menu, while delicious-sounding, isn't "out there." Everything's approachable. And just as importantly, everything is of the highest quality. (You wouldn't really expect anything less from an Iron Chef, would you?)
Bobby cares about quality and he knows that using the best ingredients makes all the difference. His reputation depends on it. And I'm proud to know he uses only Certified Angus Beef ® brand ground beef.  It's the same top quality beef with the same abundant marbling and the same incredible flavor that appears on the best steakhouse menus. Bobby is just preparing it in a way that speaks directly to burger aficionados like us.
Next time you're in the Northeast United States, check out a Bobby's Burger Palace. Today, there are eight locations in New Jersey, New York, Connecticut, Pennsylvania, Washington, D.C. and Maryland, with more on the way.