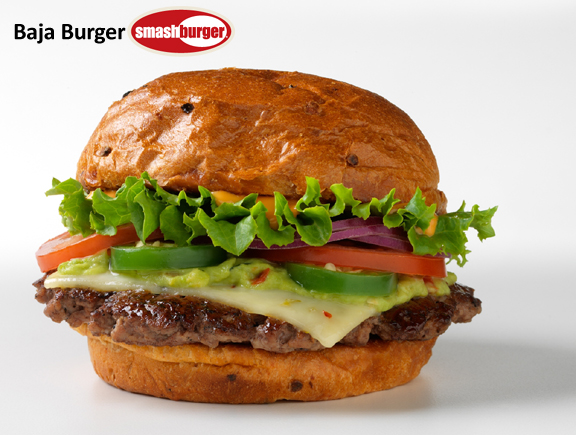 The official physical home of RARE blog can be found in a town of about 25,000 people halfway between Cleveland and Columbus. It's a beautiful area. We enjoy the fruits of all four seasons, have access to endless acres of rolling countryside and big city amenities are just a short drive up the interstate.
We thought we lived in the perfect locale … at least until we tasted one of those burgers (up top, there) and then looked at this: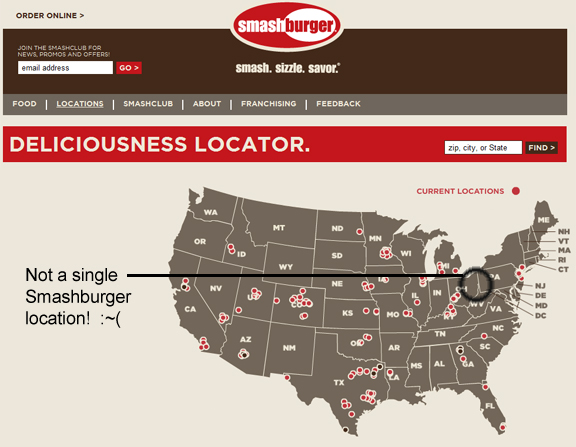 Smashburger, recently named America's Most Promising Company by Forbes magazine, only exists in the far southwest reaches of our state – a solid three-hour drive away. And though we're tucked away in the heart of Northeast Ohio, we are afforded a fair bit of travel time. Sometimes those trips take us to places where the rock star fast casual chain exists, and I say bully to that.
Smashburger was founded on doing things the right way – offering on-the-go customers a fast dining experience, but not skimping on the quality. Smashburger's famed burgers are made entirely with Certified Angus Beef ® brand muscle cuts; the sweet potato fries feature hints of rosemary, garlic and other gourmet elements; the milkshakes are made with Häagen-Dazs ice cream.
Not only is everything about Smashburger of the highest quality, there's a signature burger in each state where the chain exists. Ohioans can order The Buckeye — featuring fried pepper rings, haystack onions, American cheese, lettuce, tomato and mayo on an egg bun. And the Windy City burger, above? Yum.
One more thing: The company puts a premium on service and appearance, so you'll always find clean, hip stores with friendly, knowledgeable employees.
Make no mistake – Smashburger's recent honor in Forbes is a big, big deal.
The company has already grown from a single test location in Denver to 143 storefronts nationwide. Another 450 franchise agreements are already signed, according to the article. Who knows, one may be coming to a town near you!
Until then, take our word for it … Smashburger is simply smashing!
So in short,
Congratulations Smashburger!