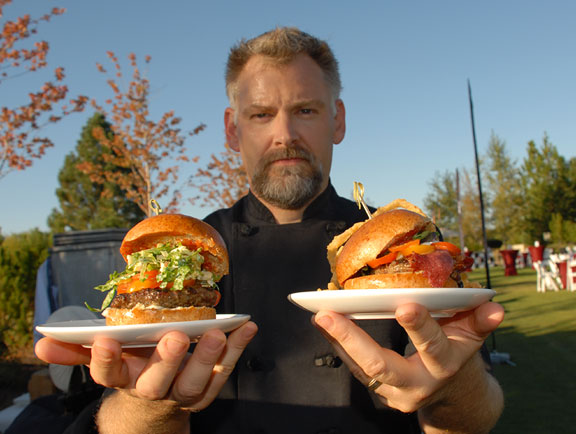 Mention the name Ric Rosser around Texas and you may get a few hardcore foodies who'll perk up and recognize the long, lanky chef with the southern draw. But mention his food, and you'll set salivary glands blazing, because it's quite likely your audience will have indulged themselves many times over.
Rosser is executive chef for the iconic Saltgrass Steak House, which features locations in five states and is the quintessential cowboy cookery. But Rosser is much more than a "beans around the campfire" kinda guy. His menu blends the latest food trends and cooking techniques with tried and true western flavors.
Recently, Rosser spent time with the folks at RARE and had this to say:
Q: Aside from your own, what's your favorite restaurant?
A: The Greenhouse Tavern in Cleveland; Mark Cox's restaurant in Houston.
Q: What's the hottest trend in food right now?
A: Thinking local … you can't beat freshness.
Q: How would you describe your style of cooking?
A: Simple. Letting the food speak for itself.
Q: Are there any chefs you try to emulate?
A: The young chefs who are hungry for knowledge, ready to get up and cook with passion.  NOT the chefs who have seen it all.
Q: When you're not in the kitchen, what are you doing with your free time?
A: Spending time with my family in the outdoors.
Q: The world's foremost authority on food is?
A: Thomas Keller
Q: The one book every chef should have in the library?
A: Food Lover's Companion
Q: If you could have only four ingredients in your pantry, what would they be?
A: Popcorn, brown rice, good homemade pickles, sambal
Q: What is your favorite food/dish?
A: Anything Braised Editor's note: recipes here!
Q: What five staples should folks keep in their cooking arsenal at all times?
A: Balsamic Vinegar, red wine, olive oil, sundried tomatoes, oatmeal
And to conclude the interview (and this blog post!), I'll end with inspiring words from Thomas Keller: "Food should be fun!"