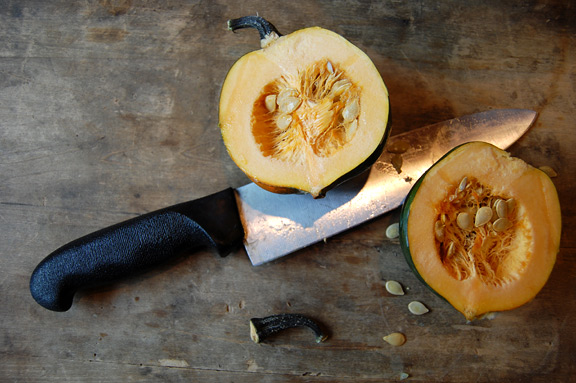 We do a lot of cooking around here. Not a day goes by there's not a chef or meat expert in the company kitchen creating new recipes, or experimenting with cutting and cooking methods. The smells that waft through the office on a near-daily basis are downright distracting.
And then there are occasions when the chefs let the rest of us join in the fun. They slap a bag of groceries in our arms and mutter things like, "Ohhh, go stuff it!"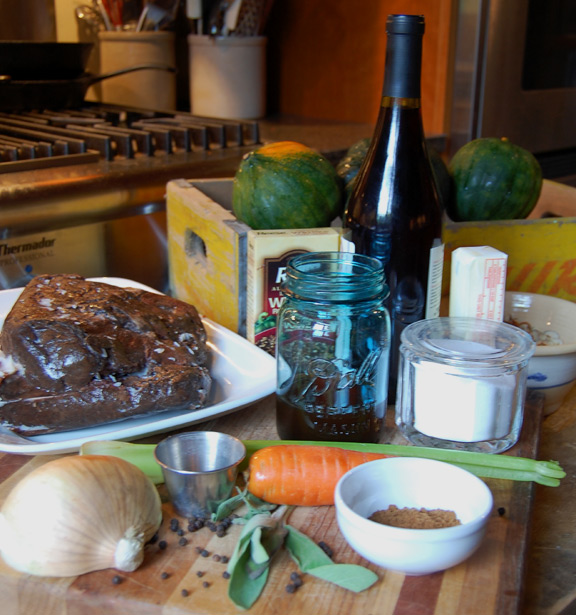 No joke. That's what I was told. And while I'd normally react with my own brand of rebuttal, in this instance I embraced the bag with a smile and headed home to my kitchen where I did, indeed, go stuff it. Recipe testing is a delightful experience when you're working with premium ingredients.
My bag of goodies contained Certified Angus Beef ® brand short ribs, acorn squash, garam masala curry and red wine — which was super! I love cooking with wine. Sometimes I even put it in the food. But I digress.
The recipe was the epitome of autumn. It was literally bursting with a harvest of flavors including sage, wild rice and beef stock — not to mention the rich, beefy goodness of tender short ribs. I chopped ingredients, added spices and literally stuffed up. Acorn squash never looked — or smelled — so good!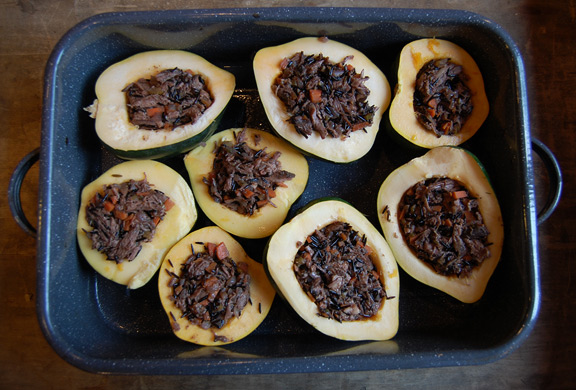 Into the oven for an hour and 15 minutes (during which time I cleaned the kitchen and sampled a bit of the wine). When all was said and done, this recipe truly knocked my socks off. The curry added a layer of flavor my family had never experienced. The combination of sweet, earthy squash and rich, tender beef blended with rice, carrots, onion and celery was truly delightful.
Any dish that garners rave reviews from the adults and the little people in my family is a winning recipe in my book. Short Rib Stuffed Acorn Squash is a new family favorite that's sure to please everyone …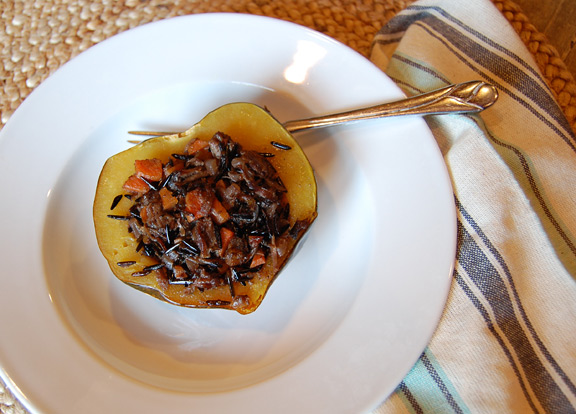 And that's what I wrote in the comments section of the chef's recipe test form. Underneath that, I wrote …
So now YOU go get stuffed!
And tell me — because I'm curious!— what are some of the autumn flavors you love to combine with beef for the ultimate comforting, delicious dish?