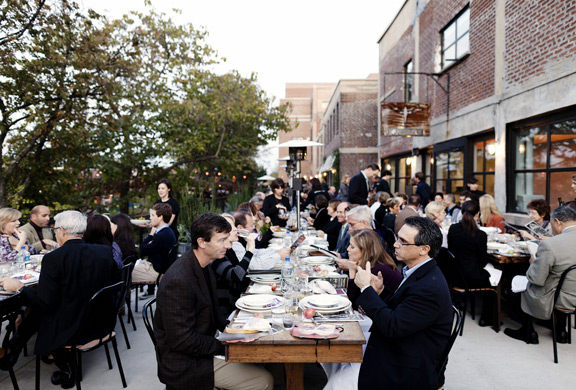 Picture yourself in the deep south. It's a Sunday afternoon … leaves turning, only a hint of chill in the air. The scents and sights of culinary decadence you can only find below the Mason-Dixon line filling the atmosphere.
For any food-loving, red-blooded biped, this is a thin slice of Heaven. And for one afternoon recently in Atlanta, Heaven and Earth came together at the annual Sunday Supper South, hosted by Anne Quatrano and Clifford Harrison from Bacchanalia and featuring some of the south's most notable culinary talents – and one chef from the north, our very own Scott Popovic.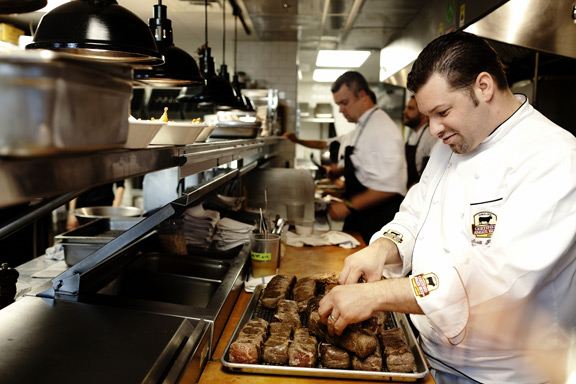 Chef Scott served the crowd 35-day, dry-aged Certified Angus Beef ®Filet of Ribeye, Sweet Potato Hash with smoked and braised chuck short ribs with cranberry syrup and corn shoots. If that's not enough to make you want to book reservations at your nearest steakhouse (which you can find here), then consider that prior and following chef Scott's course, were others prepared by the likes of Jeremiah Bacon from The Oak Steakhouse, Craig Deihl from Cypress, Mike Lata from Fig in Charleston and Top Chef Master's champion Richard Blais from Flip Burger Boutique.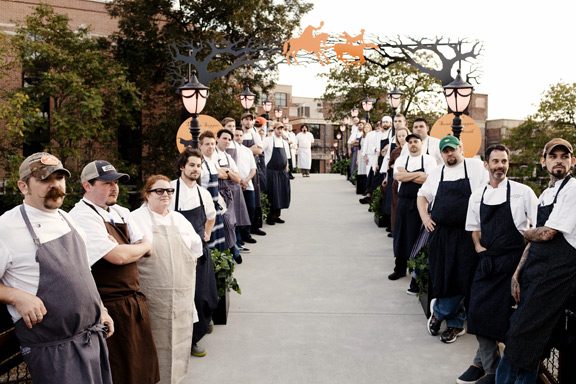 "It was great to participate and spend time with good friends from the chef community — like Frank Lee of Slightly North of Broad," Chef Scott said. "The camaraderie runs very deep among the chef community — it's one of those things — we all work a lot of long hours, chefs are in the kitchen sweating, putting in long hard days. This was an opportunity for us to [after the cooking was complete] get out of the kitchen and see friends, joke around in a respectful manner, and recharge and re-energize."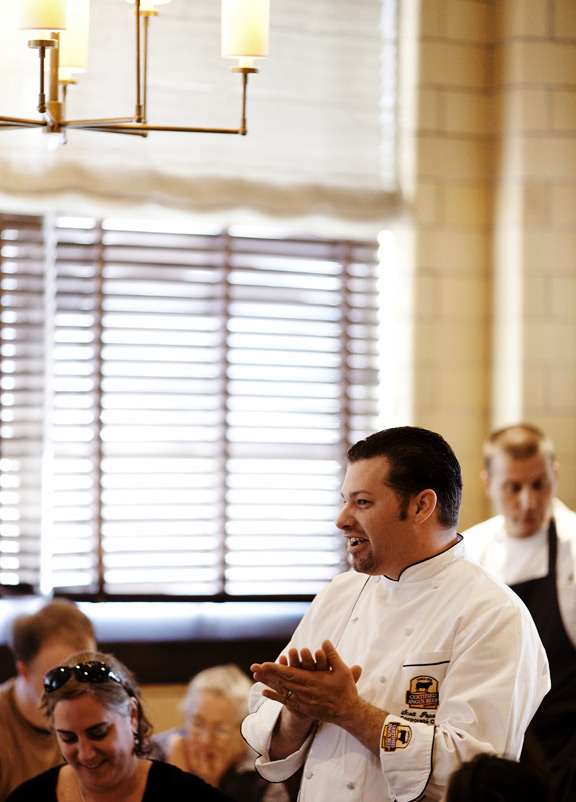 "I saw some really cool dishes there … ideas and thought processes I hope to incorporate into my food. An example would be one of Craig Deihl's dishes. It was a smoked duck breast, sliced thin, with pickled turnips and mustard greens. The greens provided a vinegar note to the dish that combined with the strong, fatty, smoky flavor of the duck. The vinegar and the smoke were equally balanced. It was nice."
Chef Scott enjoyed spending time with fellow chefs as well as dinner patrons — a combination of invited guests from the James Beard Foundation and local foodies.
"It was a congregation of people who have a true appreciation of food, as well as the artistic abilities of the participating chefs. They were able to taste and remark on the unique points of view of 30 chefs who prepared their idea of the ultimate autumn dinner in the South."
Funds raised at the event supported the James Beard Foundation and the James Beard Foundation Scholarship Program, benefiting aspiring young chefs and advancing the James Beard Foundation's mission to celebrate, nurture and preserve America's diverse culinary heritage and future.