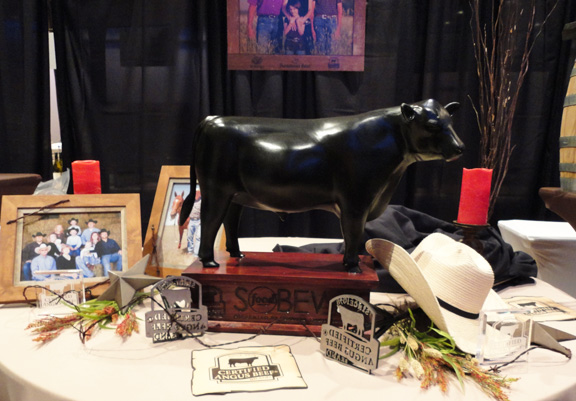 Can he have your autograph?
That's the question we asked the chefs at last night's "food extravaganza" — officially titled Wine Spectator's Best of the Best sponsored by Bank of America. The evening was a combination of the best chefs and best wines in the country. And "Porter" here — as in Porterhouse — attracted a lot of attention.

Throughout the afternoon and evening he captured the signatures of some of the greatest culinarians in the country. And for good cause.
The Certified Angus Beef ® brand steer is included in an online auction to benefit Florida International University's Chaplin School of Hospitality and Tourism Management Teaching Restaurant and Southern Wine & Spirits Beverage Management Center. The online auction is a result of the Food Network South Beach Wine and Food Festival presented by FOOD & WINE.
In other words, proceeds for this online auction will benefit aspiring chefs, and you can place your bid through March 5, 2012. So if you'd like a chance at this signature steer, now's your chance!
Porter the Certified Angus Beef ® brand steer is signed from head to toe …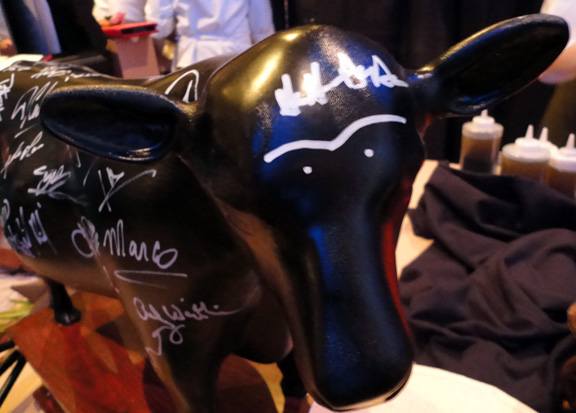 … literally. And we're absolutely sure he could steer you in the right direction for fabulous flavor.
Up next: photos from Friday night's Best of the Best event.
Our taste buds are still cheering … !