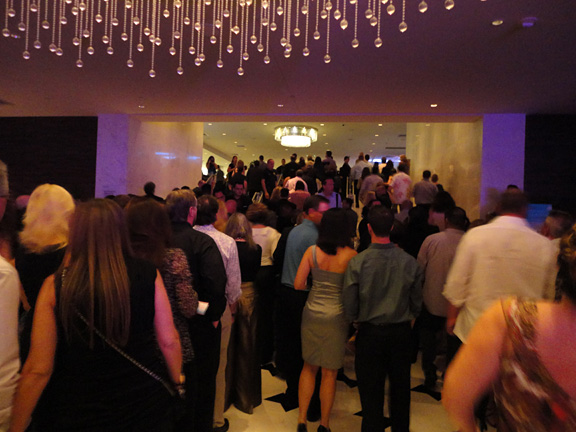 Under cover of crystal chandeliers and electric blue lighting at the Fontainebleau Miami Beach hotel, guests entered Wine Spectator's Best of the Best, a highlight of the Food Network South Beach Wine and Food Festival. It's the most expensive of the festival events, at $350 per ticket.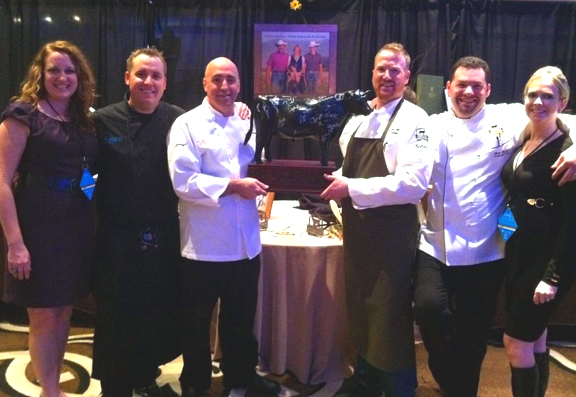 Sysco Specialty Meats partnered with the Certified Angus Beef ® brand to co-sponsor the event which boasts a meeting of the best chefs in the country and their best dishes, paired with the best wines.
Consider it the party of the century for taste buds.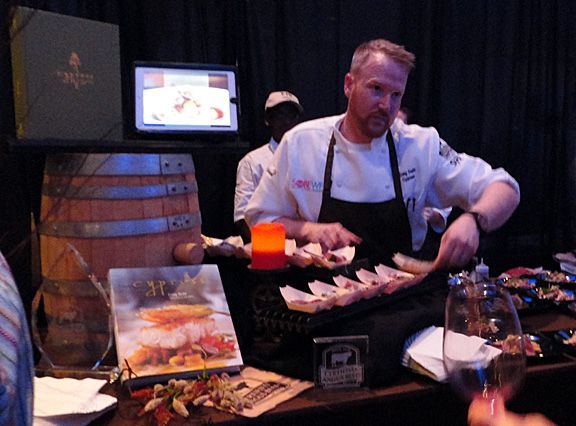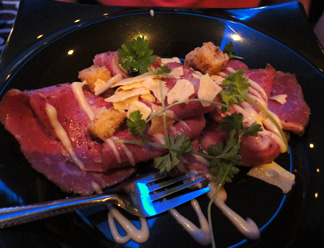 Chef Craig Deihl of South Charleston's Cypress restaurant prepared Certified Angus Beef ® brand Prime Strip Loin Bresaola with Watercress, Pecorino and Black Olive Oil; and Brisket Reubenaise with Amish Swiss and a Rye Chip.
Craig is the recipient of a prestigious James Beard Foundation nomination and semi-finalist for Best Chef – Southeast.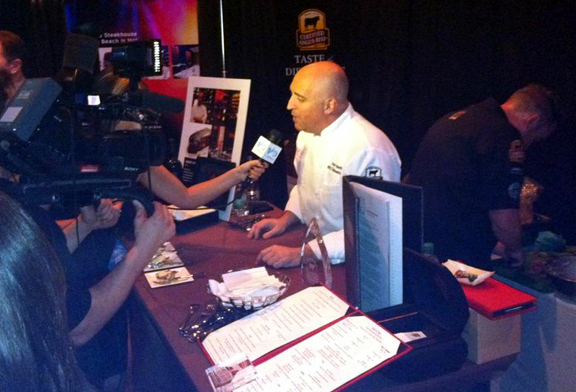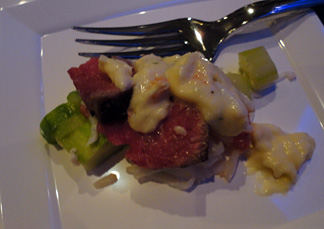 Chef Peter Vauthy turned South Florida's steak business on its side when Red, the Steakhouse opened in the trendy South of Fifth neighborhood in 2008.
Vauthy prepared dry-aged Certified Angus Beef ® brand Prime Ribeye, "Oscar-style" Red King Crab, Ribbons of Asparagus, and King Crab Béarnaise.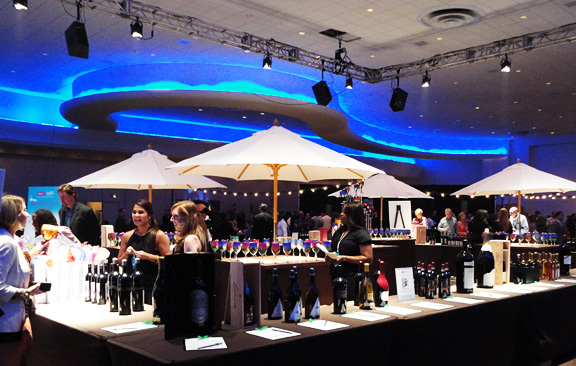 Mouthwatering dishes from some of the country's top chefs (many of them James Beard Award-winners) were paired with wines that have scored at least a 90 in Wine Spectator.
We sampled a variety of the bite-sized options …
On the left: Oxtail Marmalade with Gold Rice Grit Cake. On the right, Roasted Ribeye with Mashed Potato and Hot Sauce Butter.
Charred beef heart with Barley, Radish and Meyer Lemon. On the right: Beef "en Brodo" with turnips and radishes.
Porchetta — a traditional street food in Italy. It is a savory, fatty and moist boneless pork roast. The body of the pig is gutted, deboned and arranged carefully with layers of stuffing, meat, fat and skin. Then it's rolled and roasted on a spit. Porchetta is heavily salted and traditionally stuffed with garlic, rosemary and fennel.
Slow-cooked short ribs with smoked potato foam, pickled red onion and parsley. On the right: Chef Vauthy's Certified Angus Beef ® Prime Ribeye.
The event also boasted treats for the sweet tooth:
There was a table brimming with salty-sweet confections from milk.
On the left: a decadent caramel pecan brownie dish. On the left: Chocolate Neugat with Meyer Lemon and Malted Milk Ice. Yum!
I'll chronicle our final event on Thursday and you don't want to miss it. After all, it's not every day you see Paula Deen wielding a Certified Angus Beef ® branding iron!