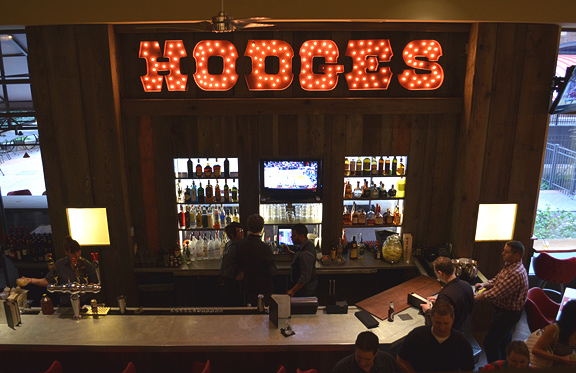 Nothing floats my boat and trips my trigger like spectacular food and awesome interior design. When those elements combine with urban vibes, rustic flair, down-home hospitality and the charisma of local community … I'm pleased as punch.
I had the pleasure of attending an evening open house at the new Hodge's restaurant in downtown Cleveland. If you're in the area, I suggest you make plans to get there — quick.
It's fabulous!
You might recognize Chef Chris Hodgson from last season's The Great Food Truck Race on Food Network. Chef Hodge and his team traveled across the country in the Hodge Podge food truck, serving comfort food on wheels and street snacks with heart. To quote a patron, "Sooo freaking good!"
Hodgson's first food truck venture, Dim & Den Sum, continues to troll the Cleveland Streets with Hodge Podge. It's the vehicle that started it all — transforming Hodgson from road warrior to Food Network celebrity to brick-and-mortar restaurateur.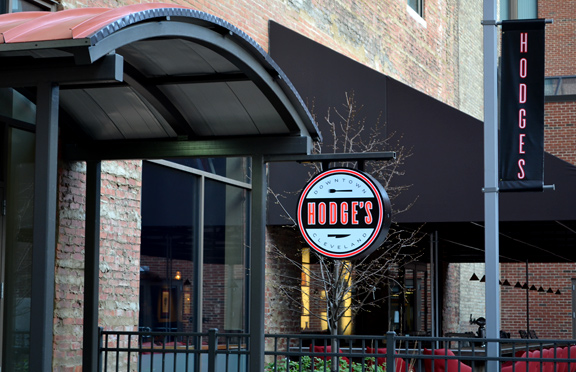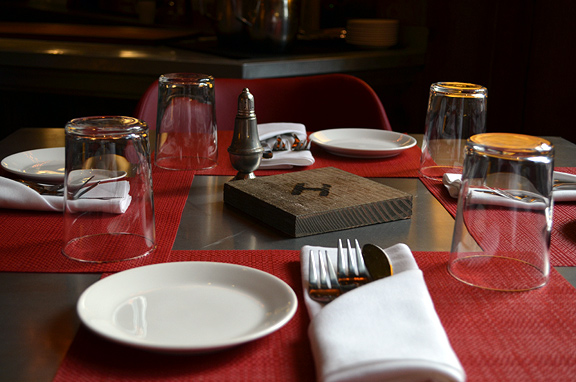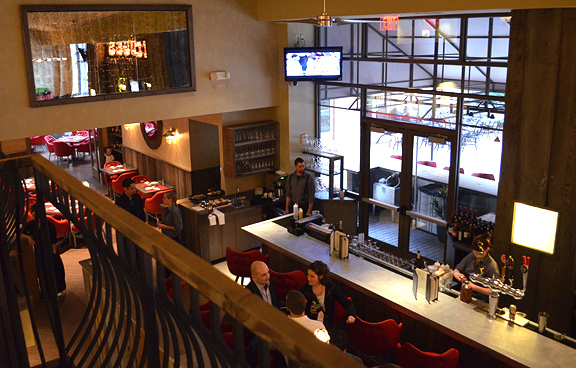 Hodge's oozes energy. The atmosphere is charged with contrasts of smooth red leather and aged rough edges. It's both elegant and rustic, modern and timeless. It's sure to be one of those favorite places where everybody knows your name.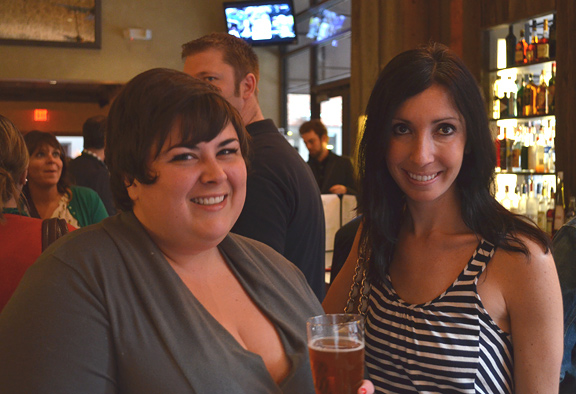 There's plenty of cheer to go 'round, too, but what you should focus on at Hodge's is the cuisine. It's the stuff of foodie fantasies. It'll knock your socks off and curl your toes.
We enjoyed a sampling of menu favorites, beginning with a food truck classic — Hodge's tater tots. Yum! A sizzling cast iron skillet of the world's best cornbread was delivered to the table next. And now I have a new favorite phrase: whipped maple bourbon butter.
Seriously good, folks.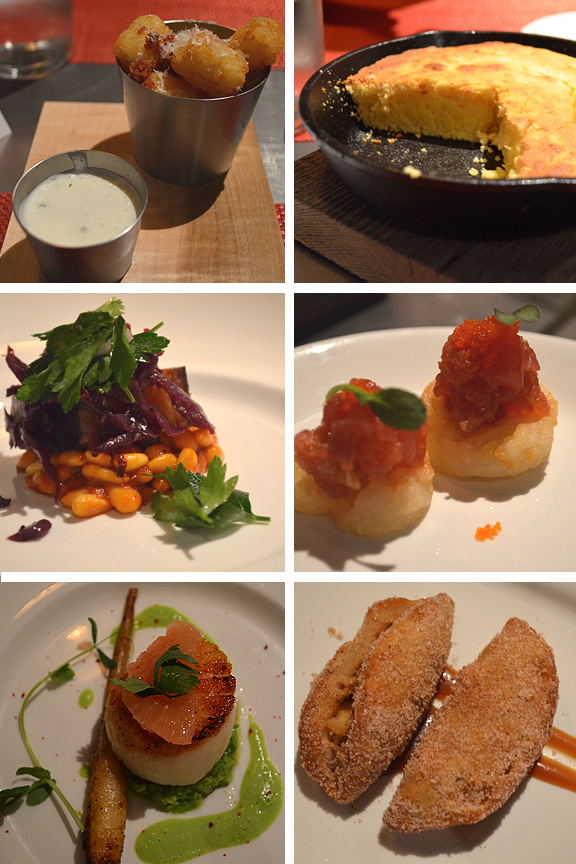 The bite-sized samples of main dish entrees continued to arrive at the table. We tasted Hodge's pork and beans — house braised bacon, pinenut baked beans with a cabbage and parsley salad; tuna poppers — ahi tuna on a crispy rice cake with ponzu; peas and carrots served Hodge-style — a lovely scallop served on a bed of smashed peas and garlic, topped with a grapefruit slice and served with a cumin-roasted carrot. And for dessert: fried apple pie with cinnamon and sugar.
Now you know we love beef around here. I don't settle for anything less than the world's best Angus beef … and neither does Hodge's. The star of the sampling show for me was the Certified Angus Beef ® hanger steak with salsa verde, tomato creamed heirloom beans and potato shards.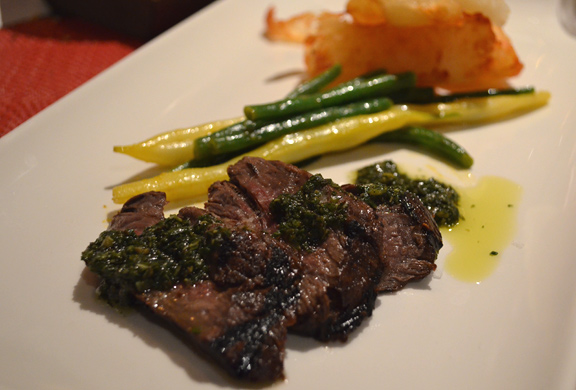 Are you familiar with hanger steak? Chef Chris marinates the beef, serves it with a zesty salsa verde and olive oil, and works his magic. It slices like butta, baby! And in a word … mouthwatering. Hodge's offers several other Certified Angus Beef ® options including a tender, juicy ribeye steak and a luscious burger with bacon, dill havarti and rosemary parmesan aioli.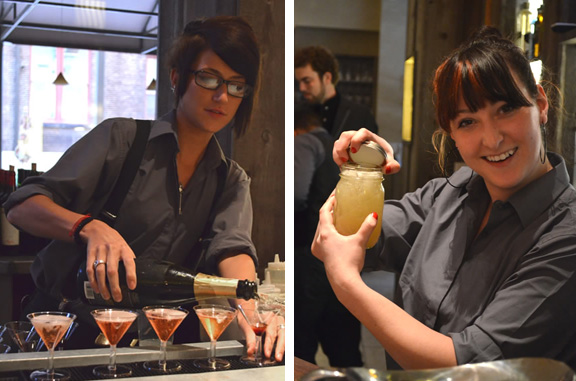 There's a fabulous bar with its own intriguing menu featuring cocktails, wines, beers and scotch. And you can order inside or in warmer weather, outside on the patio.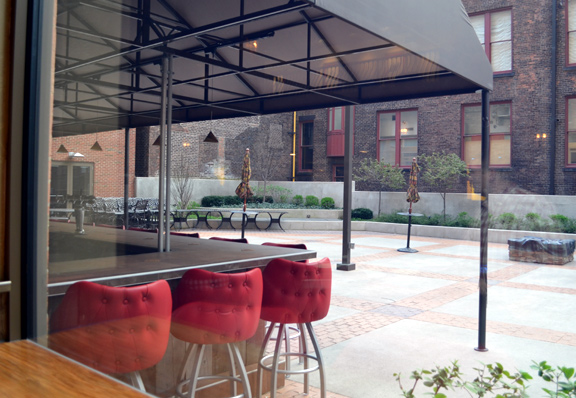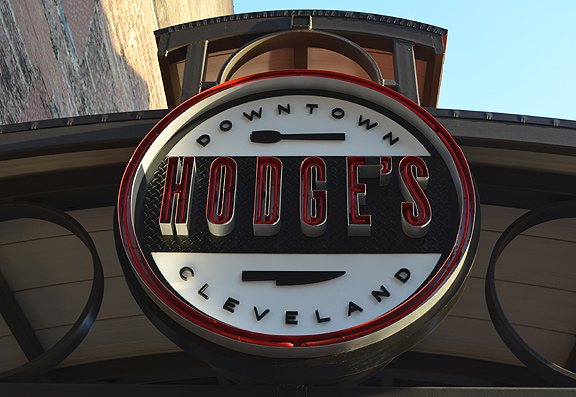 Hodge's Downtown Cleveland is open for lunch and dinner Monday through Saturday, and serves dinner on Sundays. If you're in the area or planning to visit Northeast Ohio in the future, be sure to stop by.
Folks have been chasing his food truck around town for ages, and now Chef Chris brings his hodge podge of fabulous flavors to a permanent parking space. Ode to joy!
P.S. You can forget your blue suede shoes, too. Red is the name of the game in this restaurant.