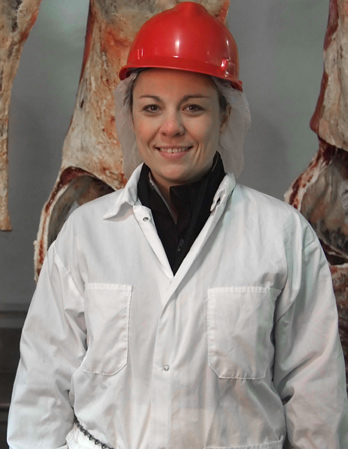 Remember, Ginger Rogers did everything Fred Astaire did, but backwards, in high heels.
* * * * *
Remember when Julia Child was the exception to the rule — a rare female chef holding her own in the culinary kingdoms of the masters: James Beard, Paul Prudhomme and Graham Kerr?
Not the case today, at least on the culinary side of things. Time changes more slowly in the coolers, however. The people getting chefs their beef products are still overwhelmingly male. They are the knife-wielding experts of protein — think of a whole batch of Dr. Phil Bass disciples, scary as that might be!
Meet Kelly Hoppmann. She's a Certified Angus Beef ® brand Specialist for food service distributor, Sysco Columbia. Meat cutter? Yup. Beef connoisseur? You betcha!
To get right to the point, Hoppmann knows more about premium beef than her male counterparts at Sysco Columbia, save for boss Mike Hicks, who previously served in the Specialist role. And in addition to being the go-to guy — err, girl — for Charleston-based renowned chefs like Jeremiah Bacon of Oak Steakhouse and The Macintosh, and Craig Diehl of Cypress, Hoppmann was a prized pupil and graduate of the Certified Angus Beef LLC Master's of Brand Advantages (MBA)  program.
The MBA has several components, one of which involves participants making a four-day trip to visit ranches, feedlots and packing houses to learn more about where beef comes from. Another involves a week spent breaking down whole sides of beef and identifying the individual cuts with renowned meat experts. Finally, a rigorous final exam awaits, to be executed under the watchful eye of beef experts.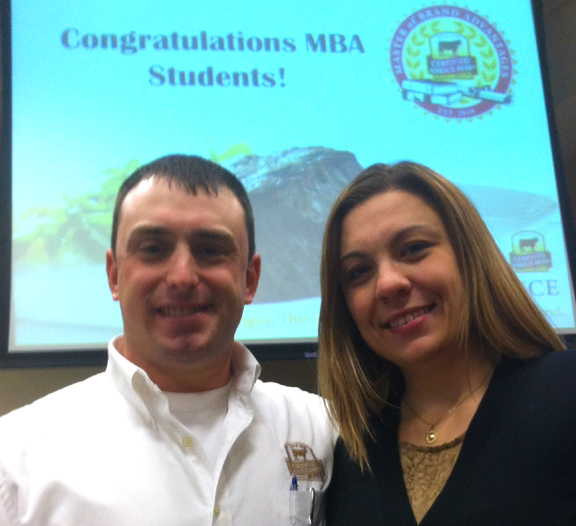 "Having the education that comes from a program like this, it's definitely changed me for the better," Hoppmann said. "Sure, there are times when you walk into a new restaurant with a male trainee and they assume you're the one in training. That's an obstacle, but the confidence and knowledge you get from the MBA program has cast me in a different light I think."
Recently, Certified Angus Beef recognized Hoppman as the New Performer of the Year at its annual Specialist Seminar in Tucson.
"She has the ability to take scientific facts and translate them to our chefs and marketing associates in ways that speak to the brand's relevance," says Hicks. "I've seen her present to chefs who don't take her seriously at first, but they soon discover — through her passion and depth of knowledge, that she's the real deal."