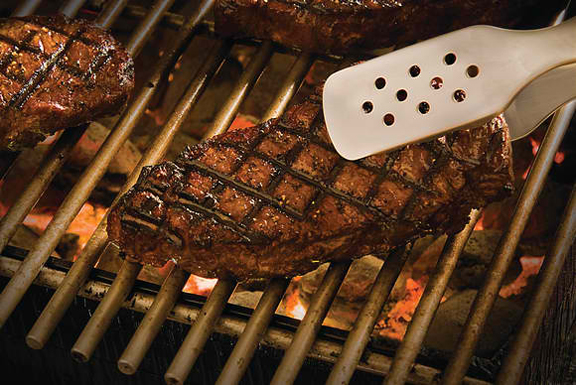 Chef Rory Schepisi of Boot Hill Saloon & Grill in Vega, Texas appears on the Today Show this morning. Her recipes will make your mouth water! We asked if she'd share them with us — and you! So here they are … Chef Rory's favorite barbecue party dishes. And you can keep tabs on her by following @RSchepisi or @BootHillVega on Twitter.
Sliced New York Strip with Pineapple Jalapeno Salsa
Ingredients:
4 10 oz. Certified Angus Beef ® brand New York Strip steaks
1/2 cup diced Pineapple
1/2 a small Jalapeno, small diced no seeds
1 small tomato, small diced
1/2 red onion small dice
1/3 bell pepper small dice
1/4 cup pineapple juice
1 teaspoon cajun seasoning
Kosher salt and pepper
Directions:
Preheat grill to 350 degrees (medium-high heat)
1. In a large bowl, combine all ingredients except steak, olive oil and salt and pepper.
2. Let salsa sit for at least 30 minutes.
3. Oil and season steaks. Let rest 15 minutes at room temp.
4. Grill on both sides about 5 minutes for medium-rare temp.
5. Spoon pineapple salsa onto plate.
6. Slice steak on a bias and place over salsa (like a fan).
---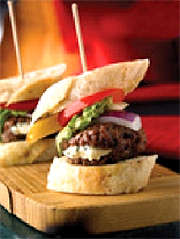 Blue Cheese Burger Bites
by Chef Rory Schepisi
Ingredients:
1 cup Bleu Cheese
1 pound ground beef
Salt and Pepper
Lettuce
Sliced Tomato
Sliced red onion
Instructions:
1.Form 1 oz. patties from Certified Angus Beef ® brand ground beef.
2. Place Bleu Cheese on top of one patty in center of the meat.
3. Place another 1 oz patty on top, forming the sides together.
4. Season with salt and pepper and grill patties at 300 degrees.
5. Serve on sliced baguette toast or slider buns with your favorite toppings.
---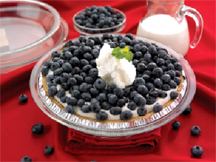 Banana Blueberry Cheesecake
Chef Rory says this is a perfect barbecue dessert that takes no time!
Ingredients:
2- 8 oz packages Cream Cheese
1 cup Milk
4 ripe bananas
1 cup fresh blueberries
1 teaspoon vanilla extract
1/2 cup sugar
1 graham cracker crust (pre-packaged)
Instructions:
1.In a large bowl, mash bananas until smooth.
2.Add cream cheese, sugar, 1/2 cup milk, and vanilla.
3. Blend with electric mixer until smooth. If mixture is not creamy and fluffy, add more milk.
4. Pour mixture into pie crust and top with blueberries.
5. Refrigerate at least one hour and serve.