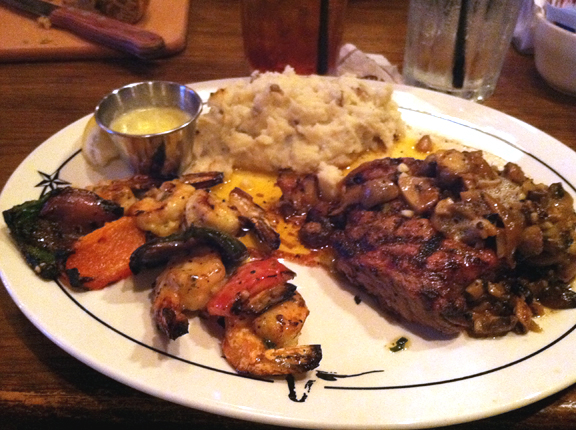 I've noticed people often like to make things more complicated than they need to be.
Take young couples planning a wedding, obsessing over every decision "Bridezilla"-style. Then there are the super-parents who are on an annual quest to create the Most Perfect Birthday Cake Ever. And if you want to lose a few pounds, forget walking around the block – it's time to sign up for intensive personal training!
Even restaurants are fond of gilding the lily, so to speak, by dressing up dishes just for complexity's sake. How many times have you looked over a menu and been confused as to what the point of a particular dish really is? Or wonder if adding foie gras really makes an entrée taste better?
I'm a staunch believer that food doesn't have to be complex or pretentious to be delicious. My philosophy is if you start with the best ingredients and prepare them carefully, you really don't (or shouldn't!) need more than that. So imagine my delight when I watched the following video, featuring Ric Rosser, executive chef of Saltgrass Steakhouse:
Now that's what I'm talking about! I had the pleasure of dining at Saltgrass recently, when I was in Houston for the famous World's Championship Bar-B-Que Contest (more on that coming soon).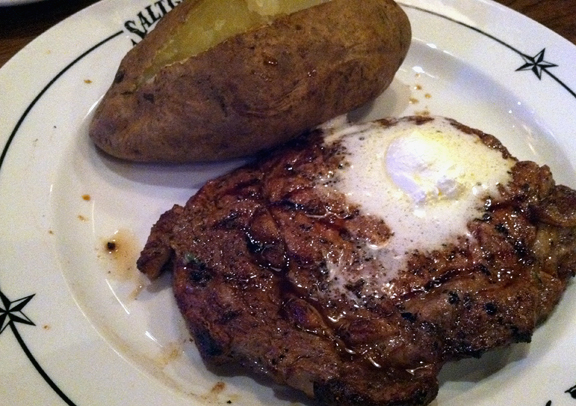 Let me tell you … I was impressed! As you can imagine, one of the perks of working with the Certified Angus Beef ® brand is exposure to lots and lots of delicious beef—and Saltgrass delivers. My ribeye was juicy, flavorful, tender … simply delicious. (And I stress simply.)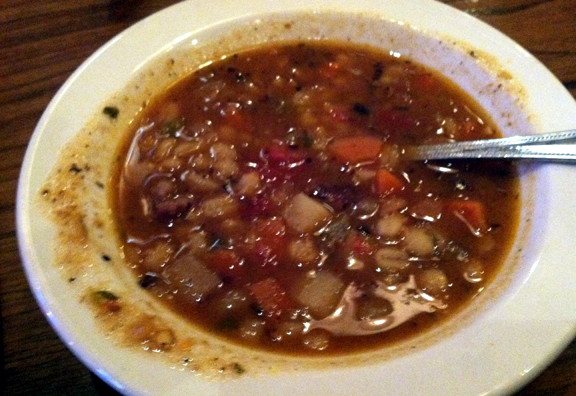 A delicious surprise was my steak soup, which I enjoyed in lieu of a salad. Big bites of steak, potatoes, barley and veggies in a robust beef stock—yummy! In fact, it was so good I tried to recreate it at home. Sadly, it flopped, coming nowhere close to the inspiration. Just goes to show you Chef Ric and his talented crew really know what they're doing in the kitchen!
But they aren't the only ones.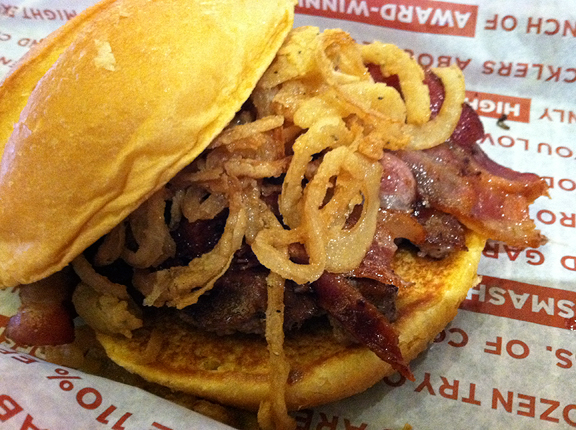 My dining tour of Houston also included a stop at Smashburger, which is doing incredible things in the burger realm. Smashburgers can be found across the country and the chain is rapidly expanding … but since they haven't made it to my neck of the woods yet, this was the first chance I'd had to taste for myself.
(Note to Smashburger: Northeast Ohio needs you! I need you! Please hurry!!!)
I tried the BBQ, bacon and cheddar burger (also topped with haystack onions) and WOW. Just, wow. I know you're thinking: "it's a burger, right?" Right! It's more proof of my theory: food doesn't have to be complicated to be a.ma.zing. I can't wait to return!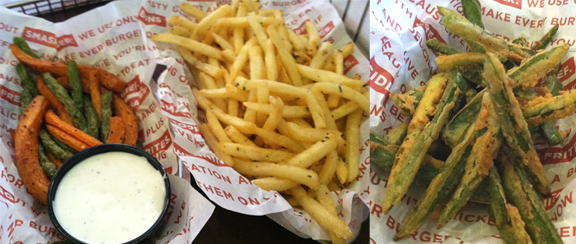 On a side note (yep, pun intended) I have to call out Smashburger's add-ons. We sampled the veggie frites (lightly battered and fried carrot strips and green beans) and the signature Smashfries—fresh-cut potatoes seasoned with rosemary and garlic. To top it off, and just 'cause we were in Texas, we tried the fried jalapeños. Now that was a flavor punch!
For another taste of Texas, we dined at Willie's Grill and Icehouse. Slogan: "Great food. More fun." Mission: accomplished! Willie's offers guests a variety of sandwiches, dinners and sides (oh, and plenty of beverages, too) in a fun, laid-back atmosphere. It's the perfect place to come as you are and gather with friends for an enjoyable evening.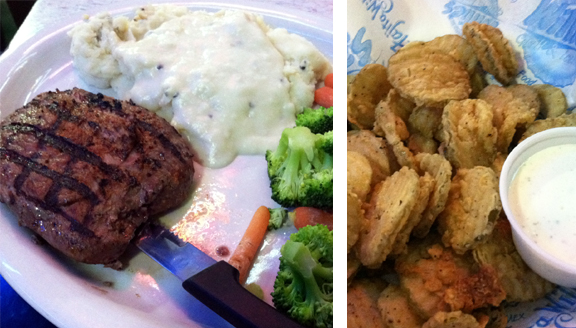 Everything we sampled was mighty tasty – from the juicy Certified Angus Beef ® top sirloin steak to the fresh chicken tenderloins to the crispy fried pickles. In a nod to its Gulf Coast proximity, Willie's also offers a wide selection of po-boys, which I'll have to try next time.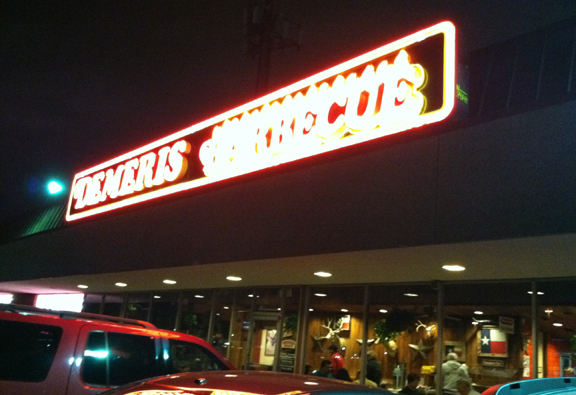 Now, no trip to the Lone Star state would be complete without some traditional barbecue. As aficionados know, Texas barbecue is all about beef—seasoned simply and smoked slooooooooooowly.
I was excited to try Demeris Bar-B-Q, famous for its hickory-smoked delicacies since 1964. Now run by the second generation of the family, Demeris serves Certified Angus Beef ® brisket, fall-off-the-bone ribs, sausage, chicken and more. As is customary in those parts, the sauce is on the side and dinners are served with sliced white bread.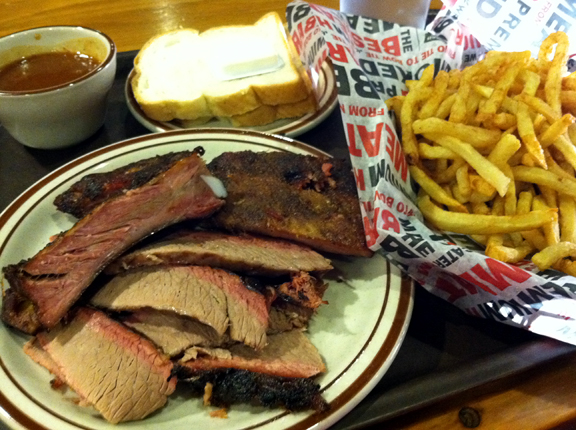 As the expression goes, a picture is worth a thousand words. So I'll say only this: Will you look at that smoke ring? (Yeah, you barbecue lovers know what I'm talking about!)
Simply irresistible!