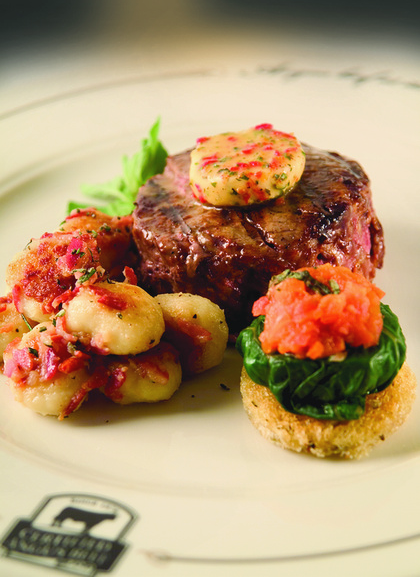 There will be a grand celebration this weekend — the official and public grand opening of the Certified Angus Beef ® Education & Culinary Center in Wooster, Ohio. Things culminate on Saturday night with a grand meal featuring courses prepared by some of the country's notable chefs, including talented Certified Angus Beef ® corporate chef, Scott Popovic. He's the man who makes the menu (and the fab food).
Scott selected participating chefs, approved the menu and will manage the flow of the meal. Not an easy task, but it's one he thoroughly enjoys.
"From my perspective, each chef's style must translate into a particular course," he says. "One chef has a very bold and spicy style. The main course dish is created by a chef with a rustic style and French influence. Knowing these particulars, I make sure each course has a nice balance that complements the others."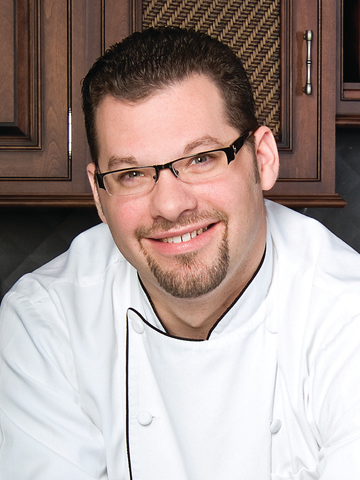 It's a bit like a jigsaw puzzle. There are many parts and pieces and the trick is putting them together to make a complete picture. In organizing the courses, Chef Scott took particular care to highlight each chef's strengths and idiosyncrasies. And Scott himself? He claims to be the chameleon of the group.
"I look at their dishes and try to enhance the overall menu with my offerings. The first course will be simple and clean with delicate spring flavors from local Ohio produce. We'll use things in season — fiddle head ferns, spring peas — ingredients with a light and airy texture on the palate."
Do they bring ingredients, or is there a giant chef-ie shopping trip?
"We're unique, here. The center is not an operating kitchen. We order and purchase ingredients as needed. Fresh produce comes from The Chef's Garden. Certified Angus Beef ® brand product is delivered by Blue Ribbon Meats and Sysco Cleveland."
Five chefs — too many cooks in the kitchen?
"The space is very large and was designed for just such a purpose. There is plenty of room for prepping and plating courses."
How long to prepare a formal dinner for 100 people?
"Well, there are five chefs. From concept to plating, each chef spends about 20-30 hours. Logistics for this meal have been in the works for over three months."
Impressive … as is the self-proclaimed chameleon. Scott's passion for food was cultivated in his grandmother's kitchen. "I would always sit on her little stool and talk while she cooked," he says. "Whenever I'm in the kitchen professionally or personally, it always just brings me back to that time of my life. In high school, I loved cooking so much I took Home Economics."
He went on to become a cum laude graduate of the prestigious Johnson and Wales University in Charleston, S.C., and worked for celebrity chefs Doug Katz, Michael Symon, Charlie Palmer and Jonathan Bennett. He's worked at some of the finest restaurants in America, including N9NE in Las Vegas' Palms Casino, Aureole in Las Vegas' Mandalay Bay, Magnolia's in Charleston, and Fire Food and Drink in Cleveland. He learned more at each job and now finds himself in a position to mentor others. And his learning continues.
What do you love to eat?
Lots of simple, rustic, home-cooked meals. Comfort foods like meatloaf, pasta and meatballs — the kinds of dishes I grew up with and helped my grandma prepare. And fresh ingredients. She used to make pickled and roasted beets and I loved them. And now? [laughs]
Favorite thing to cook?
I love to make seafood. The saute station at a restaurant is one of the hardest jobs, but I've always had a flair for it. I loved the challenge, I guess.
Your favorite breakfast food?
I don't usually eat breakfast!
Describe your cooking style?
Rustic American. Growing up in a blue collar home in Ohio — we had big breakfasts, eggs, bacon and toast, oatmeal, that sort of thing. Simple stuff … fried bologna sandwiches. That's my heritage. It has always influenced me and my cooking.
Favorite beer?
Brooklyn Ale
Favorite music?
Everything from classical to blues, jazz to rock.
Your favorite travel destination?
Truthfully? Home. I travel so much for work that there's no place like home!
Speaking of home, you have someone special waiting for you after long trips …
My wife Angela. We'll celebrate our 10-year anniversary in September. She's a former pastry chef who currently works at an ad agency.
Do two chefs like to cook when they get home from a long day at work?
We do … one of our favorite meals to make together is grilled steak, asparagus and roasted redskins. It's interesting to cook at home, though. I don't have everything at my fingertips. At home I'm not going to have fresh truffles! I spend all day with complicated dishes and fancy foods, though, so at the end of the day what I really want is something simple.
And Scott's food is simple … simply delicious! Next week we'll bring you photos and maybe even a recipe or two from Saturday's grand opening dinner. Until then …
Happy weekending, foodie friends!