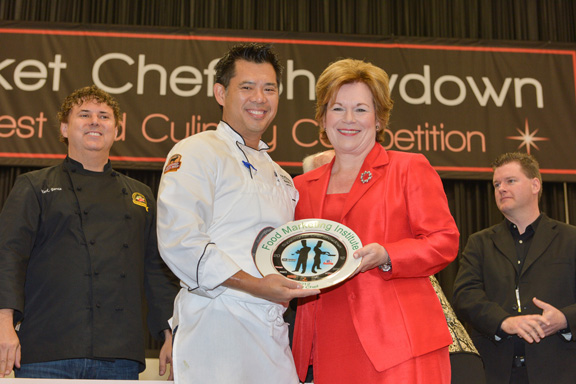 Certified Angus Beef ® brand partners are always impressing our team at brand HQ with their creativity, knowledge and passion for what they do. It's rare for a day to go by without someone sharing a success story or praise for a member of the brand's family, thousands strong, which stretches coast to coast — and beyond, in every sector of the food community.
But allow me to brag on a particular member of our extended family (or, as he might say, ohana). Keoni Chang, the corporate chef for Foodland stores in Hawaii (nice gig if you can get it, right?), beat out an impressive group of 20 competitors and a field of 357 recipes (submitted by 182 supermarket chefs) in the Food Marketing Institute's inaugural Supermarket Chef Showdown. That's right — he was the grand prizewinner in a very crowded field of tough challengers!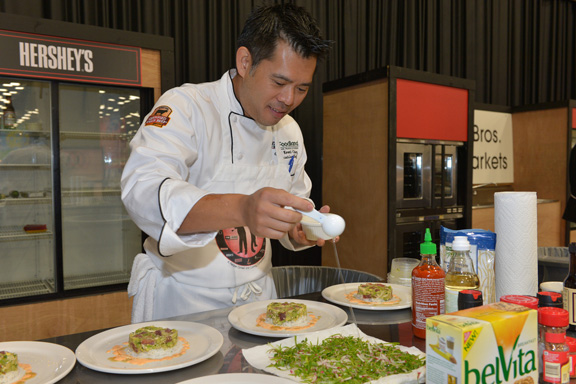 Now, to anyone who's ever spent time with Chef Keoni, this recognition of his excellence comes as no surprise. He's supremely talented, incredibly creative and last, but not least, a truly nice guy. A native of Oahu, Hawaii, he holds a four-year degree from the Culinary Institute of America and later was chosen for the apprentice program at the five-star Greenbrier Resort in West Virginia. He also worked at the Eiffel Tower restaurant in the Paris Hotel in Las Vegas before joining Foodland in 2004.
As Foodland's corporate chef, Keoni develops recipes for the chain's 31 stores across the Aloha State, including the seafood department (poke), bakery and deli/prepared foods. His goal: to create restaurant-quality food that can be purchased everyday at a supermarket. He works closely with the retailer's kitchens to ensure everything created there meets Foodland's high quality and presentation standards. Chef Keoni also works to procure quality products, as well as local offerings and unique items that enhance Foodland's offerings.
"I am proud to be part of a growing segment of the culinary industry. What we do is not completely new, but our efforts are now starting to get the recognition they deserve," he noted.
Chef Keoni's prize: an all-expenses-paid three-day "boot camp" for professional enhancement at his renowned alma mater, the Culinary Institute of America, valued at $5,000. He won an additional $1,000 prize for his Deconstructed Ahi California Roll in the competition's "indulgent" category, besting other supermarkets' chefs in the ethnic, family meals, and healthy alternatives categories.
"It really was an honor to, first of all, be chosen as a finalist, and then to top it all off by winning," Chef Keoni said. "It's a great feeling to know that all the way in the Pacific, we hold our own!"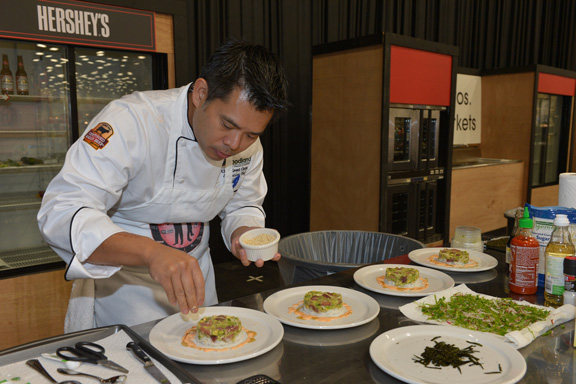 But just as important, he said, was seeing how grocers across the nation are putting a priority on quality ingredients. "There is a lot of movement nationally regarding better offerings for the retail consumer," he said. "All the chefs I met were passionately working to get higher quality items to their customers."
That sounds like a winning recipe for everyone!
Looking for inspiration in your own kitchen? Be sure to visit Foodland's blog and check out Chef Keoni's recipes and cooking tips. And if you're lucky enough to spend some time in Hawaii, stop by a Foodland store for a true taste of paradise!