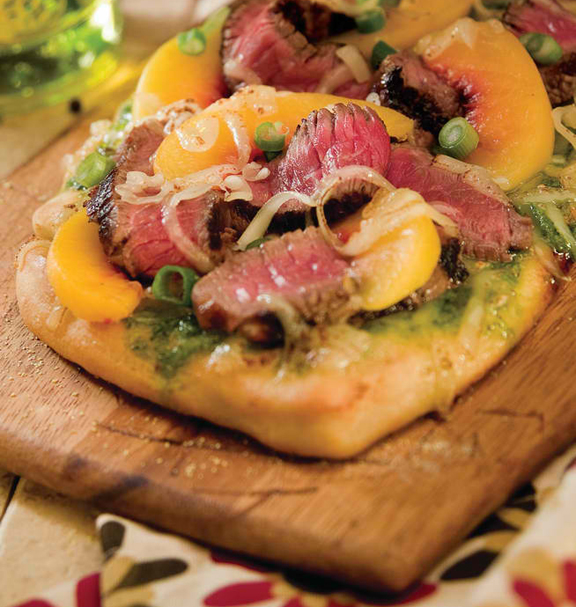 The weekend has arrived and with it opportunity for fabulous flavors, good friends and Olympic endeavors. Tonight's 2012 Olympics opening ceremony airs at 7:30 p.m. EDT.
My family will tune in with loud cheering — for the athletes and the great food I plan to prepare. Nothing says summer around here like freshly grilled steaks. Tonight I'll pair sirloin steaks and fresh, local peaches for something with — dare I say it? — gold medal flavor!
While watching the festivities in London, we'll be chowing down on perfection with a crust! Try it … or for more great grilling recipes from the Certified Angus Beef ® brand, click here.
Enjoy grilling and the Games this weekend!
Sirloin and Peach Pizzas
1 pound Certified Angus Beef ® sirloin steak (Learn more about this cut)
1 cup loosely packed fresh basil leaves 
1 cup loosely packed fresh oregano leaves 
1 shallot, chopped 
1 clove garlic, chopped 
1/2 teaspoon kosher salt 
1/3 cup extra virgin olive oil 
1 ice cube 
Kosher salt and fresh cracked pepper to taste (for steaks) 
4 pre-cooked 8-inch pizza crusts 
2 fresh peaches, thinly sliced 
8 ounces (about 2 cups) smoked mozzarella, shredded 
2 scallions, thinly sliced
1. Preheat oven to 450°F. Create pesto by mixing basil, oregano, shallot, garlic, salt, oil and ice cube in blender until fully combined. Set aside.
2. Season steak with salt and pepper and grill over high heat for 1 minute on each side. Remove steak from heat and rest for 5 minutes. Slice thin against the grain.
3. Top pizza crust with pesto, half of the cheese, peaches, steak and remaining cheese. Bake 8 to 10 minutes.
4. Garnish with scallions, cut and serve. Serves 4.