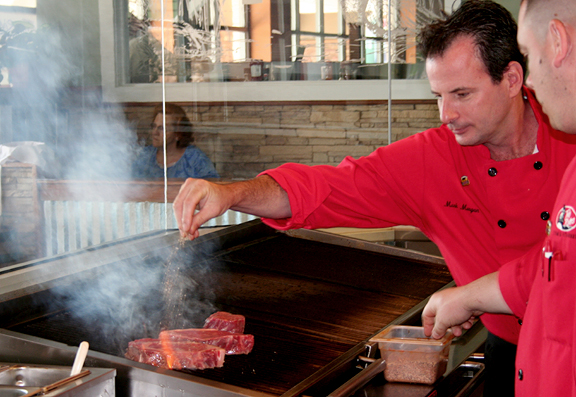 Chef Mark Morgan has been around the culinary world long enough to recognize a good piece of meat when he cuts into it. But then he received a phone call from a farmer — nearly 1,000 miles away — who happened to be standing in the middle of his field. That's when the culinary head and co-owner of Two Rivers Steak & Fish House, one of greater Baltimore's up and coming dining hot spots, really understood the effort that goes into bringing quality beef from farm to fork.
On the other end of the phone was Brian McCulloh who owns and operates Woodhill Farms with his wife, Lori, in Viroqua, Wis. "He's the real deal," Chef Morgan says. "He was so passionate about what he does. He said 'I'm raising the best cattle I can for you guys,' and took time to talk about the Certified Angus Beef ® brand and its specifications. There's no doubt about it — we never have complaints on our steaks. It's just so consistent."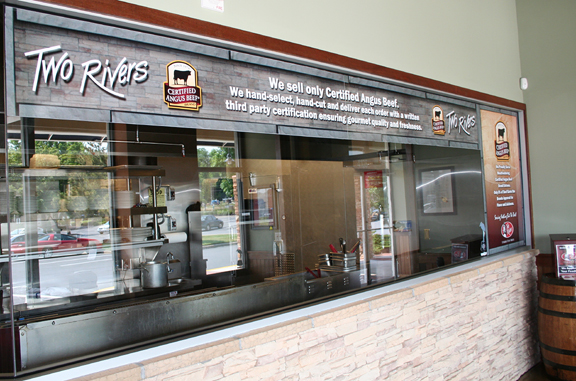 And consistent, quality steak at an affordable price was something Morgan — a Milwaukee native and Culinary Institute of America graduate, aimed at making the hallmark of Two Rivers. Officially opening its doors Sept. 28, 2011, the 275-seat restaurant located in the Baltimore suburb of Pasadena hit the ground running. The restaurant served nearly 1,000 patrons a day in its first few months of operation.
"We wanted to go above and beyond with quality products but make it affordable for families," Morgan said. "You can get a 6 oz. filet with two sides for $19.99 here. For us, it's about the family and giving them quality, but making it affordable. I think that's where the economy has taken us. The days of the $9 baked potato are coming to an end."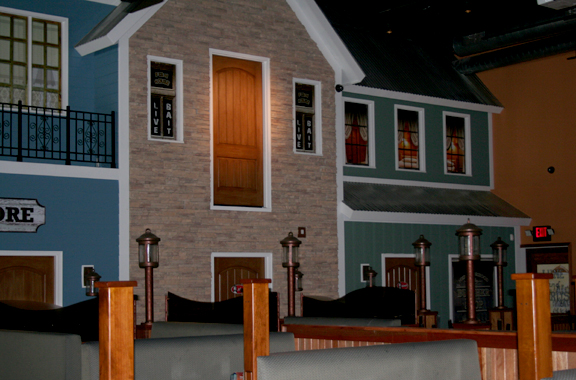 The décor of the restaurant is en hommage to the historic town in which it resides — mock store fronts of a butcher shop and bakery adorn one wall; a replica of Pasadena's old hunting lodge can be seen from the dining room; the bar is decorated to mimic the old drive-in movie theatre in town with a shiny new 120-inch flat screen as its visual centerpiece. But, of course, the measure of any restaurant is the food.
"It's been great," Morgan says. "We're a total scratch house — we make our own bread, cut our own meat, make our own desserts. We have a staff of about 100, and when I walk people through the kitchen they're amazed at the size. We never have complaints about our steaks, and we kick out about 600 a day."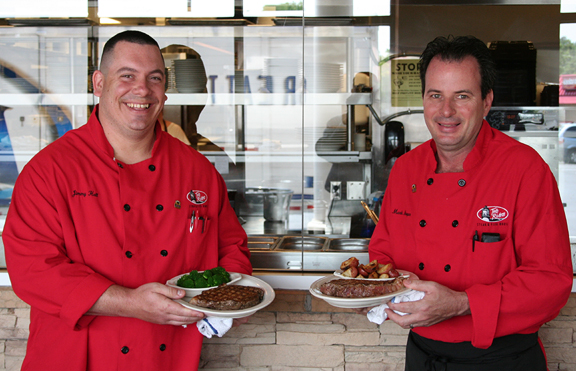 The next time you're in the Baltimore area, take the 20-minute drive to see Morgan and fellow executive chef, Jimmy Hall. Be sure to try the steak. We hear good things about it.
Chef's Tip: Chef Morgan says always use an instant-read thermometer, especially on the flat iron, which performs best when cooked medium-rare (about 130 degrees).

"It just has a different feel to it. It doesn't matter how long you've been in the cooking profession, the flat iron will fool you every time and it's easy to overcook it."