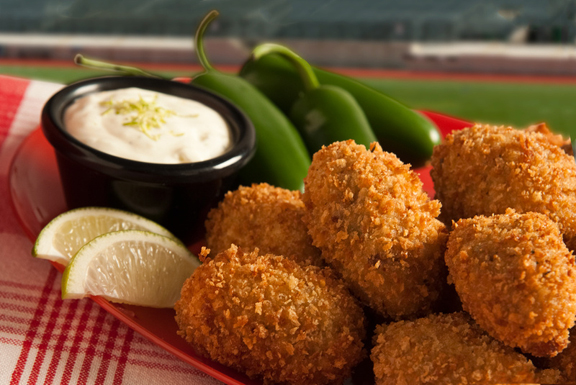 It's Friday. What could be better than a tasty weekend treat with vim and vigor? These Beef & Jalapeno Poppers are delish. Watch out, though. They disappear quickly!
Jalapeño Beef Poppers
Yields 42
2 pounds Certified Angus Beef ® ground chuck (Learn more about this cut)
12 ounces shredded cheddar cheese
6 jalapeños, seeded and minced
1 tablespoon salt
1 tablespoon fresh ground black pepper
1 teaspoon whole mustard seeds
12 eggs
1 cup plain bread crumbs
1 cup Panko bread crumbs
Frying oil as needed
Dipping sauce — see Honey Lime Crème Fraiche
Instructions
1. Combine ground beef, cheese, jalapeños, salt, pepper and mustard seeds in a large mixing bowl. Portion by hand into 42 "popper" shape balls, approximately 1-ounce each.
2. Crack and whisk eggs; put in a shallow dish. Combine bread crumbs and put in a second shallow dish.
3. Prepare a pot with frying oil; heat to 325° F. Roll poppers in egg mix, 6-8 at a time, roll in bread crumbs; repeat. Deep fry 4 minutes in batches. Allow to dry on paper towels; serve warm with Honey Lime Crème Fraiche for dipping.
Honey Lime Crème Fraiche
8 ounces sour cream
Juice and zest of 1 lime
2 tablespoons honey
2 tablespoons minced cilantro
Combine all ingredients and mix well. Serve with Jalapeño Beef Poppers.
Enjoy more recipes!