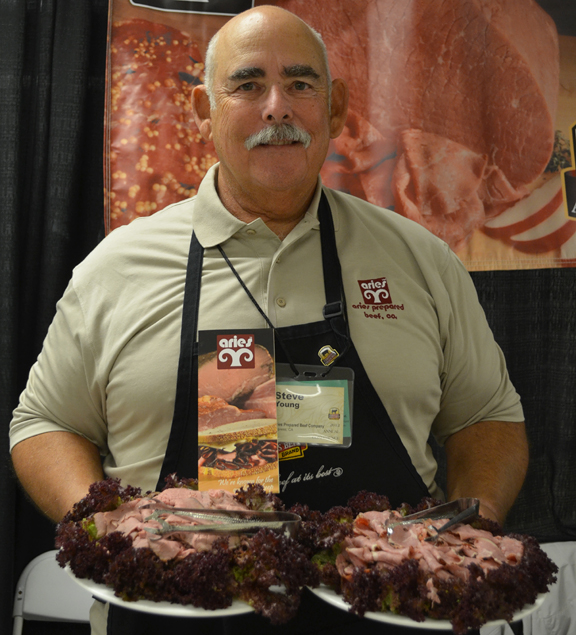 Imagine a large exposition-style room abuzz with the sights and sounds of hungry people feasting. They're sampling the latest, greatest and tastiest Certified Angus Beef ® brand convenience items — selections like corned beef, Prime roast beef deli meat, ready-made burger patties, country-fried steak and pre-cooked strips of tender, juicy beef.
Where to start?
At the beginning, of course. I made my way around the perimeter and then started in on the center aisle. I didn't taste every item but in this case, eating with your eyes counts, too. I think. And what a sight it was!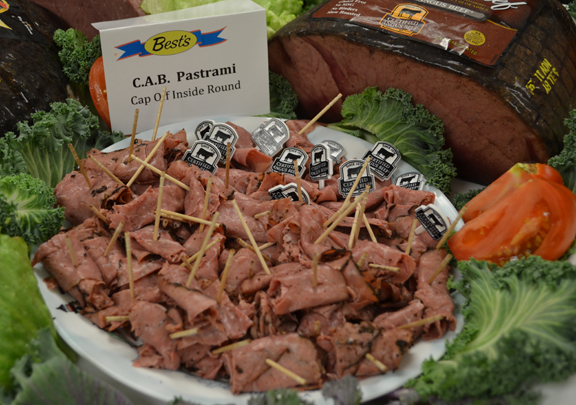 The Taste Drive is an annual event offering the hottest new Certified Angus Beef ® brand value-added products — convenience items that help customers save time and money while ensuring the brand's premium flavor.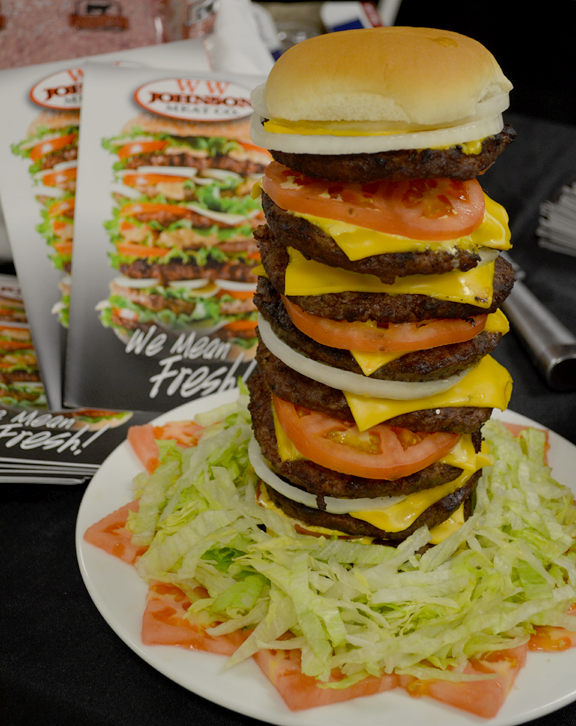 Burgers are hot right now. Have you noticed the gourmet burger craze sweeping the nation? From food trucks to dine and dash-style eateries to upscale restaurants, the humble hamburger has been elevated to new heights.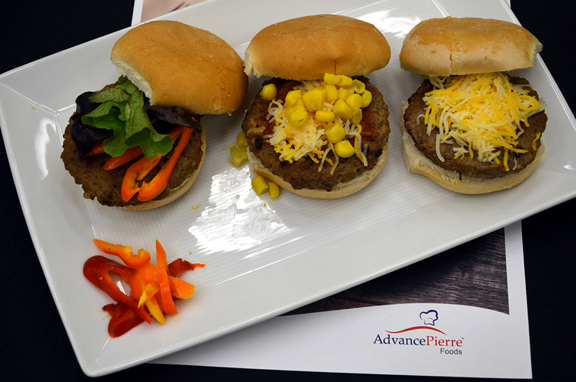 Restaurants and grocery store meat departments are creating signature grinds — a mixture of various cuts of beef — for unique flavors their customers can enjoy. Chefs are experimenting with creative toppings for unique presentations and taste.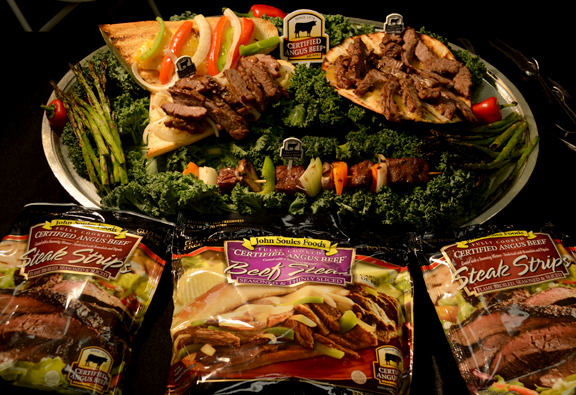 But beef on a bun wasn't the only cool trend on display.
Fully-cooked, juicy and tender steak strips are ideal for quick meals like tacos and empanadas, kabobs and sandwiches.
I'm a busy mom. I love the thought of grabbing a bag of fully-cooked, pre-seasoned steak at the store, then creating a quick and simple supper of sandwiches or salads for my family — in mere minutes. Especially before all of those practices, lessons and ball games!
Best of all, these ready-made meals and fully-cooked items offer the same great flavor as fresh cuts, and they meet all 10 of the brand's high-quality standards. These convenience items are minimally processed and contain no MSG.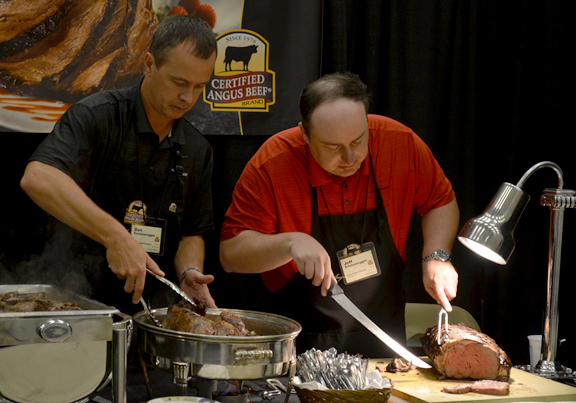 Other Taste Drive beef dishes were targeted to restaurateurs who wish to serve the best beef while making cooking and serving simple for staff. Fully-cooked prime rib roasts and other cuts are big on flavor and preparation ease.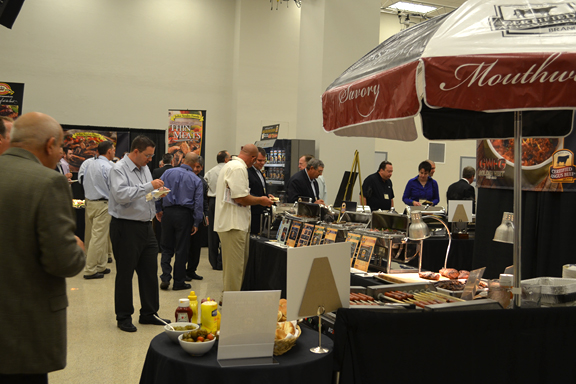 During the Taste Drive, I hit the brakes long enough to capture photos of other travelers. They sampled, they questioned, they commented. They pondered how particular items might work in their restaurants, make their meat departments run more efficiently and how these Certified Angus Beef ® brand items simplify success and still provide the ultimate eating experience that shoppers and diners like you demand.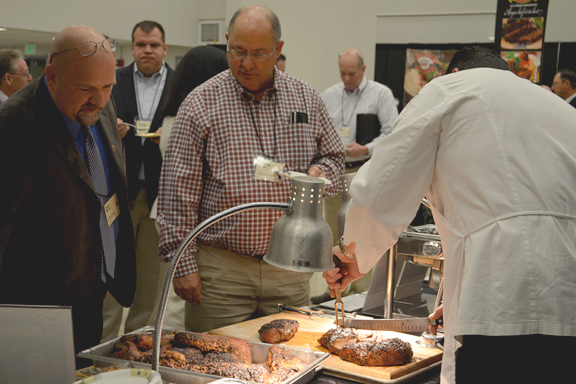 I did enjoy the tri-tip options at this booth. They offered a Kansas City BBQ Pepper Crusted tri-tip and a Brazilian BBQ seasoned tri-tip. Mmm!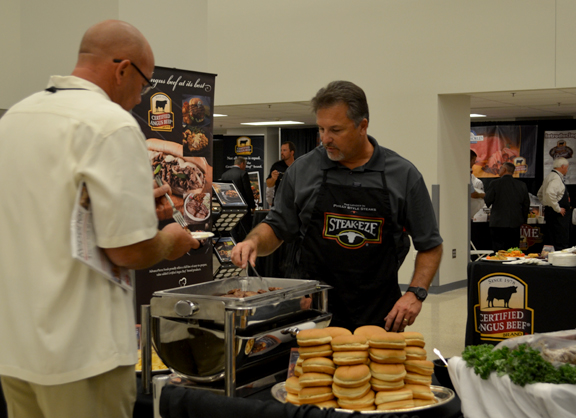 When it comes to beef, we talk a lot about grilling here on the blog. We showcase recipes for pan-frying, broiling and braising. In a perfect kitchen, with all the time in the world, those cooking methods are ideal. On the other hand, it's nice to expect the same great taste and quality from some quick and easy items that make mealtime a cinch.
Thanks to these folks, there are some mighty tasty Certified Angus Beef ® brand options available. Check the meat case at your local grocer and ask for the best!
Learn about convenience items available to you!