Anthony Vidal, Hash House A Go Go corporate chef, is famous for flavorful food like his over-the-top mashed potato burger. His seasonal ideas are mighty tasty, too. Chef Anthony recently told us how his family adds a touch of sweetness to holiday celebrations. It's a story that involves cranberries, brown sugar and a griddle … yum!
Chef Anthony recalls,
"We would make our favorite pancake batter and sprinkle in brown sugar and fresh cranberries. Or, we would make cranberry pumpkin waffles by folding pumpkin pie mix into the waffle mix, then sprinkling cranberries in before closing the lid on the waffle machine."
I'd say the Vidal kitchen is the place to be during the holidays!
The chef was kind enough to share his recipes with us. Pancakes on Christmas morning?
A splendid idea!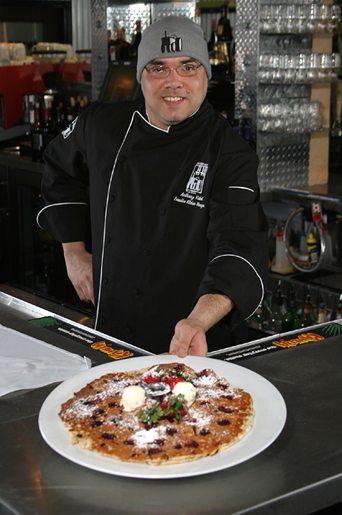 Cranberry Brown Sugar Pancakes
10 oz. baking mix like Bisquick (prepare as directed on box)
2 oz. brown sugar
2 oz. cranberries
In a hot, greased skillet place pancake mix. Sprinkle brown sugar and cranberries on top. Cook until golden brown and flip.
Cranberry Pumpkin Waffles
8 oz. baking mix like Bisquick (prepare as directed on box)
2 oz. pumpkin pie mix
3 oz. cranberries
Fold pumpkin into prepared waffle mix. Spoon into hot, greased waffle iron. Sprinkle with cranberries. Close top and cook until golden brown.
Serve with your favorite syrup or spruce it up a bit with whipped cream and sprinkles!
Editor's note: These recipes are part of our 12 days of Cranberry Christmas. Visit facebook for more ideas — like how to add zing to your roast beef sandwich!