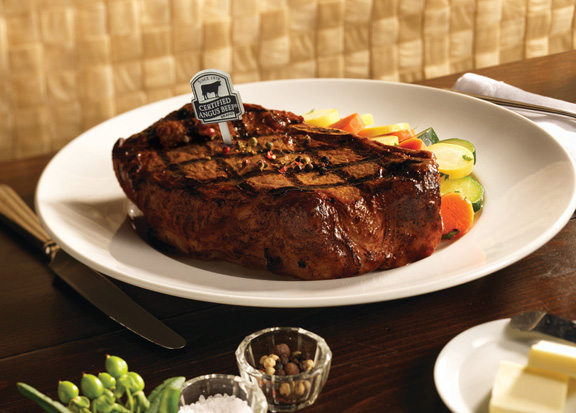 One strip. Two strip. Dry strip. Rare strip.
Wet strip. Grilled strip. Split strip. Bare strip.
This one is a little nutty. This tender one is smooth as putty.
This one's raw and finely chopped. This one wee steak she'll like a lot.
Pan fry it in your neighbor's house. Plate it next to boiled grouse.
Sous vide it wearing grandma's dress. But the best strip steaks? They come from chefs.
Look high. Look low. Look near. Look far.
Don't believe us? Ask Chef Cedric Tovar.
"We actually carry three strip steak items — one dry-aged, one wet-aged and a third out of the trimmings to make our tartare," says Tovar, executive chef at Bobo and Rosemary's in New York City's West Village. "We use the wet-aged strip for our steak au poivre based on taste and texture, and the dry-aged we use for a nice steakhouse-style steak, but one that's not too fatty. It's really worked well."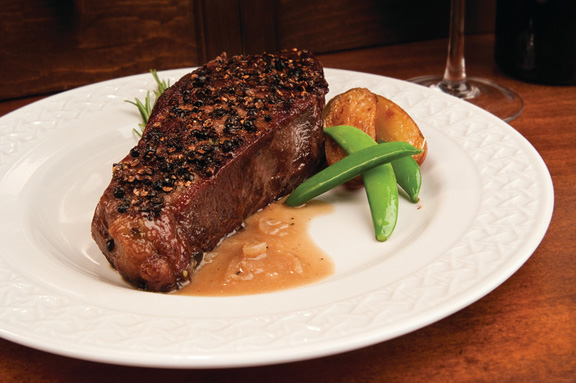 But the hip, hip trend, says our Chef Scott.
Is the filet of strip, served nice and hot.
Take your strip, cut it crossways in two. Your lady will love it and think that it's new.
Tender as a tenderloin, but with twice the flavor. A smaller portion size that's something to savor.
Take just a moment, wrap your brain around this:
Chef Shawn Cline from Cleveland says it's not to be missed.
"I love the strip because it offers an unparalleled eating experience," says Cline, who oversees six restaurant concepts with Hospitality Restaurant Group in and around Cleveland. "It has a bite, but is still tender; in my opinion, it tastes like a steak should taste. In my mind, the person who traditionally wants a strip steak wants a big portion size and flavor and doesn't think twice about what they may pay to get it. But to be safe, we offer a mid-level option for the female who desires the cut or for someone who doesn't want such a large portion."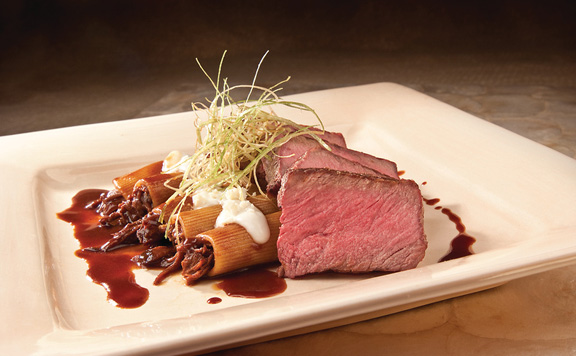 Chef Rory Schepisi is trendy as can be. She's worked on both coasts and been on TV.
She prefers the strip at her Boot Hill in Vega — it plays well with sauces and holds its beef flavor.
But Rory will tell you that she's not alone. Find strips at restaurants and even your homes.
So go to a grocery. Friend a chef who has class. Put a strip on your plate, invite Dr. Phil Bass.
Slice it up raw and make a tartare. Cut it in half and give it a char.
Dry-age it. Wet-age it. Make it a snack. But use a well-marbled strip steak, or flavor you'll lack.
Enjoy these strip steak recipes from the Certified Angus Beef ® brand!