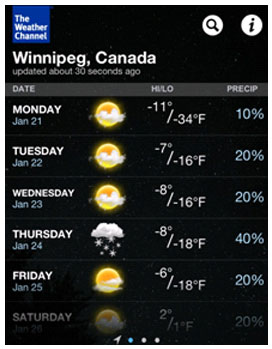 I'm still thawing from a recent week-long adventure in Winnipeg, Manitoba, and dreaming of the food and fellowship my colleague, Emily Agle, and I enjoyed. We fondly began referring to the Canadian city as the "Arctic Tundra" because temperatures never came above freezing. But we didn't let the frigid air dampen our spirits.
The purpose of our trip? To visit the To-Le-Do Foodservice team — known to locals as the Manitoba Meatheads (their ice hockey team name).
To-Le-Do Foodservice is an award-winning Certified Angus Beef ® brand partner. These dedicated achievers sell an awful lot of beef and it was an honor to spend a week with them! Emily and I (known as the Emily (Eh) team!) met with more than 30 restaurateurs and grocers in the area. One particular stop stands out in my mind — and it's one my taste buds will certainly never forget:
Chef Timothy Palmer, senior sous chef of Fairmont Winnipeg, prepared a five-course gourmet feast in the hotel restaurant, The Velvet Glove. It had me entering serious food-induced coma. The meal was outstanding, and I couldn't pass up the opportunity to share the delightful dinner with you. Just imagine …
Course One: A ground chuck slider with fresh onion rings.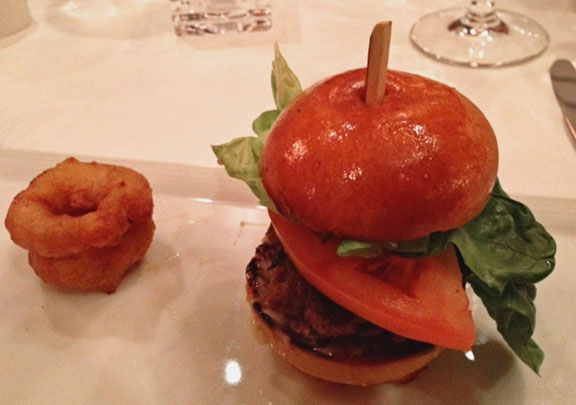 Course Two: Striploin carpaccio, filet tartar, radishes, truffles and house-made potato chips.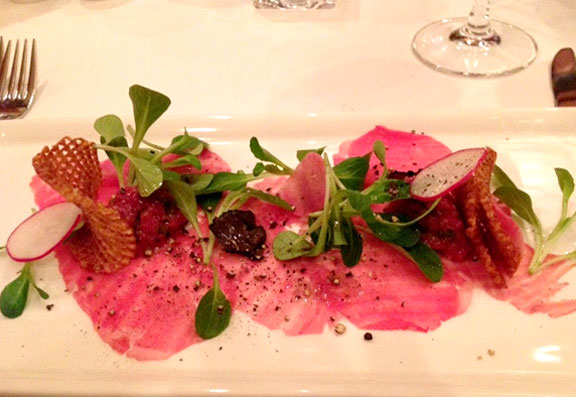 Course Three: Short rib, fried cauliflower, scallop and cipolline onion with bacon foam.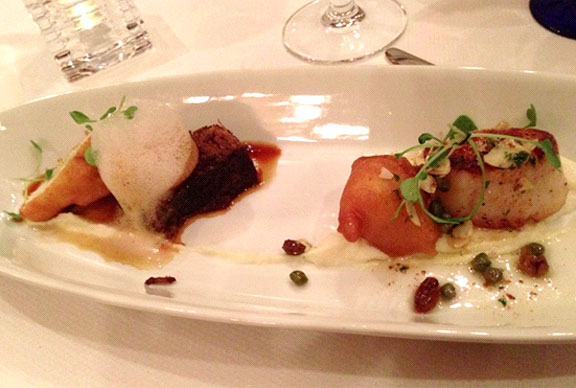 Course Four: Filet, braised veal cheek and roasted veggies on a bed of truffle-infused mashed potatoes.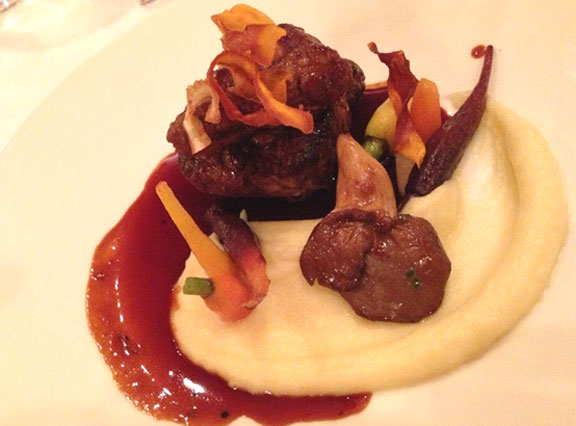 Course Five: By the time we made it to the fifth course — a sticky toffee cake with a bourbon caramel glaze, I was so full and satisfied I was beyond the ability to snap a photo! But, the dessert's description leaves no doubt it was delicious, and I ate every last bite.
Maybe our skin was a little thin when we flew in, but by Friday we had adjusted to the cold. And the chef's outstanding meal added an extra layer of warmth from the inside out. We are thrilled to work with such outstanding folks!
Until we travel again,