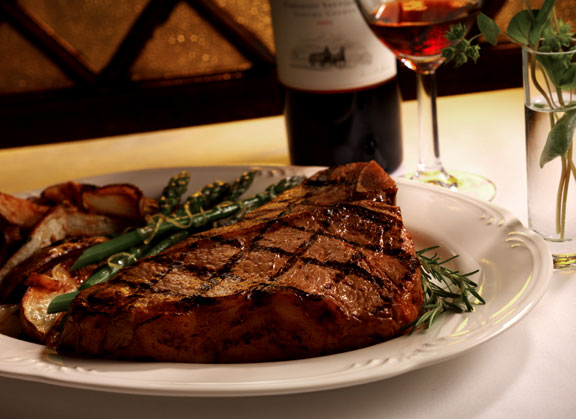 After years of research, I have determined the ideal Valentine's Day offering is not a box of chocolates, nor a perfectly composed poem — or even a new power tool. My beloved would be over the moon if, instead of platitudes, I served him a sizzling hunk o' boeuf.
Steak — that's what all the sweethearts want these days!
There are a couple of options open to you. You could click here to find an esteemed steakhouse nearby, then take your darling to dinner. (Be sure to wear something snappy … red for added va va voom, perhaps.) If you prefer a cozier setting (or let's be practical — can't get a babysitter on Valentine's Day), prepare a romantic dinner in the serene surroundings of your very own kitchen. Think of it as date night, domesticated.
Step No. 1: Choose the right steak. It's a little like meeting your true love: When it's right, you know you've found the one.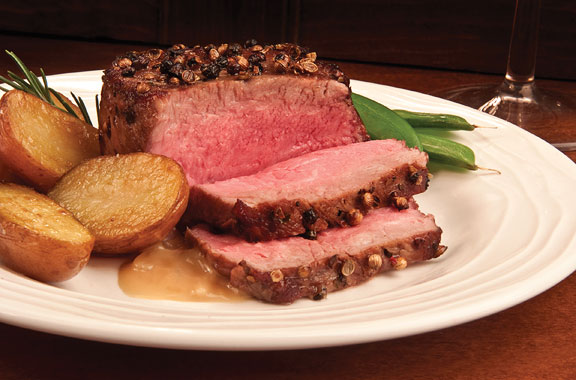 If there's one thing our chefs mention time and again, it's this: look for generous marbling — the little white flecks that melt into deliciously juicy flavor as your steak cooks. A strip steak offers full flavor and a firmer bite. Prepare it in the French "au poivre" style and expect some "oh-là- là" to follow. Strip Steak Au Poivre recipe here.
A bicycle steak made for two. If you really want to knock his (or her) socks off and please your palate, prepare a Porterhouse. On one side of the T-shaped bone is the classic, boldly flavored strip steak. The other side offers a meltingly tender, mild and buttery filet mignon. This bone-in beauty boasts balanced flavor, tenderness and juiciness. It's the best of both worlds for any lovesick and ravenous carnivore. Porterhouse for Two with Lemon Potatoes and Asparagus recipe here.
Dining and wining your beloved. Not to be confused with whining.
To enhance the delectable flavor of your scrumptious steak dinner, pair it with a balanced red wine. We've talked to the wine experts and they assure us there is no "right" or "perfect" wine choice when pairing with food. The main goal should always be to enhance your eating experience. Just remember this rule of thumb:
The food should not overpower the wine, and the wine should not overpower the food.
Ideally, the pairings should complement one another — the food and wine together should be more enjoyable than either would be alone. Awww, like sweethearts!
One obvious pairing is when a specific varietal wine is used in the preparation of the dish, such as in a reduction. If a particular wine is used in the dish, then it will complement the dish on its own as well.
Identify the "weights" of the food and the wine. Is a food's body light and crisp, such as a salad, or robust and rich, like a well-marbled steak? "Lighter" foods pair better with light wines, and hearty foods pair better with full-bodied wines.
Wines from light to heavy include: Sauvignon Blanc, Pinot Gris, Chardonnay, Pinot Noir, Merlot, Shiraz/Syrah, Zinfandel, Cabernet Sauvignon.
Well … there you have it. A winning recipe for a successful Valentine's Day dinner. If you dine out, no one has to do the dishes. Dine in and you can give the gift of good taste prepared by you. Just don't forget the flowers. And maybe … candles.
Because steak dinners are amazing. Steak dinners by candlelight? Sizzling.