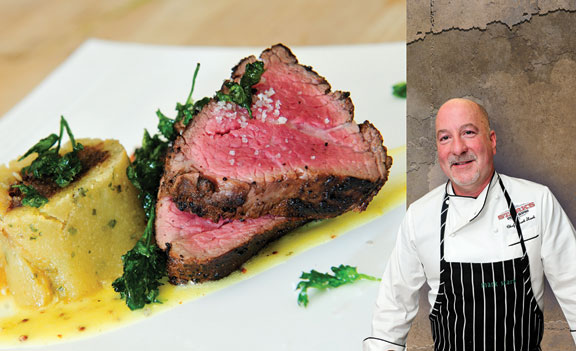 Chef Mark Stark opened his acclaimed Stark's Steakhouse in one of the plummeting economy's hardest-stricken areas in late 2007. Not far from the epicenter of where the technology boom's bubble burst in Silicon Valley, Stark and his wife, Terri, chose to weather the storm.
What has blossomed since those difficult early days is one of the crown jewel steakhouses in the country: Stark's Steak & Seafood – the flagship of the couple's Stark Reality Restaurant Group – in Santa Rosa, Calif., offers customers a classic steakhouse feel, with rich flavors and traditional cuisine.
"I'd always wanted to open a restaurant in Sonoma wine country," said Stark, a Chesapeake Bay-area native. "It was difficult at the start, but we've now been up 25% year over year for three years in a row. From where we started in such a terrible economy — by being consistent all the way with our service and our meat program, we've really been able to build on things."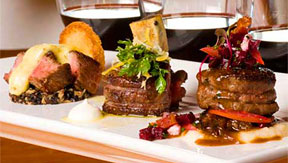 It's that meat program — which includes Certified Angus Beef ® brand Prime steaks, an on-premise dry-aging cooler and the precision and imagination of Stark and his culinary staff — that makes the steakhouse stand out among the elite. Stark is our February poster child, featured with a dish he prepared at the renowned James Beard House in New York City last year.
The dish — a Certified Angus Beef ® brand Prime Natural filet with a bone marrow dumpling and his own "crack" potatoes — just may be the greatest dish this blogger ever devoured.
"The idea for marrow dumpling [top photo] came from a very old European dumpling dough," Stark says. "In the old days, when people would run out of butter, the next best thing was bone marrow. It's a very traditional style dish — basically a mix of marrow, bread crumbs, parsley, shallots and a couple of eggs to bring it together. We make it with the idea of mimicking a marrow bone, so we roll it out, add a little braised short rib meat and red onion marmalade, a little sweet acid. Then we roll it into a log, wrap it in plastic and steam it. After chilling, it's cut to size and quickly roasted in the oven for color."
To borrow a quote from our meat scientist, Dr. Phil Bass: "Holy cows!"
Next time you find yourself on the west coast, drive up — or down — the coast and find Santa Rosa. Let Chef Mark blow you away.