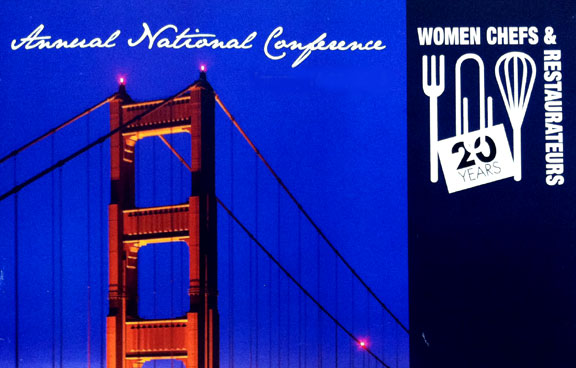 Since I became truly interested in food, I have had a copy of Harold McGee's On Food and Cooking: The Science and Lore of the Kitchen
on my bookshelf. You can imagine how happy I was to discover the author was one of the presenters at the Women Chefs and Restaurateurs Conference, recently held in San Francisco! And though Mr. McGee has been writing about "modernist cuisine" since 1980, "molecular gastronomy" has more recently become an intriguing addition to the culinary repertoire of chefs around the world. New equipment and unusual ingredients have become pantry standards in kitchens that take this creative approach to sensory delight.

At the Butchery & Charcuterie Session — in addition to lively discussion, we enjoyed a selection of the panelists' more popular menu items. I took a trip off the beaten path of ethnic cuisines to learn about Hakka and Peruvian cooking. Hakka is considered to be "Chinese Soul Food," and cookbook author Linda Lou Anusasananan referred to it as the "country cousin" of Cantonese cuisine.
Historically, Hakka was the food of the working man with recipes that were adapted to migration: hearty and satisfying with strong, robust flavors relying on soy, cured meats and preserved vegetables as key components.
In addition to three soy sauces, we also sampled traditional ingredients like Napa cabbage with garlic (used in soups and as a filling for wontons), salted mustard greens (used to make pickles), and salted Asian white radish which had been cured in salt and sugar.
Peruvian cuisine offers a multi-layered, diversity of flavors cultivated by the influence of the Spanish, and their introduction of new ingredients and techniques to the traditional cooking of the area.
Our education included a tasting of aji amarillow, a yellow hot pepper which is one of the most commonly used in Peru. Aji apanca was also sampled. It's a dark, reddish-purple, dried hot pepper which gives a deep, "woodsy" flavor to dishes. It's used mainly as a coloring agent and to add an accent of flavor for anticucho. (My friend, Chef Scott Popovic, makes an anticucho sauce so delicious I could drink it!
Huacatay is a very aromatic Andean black mint — actually a native Peruvian marigold — which is used to flavor sauces and in salsa to accompany roasted and barbecued meats. Native to Central and South America is Lucuma — commonly called Eggfruit — which has a flavor profile that includes hints of banana, date, vanilla and orange. The sweet, aromatic flesh has a cake-like texture and is typically used in desserts. I also learned the Andean version of corn nuts is called chulpe. They're dried kernels of corn toasted or parched with salt. Eaten as a snack, they are the traditional accompaniment to one of Peru's most popular dishes, deep-fried pork chicharon.
What an educational — and tasty — experience! More foodie adventures coming up.