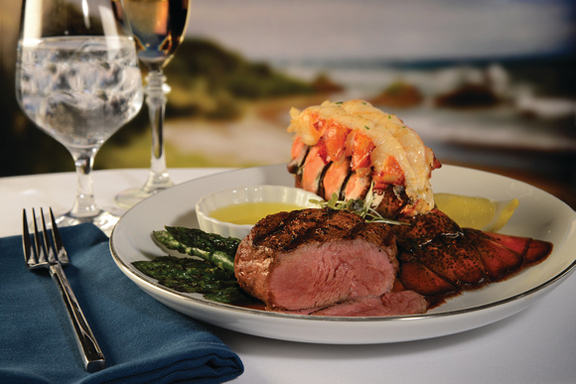 Surf and Turf. Even the name itself seems like a bit of a throwback. You might think this dish's glory days are past, but the idea is solid: a robust steak, paired with succulent lobster — twice the protein, twice the flavor, and twice the bounty of the land and the sea. It evokes abundance, celebration and even indulgence.
There are many in the culinary world who are bringing surf and turf back to the menu — but they're looking beyond the traditional to liven up the classic pairing. Instead of filet mignons — which, admittedly, can still be plenty delicious — these kitchen firebrands are looking to different cuts: ribeyes, strip steaks, even short ribs or sirloins. As far as the seafood, anything goes:  chefs are looking way beyond lobster tails. If it comes from the water, it's fair game on the plate.
Portion sizes are also changing, too — smaller bites give chefs the opportunity to experiment with more flavors and textures on the plate without over-saturating or overstuffing guests.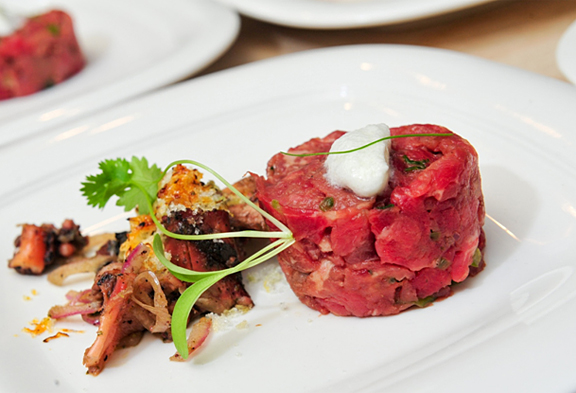 Most people probably aren't thinking "octopus" when they envision surf and turf — but Executive Chef Darryl Harmon, of Skylark on the Hudson in Jersey City, paired the flash-fried cephalopod with a delicate portion of Certified Angus Beef ® brand tenderloin tartare. Completely unique, this balanced pairing offers maximum impact.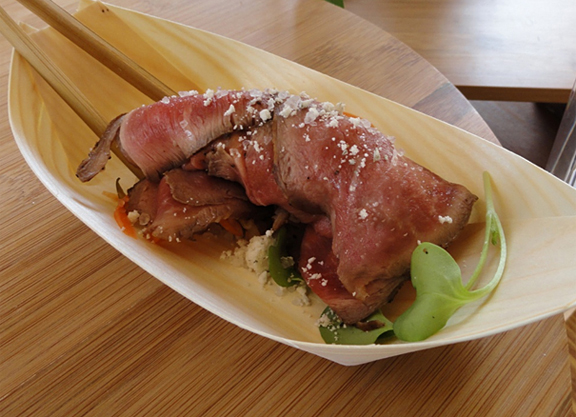 Executive Chef Craig Deihl of Cypress, Charleston, S.C., created a twist on a "carpetbagger" — a steak stuffed with oysters. His take: the heart of the ribeye, carpaccio-style, wrapped around a fried oyster. Baby mustard greens offset the richness and finish the indulgent dish.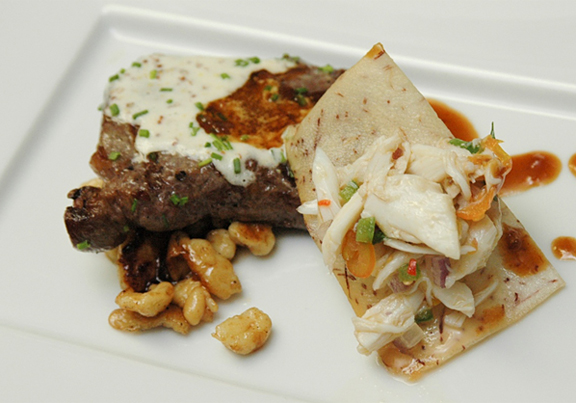 As Deihl embraced Southern culinary traditions, chefs often highlight their local culinary influences and apply them to classic pairings. Surf and turf with a Caribbean flair makes perfect sense for Chef Dino Jagtiani of Rare Steakhouse in St. Maarten. He paired a flavorful Certified Angus Beef ® brand strip loin with a West Indian crab salad. His dish also included a spaetzle sauté, whipped mustard and a caramelized shallot demi-glace.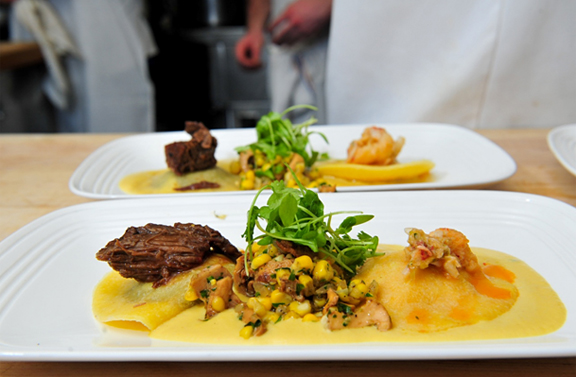 Chef Cindy Hutson of Ortanique on the Mile, Coral Gables, Fla., and Ortanique, Grand Cayman, embraced the tropics with her lobster ravioli, served alongside truffle-braised Certified Angus Beef ® brand short ribs. A brandied cream corn and chanterelle nage rounded out the dish's dynamic flavors.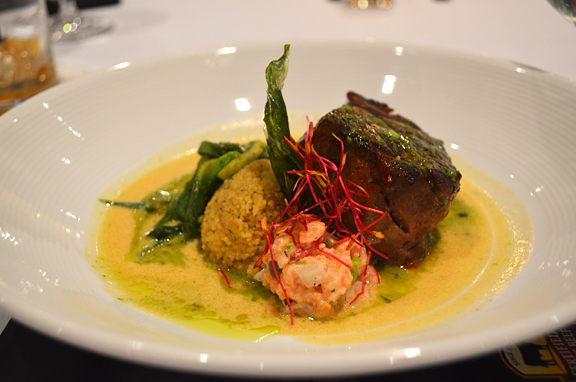 Beyond shellfish, chefs are looking to mix up their steak and seafood dishes with a variety of fishes. For example, Chef Rory Schepisi of Boot Hill Saloon and Grill in Vega, Texas, topped a ribeye filet with smoked salmon — and drizzled it all with a lemon-infused beurre blanc.
From salmon and sirloin, to roughy and ribeye, or prawns and Porterhouse: you'll continue to see inventive, creative and flavorful pairings that bridge the best of the land and the sea. The fun is in the details and the chef's unique, modern interpretation of a culinary classic.