He's put together countless meals, but Chef Dave Martin says putting together a menu for an autumn dinner at the esteemed James Beard House was a task that took time, effort and a good deal of editing. There are many considerations, you see.
"I start with what's in season," Dave said, "And for me, it's also about balance. I chose fall because I love the flavors and foods of fall."
His dinner, "Animals, Animals, Animals" was a showcase of meats and poultry. "I reached out to various partners to secure the best ingredients. I wanted to insure the menu was truly one of the best I have ever prepared."
The feast began with Whisky Barrel Smoked Steak Tartare.
Dave's version uses a smoking gun (yes, literally!), but this recipe can be made at home.
The appetizer features Certified Angus Beef ® brand tenderloin drizzled with Johnnie Walker Black Label, flash smoked with whisky barrel oak chips and egg, caramelized Maui onion, whole grain mustard and hot sauce. Other appetizers included pan-seared foi gras, roasted Korean pear jam and pureed prickly pear gastrique, and savory shortbread with cherry wood bacon and dried cherries.
The highlight of the main event was the Chimichurri Marinated Hanger Steak.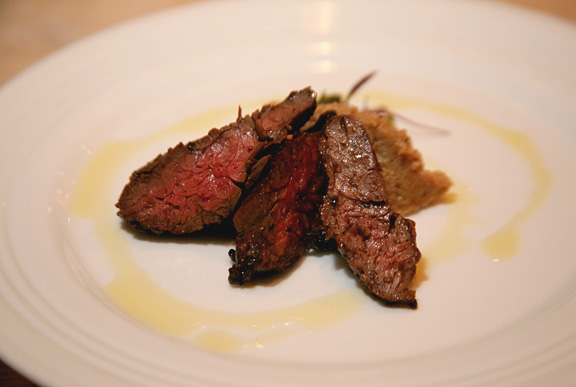 The Certified Angus Beef® brand hanger steak is marinated in chimichurri with puree of roasted cauliflower, smoked paprika, cumin, roasted garlic, olive oil, cilantro, oregano and thyme.
Other main courses included root beer braised lamb shoulder with goat cheese and smoked duck grits; wild mushroom soup with nibbles of chicken, shallots, sherry and thyme; and Hoisin & Cider Marinated Pork Tenderloin with Dave's Peanut Sauce over Roasted Brussels Sprouts with Maple & Red Chili.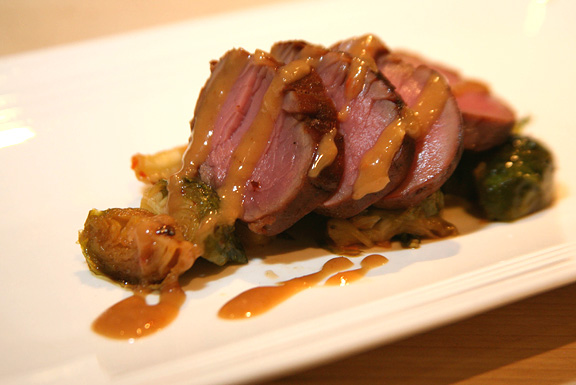 The pork is marinated in apple cider and hoisin overnight, and then it's grilled.
Each course was served with a particular wine from Row Eleven including dessert: Olive Oil Cake made with Madagascar Vanilla Powder & Beans and Milk Chocolate Toffee Bars.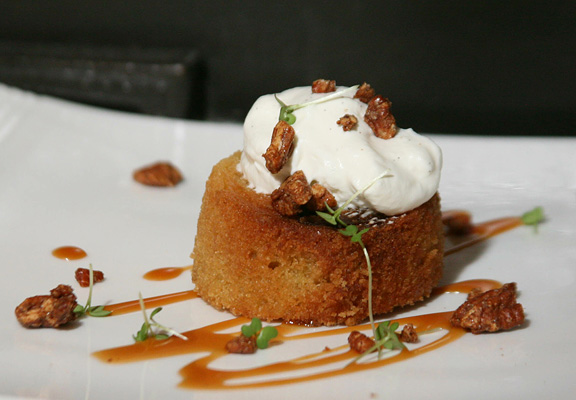 The sweet treat was served with Dave's ooey gooey caramel sauce, candied pecans and sweet cream.
Cooking for groups of any size can be challenging, and when Dave has multiple events with various menus in the same week, preparation is even more important. His game plan includes: pre-planning, shopping and organization.
Dave teaches this recipe for success to cooking classes around the country. "I try to help folks understand the planning component — especially when it comes to big holiday meals. And editing is crucial to edit when preparing a large menu for a large group."
He suggests focusing on one or two awesome dishes and cutting out items that overlap or aren't necessary. Certain ingredients or recipes can be prepped ahead of time, too, although it's important to be conscious when a dish tastes better fresh. And last, but not least: cooking should be fun.
"Enjoy yourself while you're cooking because it shows in the final product," Dave says. His enthusiasm is evident in the soups, sauces and braised dishes he refers to as his favorites. "I have a real knack for making super soups and sauces. It's all about simple, basic steps that get things going in the right direction. Carrot, celery, shallot, sweet onion, favorite herbs and sherry are the basic foundation for most of my sauces and stocks."
Those ingredients and his French training influence his cooking — what he calls American comfort with his own modern spin.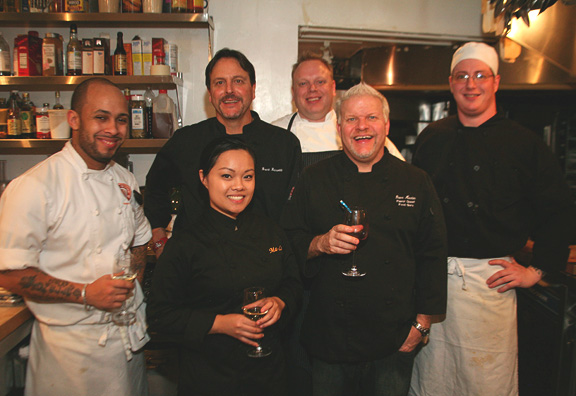 The James Beard House is a unique dining space in a iconic Brownstone. Guests are seated on several floors and a garden affords space to roam, weather permitting. It's an ideal place for Chef Dave and his colleagues to practice his planning and preparation tips.
"It was a unique and wonderful experience," Dave says, "and I am honored to have been able to cook at such a fantastic place, with so much history behind it."
Read more about Chef Dave here, and the James Beard Foundation, here.