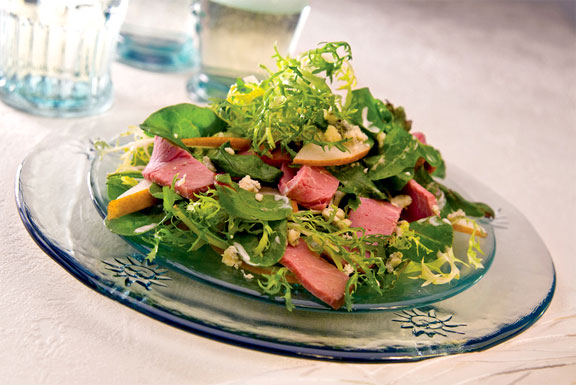 Pairing a fresh salad with protein-packed and flavorful Certified Angus Beef ® roast beef is a quick, delicious way to try something delicious — and wholesome — at lunchtime. Hearty enough to satisfy the biggest appetites, but light enough to please your health-conscious side, it's a balanced choice that's easy to put together.
Think deli meat isn't the best option? Certified Angus Beef ® roast beef isn't just any ordinary deli meat. The finest quality fresh roasts are closely trimmed, then slowly oven-cooked for a naturally tender and juicy texture. Naturally free of MSG and trans fats, they're minimally processed, with no artificial ingredients or excess fillers.
It's fast food you can feel good about!
By the way, did you know that serving for serving, there aren't many cuts that can match nutrient-rich beef? In addition to the ZIP — that's zinc, iron and protein — that beef provides, it's also a great source of B vitamins, including riboflavin and thiamin.
Looking for lighter lunch inspiration? Try this delicious recipe or click here for a few of my other favorites!
Roast Beef, Pear and Blue Cheese Salad
Serves 4
Ingredients
1/2 pound Certified Angus Beef ® deli roast beef, sliced
4 ounces mixed greens
Ranch dressing to taste
2 pears cored and sliced
4 ounces crumbled blue cheese
Salt and pepper to taste
Toss greens with dressing; season.
Arrange evenly on four plates; top with beef, pears and cheese.