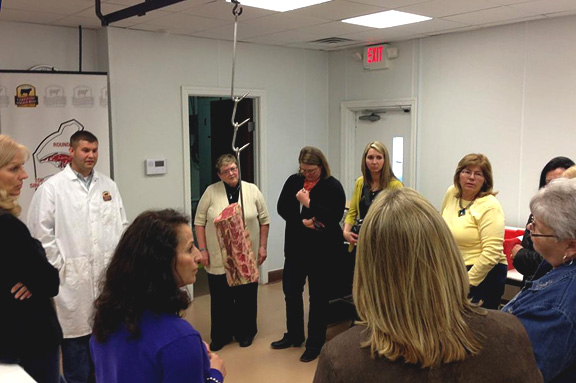 Perhaps it wasn't your typical "girls' night out" celebration, but it was an entertaining few days, nevertheless. Board members from the American Angus Auxiliary convened in Wooster this weekend for meetings, education and beefy conversations.
The American Angus Auxiliary supports the endeavors of the American Angus Association and members across the country. The Auxiliary awards scholarships, hosts fundraisers, and sponsors the All-American Certified Angus Beef ® Cook-Off and Chef's Challenge contests during the annual National Junior Angus Show. It also provides opportunities for folks interested in the welfare of the Angus breed to work on educational, promotional, and social programs and activities.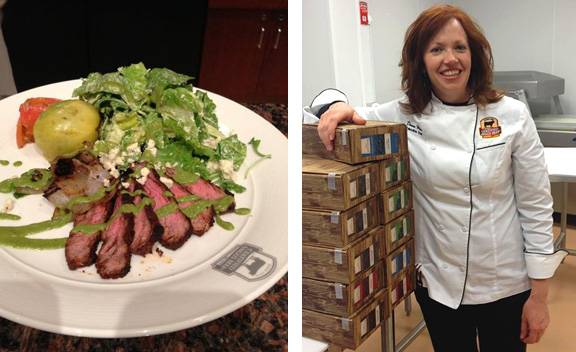 The ladies of the board began their adventure with a working lunch at the Certified Angus Beef ® Education & Culinary Center (ECC). Chef Donna Hann served a grilled steak salad with Vidalia onion, tomato and poblano vinaigrette. As is always the case at the ECC, we like to feed our guests and educate them!
Meat expert David O'Diam shared a Science Behind the Sizzle presentation with the ladies — a meat lab session of sorts, that explains the Certified Angus Beef ® brand's quality specifications and showcases premium Angus beef cuts. Chef Donna conducted a beef grades comparison on the grill with Certified Angus Beef ® brand Prime and traditional product versus USDA Choice and Select cuts.
Did I mention we like to feed our guests well?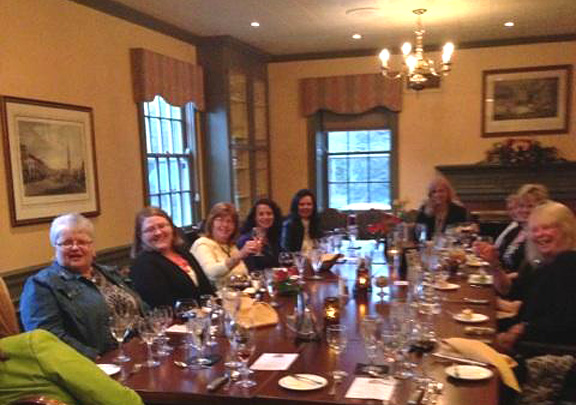 Friday evening, board members enjoyed a four-course meal at The Wooster Inn.
The first course (top left) featured a grilled Romaine salad with strawberries, bleu cheese, candied pecans, citrus and white balsamic vinaigrette paired with a Secret Coast Sauvignon Blanc (New Zealand). Second course (top right) was a shrimp and crab cake with whole grain mustard sauce and Fiddlehead Cellars Pinkie Rose of Pinot Noir (California). Main course (bottom left): Certified Angus Beef ® 4 oz. tenderloin filet with lobster risotto, grilled asparagus and Bearnaise sauce. It was paired with Dark Horse Big Red Blend (California). They enjoyed their just desserts with a chocolate Kahlua crème brulé and Graham Beck Demi-Sec (South Africa).

Meetings continue Saturday, as do the good eats! Local favorite, Omahoma Bob's, will provide a brisket and beans lunch. Tonight it's dinner at Broken Rocks Cafe. Tomorrow the journey ends and they will bid adieu to Wooster.
Thanks for visiting, ladies!